These are so sleek/beautiful/cute/fun/classy/colorful that I want to keep them all for myself.
***
I have a stack of magazines–Christmas issues–that date back as far as 1989. The other day I decided to put them to good use (a.k.a. recycle them). These slender beauties turned out even prettier and more fun than I expected.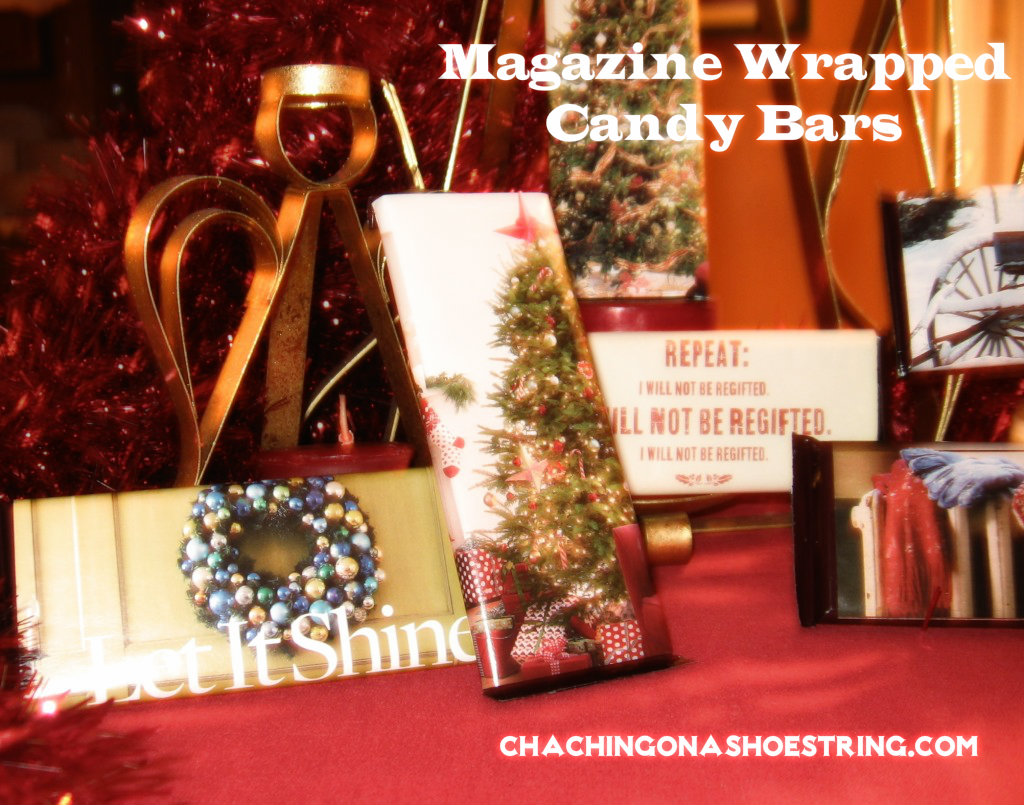 Want to join in on the fun? All you need to get started is:  Christmas magazines, Hershey candy bars, scissors (or a trimmer), and an adhesive. No extra ribbon or trim is needed–they are sleek and beautiful all on their own.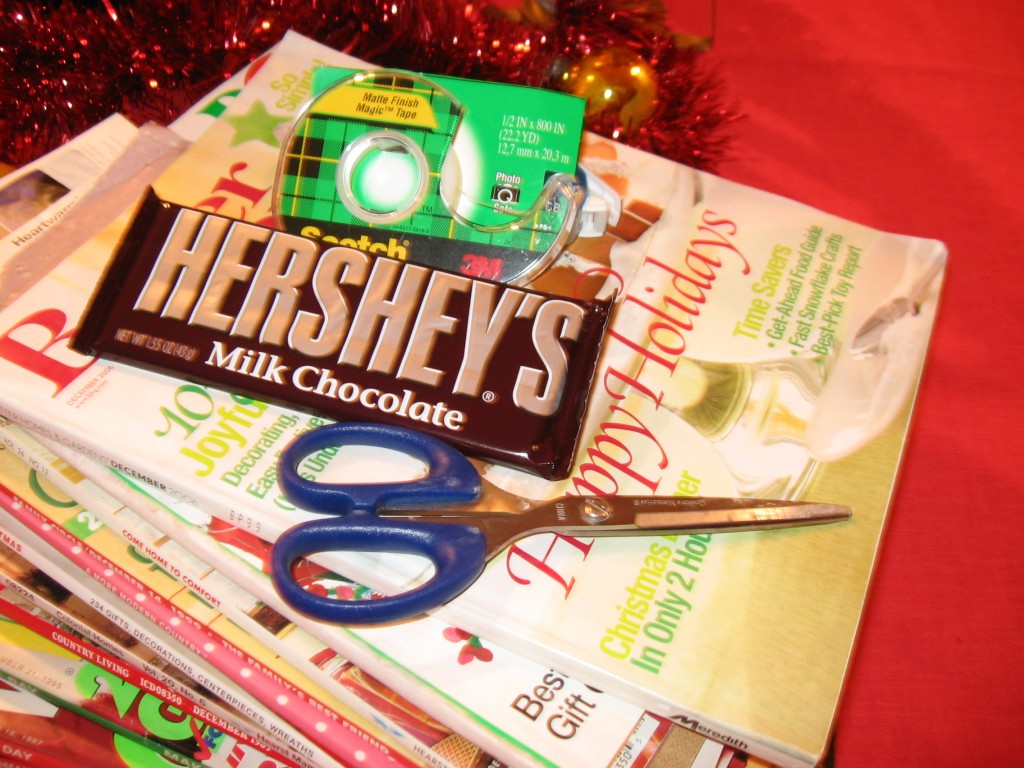 I leafed through the magazines looking for pictures that could be trimmed to about  5 1/2 X 5 1/2. Some pictures I chose were not that large, so I wrapped the candy bar first with tissue paper. (As in the bar below with the little guys looking up at their Christmas stockings. Too, too cute.) When I found a picture, I made sure that there was nothing I wanted to save from the back side, then I ripped it carefully out of the magazine.
I didn't mean to make so many, but I was having so much fun I couldn't stop. Literally.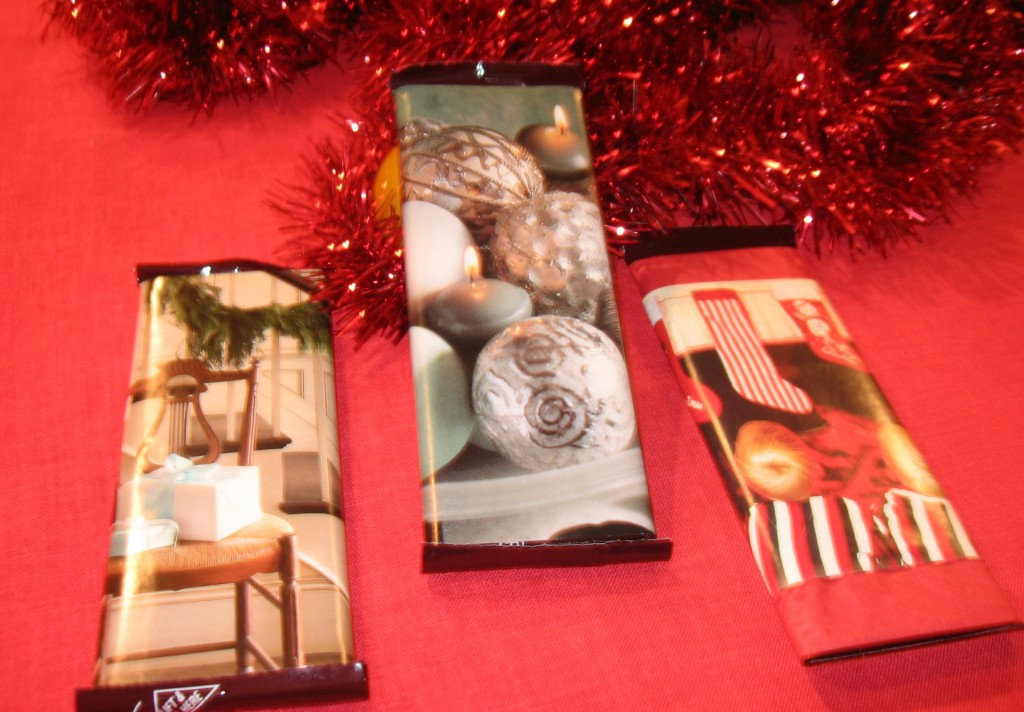 I had to decide whether the picture would go horizontally or vertically and exactly which two inches I wanted highlighted on the front of the candy bar.
I love the picture below of the mittens drying on the radiator. Can't you just see the steam rising from those mittens and scarves, soaking wet from an afternoon of sleigh riding? Bet the shivering sledders are drinking hot cocoa even as I write this.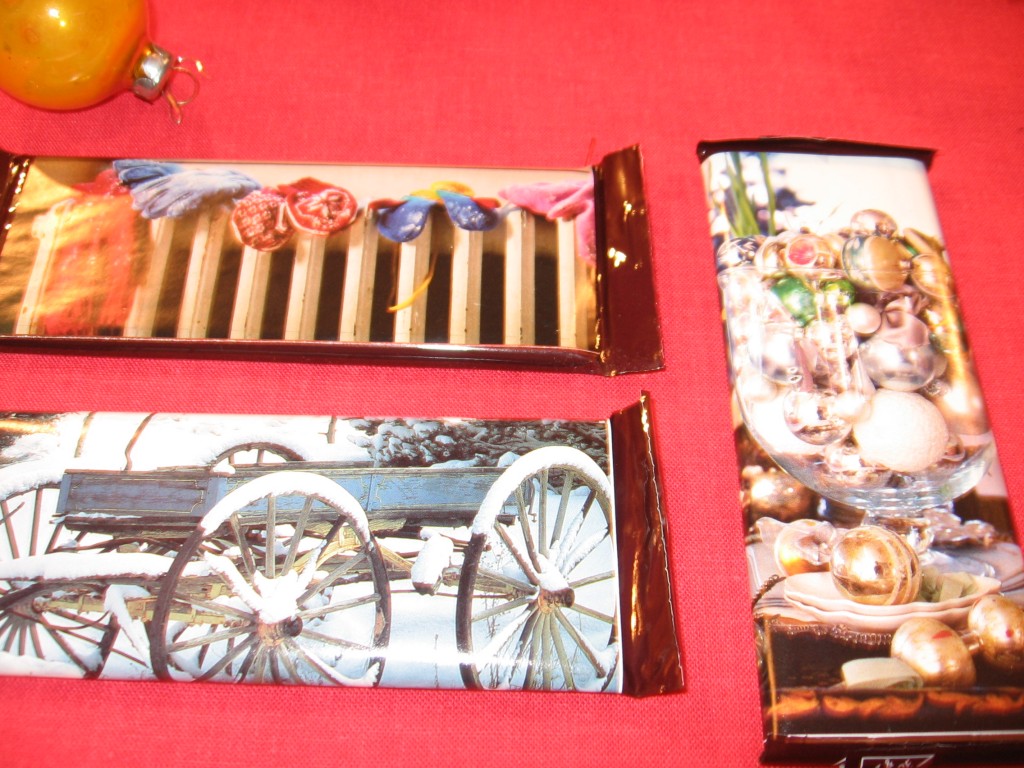 Finally I wrapped the picture tightly around the bar and adhered it on the back, being careful to adjust the picture so that the portion I wanted on the front was in place.
 I still chuckle when I look at the advertisement I found: I WILL NOT BE REGIFTED.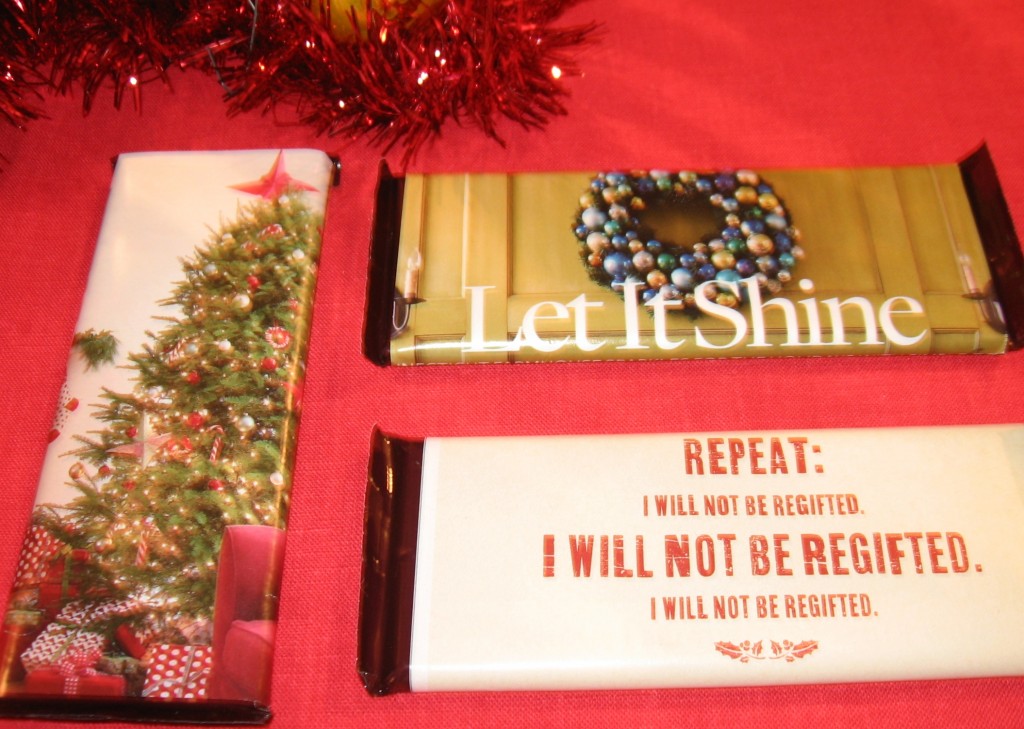 I even found a black and white picture of Jimmy Stewart and Donna Reed,  celebrating together because finally they both know that It's a Wonderful Life.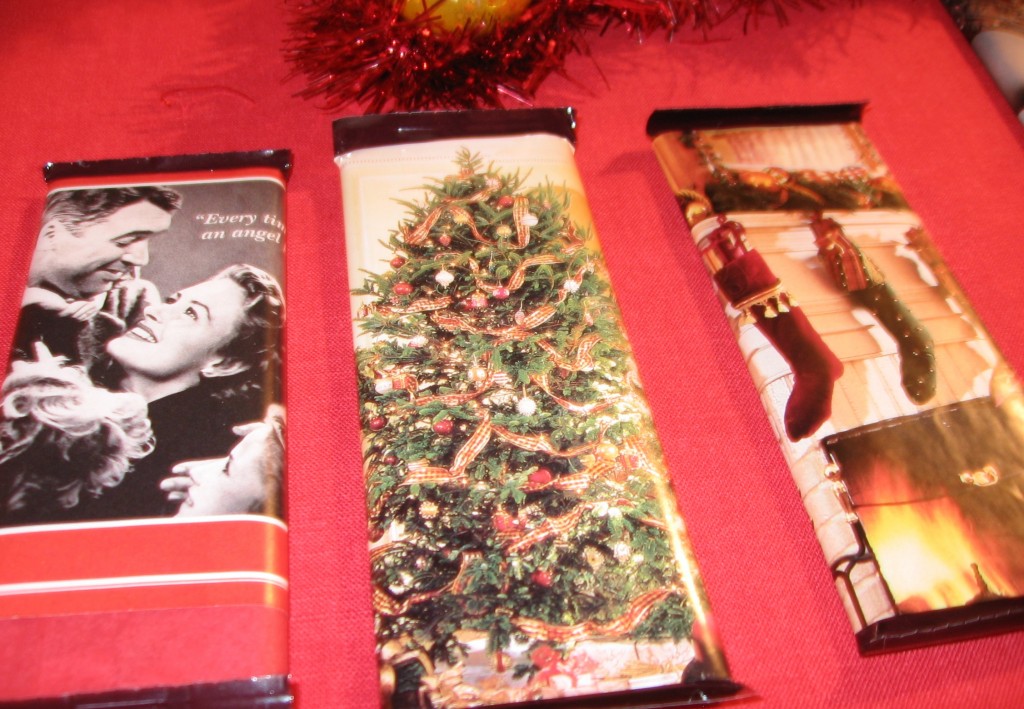 So there you have it–some conversation-starting gifts to have on hand. You could stack 2-4 of them and wrap  them in a bright ribbon as a hostess gift, teacher gift, stocking gift, gift for your neighbor, or a game prize. You could also use them at a dinner or party and ask your guests what memory their picture evokes.
That is, of course, unless you're like me and want to keep them all for yourself.
***
Check out more Dollar Store Diva ideas here!
For those of you who haven't met her, the Dollar Store Diva happens to be my Mom who has a special power.  She can transform Dollar Store and other inexpensive finds into super fun gifts that would brighten anyone's day!
Want to transform your Christmas with us? My Book The Merry Little Christmas Project – Five Words that will Transform your Christmas has helped thousands of women do just that. If you have ever wished that Christmas didn't have to be so stressful, I wrote this book for you. Click here to learn more and begin simplifying and organizing your Christmas with me!