Here is The Dollar Store Diva's latest amazingly simple yet super adorable gift idea!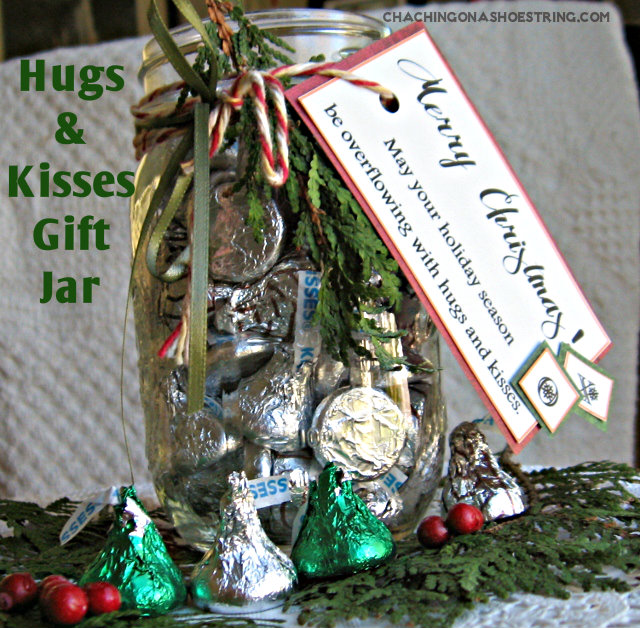 Receiving a homemade gift like this tends to evoke the warm feeling that most of us long for during this season.
And I have good news for you–you can make this gift ever so easily using the printable Holiday Hugs and Kisses gift tag I created for you.
Gift Idea #1
I used a small mason jar, filled it with Hershey Hugs and Hershey Kisses, attached the tag with twine and a ribbon, then slipped in a sprig of pine from my backyard.
That's it!
Check your list–do you have a neighbor? a teacher? a friend? a co-worker still on your gift list?
Gift Idea #2
I love these boxes that are at my Dollar Tree year round. At 2/$1, they make happy packaging.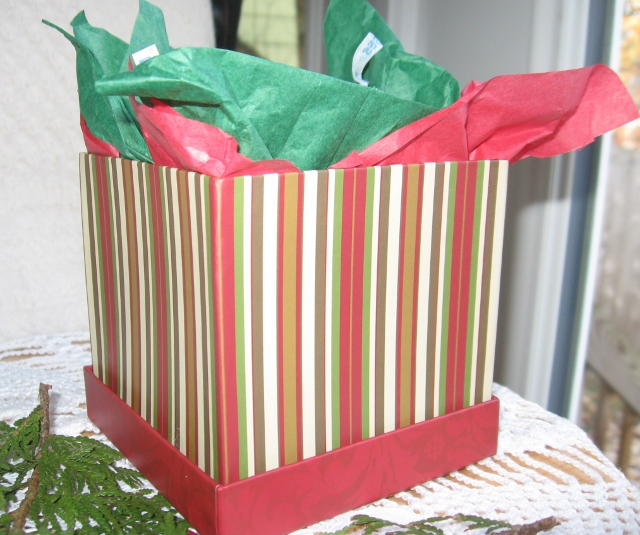 First, I slipped in red and green tissue paper and filled the box with both Hugs and Kisses.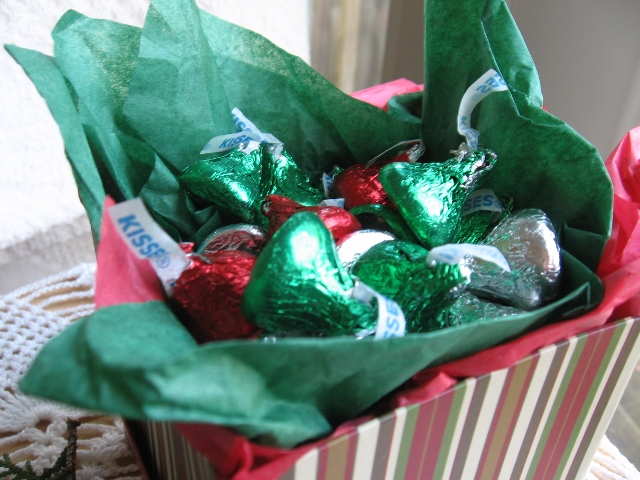 Then I wrapped the box with red cello wrap (Dollar Store), tied it with curly ribbon, attached the printed Merry Christmas tag, and threw in a candy cane for good measure,
Now, how is this for festive presentation?!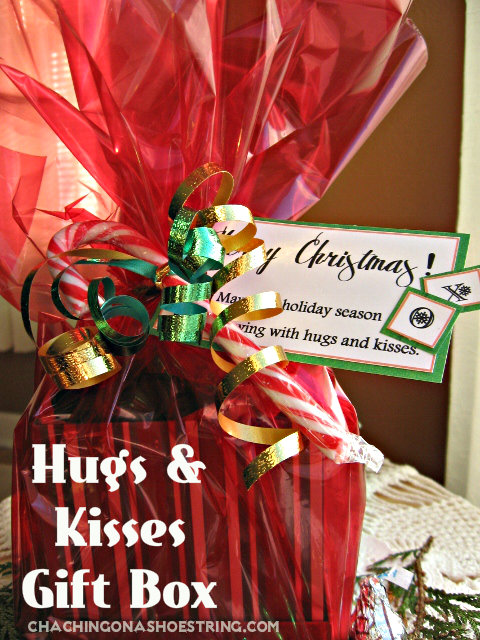 Hostess gift anyone?
***Don't forget to use this FREE Holiday Hugs and Kisses gift tag I created for you!***
Easy steps for creating the Merry Christmas tags:
1) Print the tags 2) cut them out 3) mat them with your choice of colored paper 4) adhere the matted X and O to the tag 5) punch a hole in the tag 6) run ribbon through the hole 7) tie into a bow
Gift Idea #3
Either of these–the jar or the box–would make the perfect wrapping for a gift card.
Just slip the card in between the Hugs and Kisses and watch the pleasure on the recipient's face when the bonus gift is discovered!
And there you have it–three gift ideas, all overflowing with Hugs and Kisses.
***
For those of you who haven't met her, the Dollar Store Diva happens to be my Mom, Nancy, who has a special power.  She can transform Dollar Store and other inexpensive finds into super fun gifts that would brighten anyone's day!
Check out more Dollar Store Diva ideas here!
Want to transform your Christmas with us? My Book The Merry Little Christmas Project – Five Words that will Transform your Christmas has helped thousands of women do just that. If you have ever wished that Christmas didn't have to be so stressful, I wrote this book for you. Click here to learn more and begin simplifying and organizing your Christmas with me!