"What hymns are sung. What praises said. For homemade miracles of bread?"
Louis Untermeyer
***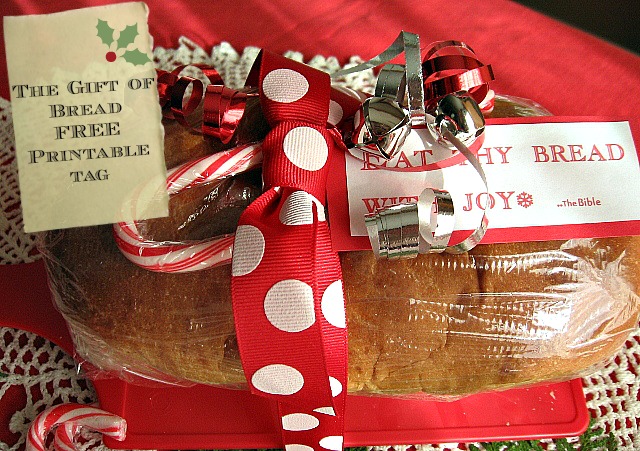 "The smell of good bread baking, like the sound of lightly flowing water, is indescribable in its evocations of innocence and delight."
– M. F. K. Fisher

***
After an abundant meal, my mother would often say: "Thank you for the elegant sufficiency; any more would be a superfluity."
She made me smile every time she said it.
One of the celebrative aspects of Christmas is that it is a time of sweets and treats galore–elegant sufficiency indeed. 
But, as we know, the sweets and treats galore of the holiday season can also become a significant superfluity.
So, when we take a gift to a neighbor or co-worker, instead of sweets, how about taking the gift of homemade bread?!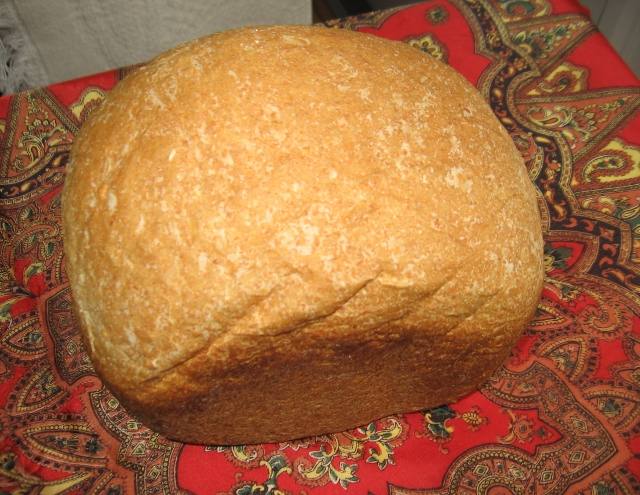 Gifts of bread can come in all shapes and sizes – banana bread, zucchini bread or you fill in the ___________ with your favorite recipe.
 I have a bread maker, and my favorite recipe is one that my daughter Alicia introduced to me.
An important note: Alicia adapted the recipe slightly by changing both the flour amounts to 1 1/3 cups. And it is perfectly delicious!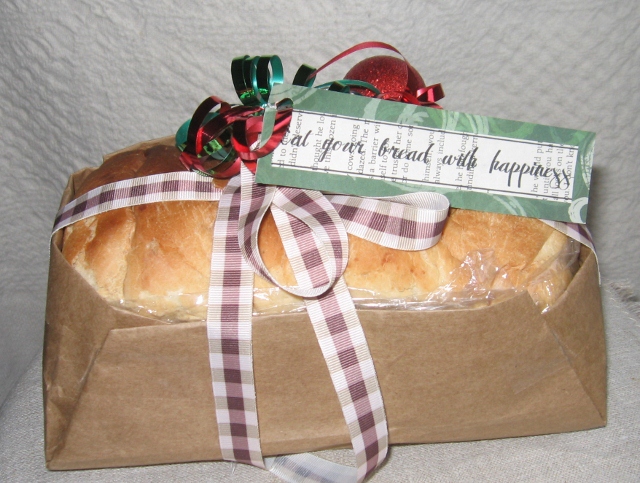 For this first loaf, I cut off the front of a grocery bag, and wrapped the bread like I was wrapping a package. Both fun and free!
Then I added some ribbon and a tag that said exactly what I wanted it to say:
Eat your bread with happiness!
This is actually a quote from the Bible–Ecclesiastes 9:7.  Some translations use the word "joy", and others use the word "happiness". Some say "your bread", and others say "thy bread".
I love the thought of eating bread with joy; I even love the poetic sound of the old English "thy".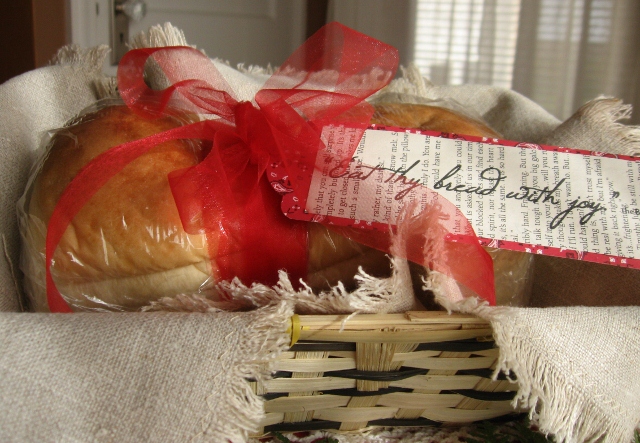 Next I walked the aisles of my local Dollar Tree to find other  containers for my gifts.
I found this basket, just the right size and shape for my gift of bread.
I also found this red plastic cutting board–the perfect Christmas color and shape for my fat loaf of bread.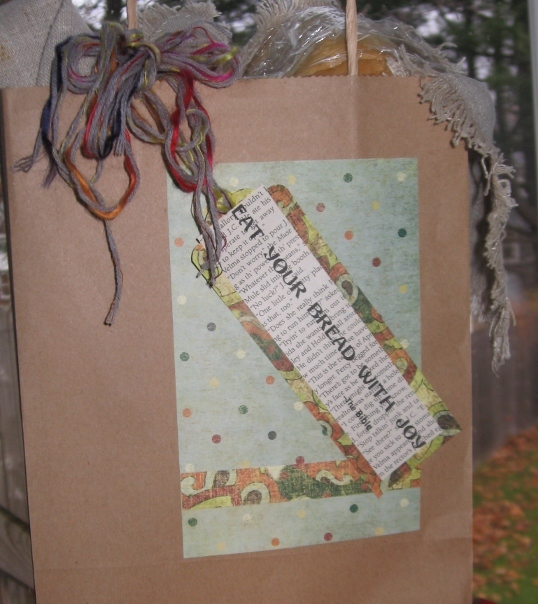 And then there is the ever-faithful brown paper bag decorated with scrapbooking paper with a lovely loaf of fresh bread poking its head out of the top.
I have created a free Eat Your Bread with Joy Printable Tag with a variety of fonts, colors, and options for you. I have formatted the pages for landscape and 5×7 pages.  I set my printer for the 5×7″ setting and printed the first two pages on pages I tore from a paperback I had picked up free at a book sale.  I then cut out the tags and matted them with scrapbooking paper.   I printed the last page of the printables on white paper, cut out the tags, and matted them with colored paper.
I am so happy with the results.
By the way, our local Wegmans sells ever so delicious breads in their bakery. If you don't have time to bake a loaf, who wouldn't be thrilled to receive a loaf of bakery bread wrapped with curly ribbon and one of these tags?
Yummy…an elegant sufficiency to be eaten with joy.
***
For those of you who haven't met her, the Dollar Store Diva happens to be my Mom, Nancy, who has a special power.  She can transform Dollar Store and other inexpensive finds into super fun gifts that would brighten anyone's day!
See more Dollar Store Diva ideas here.