Here's the final installment in the Dollar Store Diva's Holiday Gift Giving series.  She's saving the day yet again with a simple yet LOVELY gift idea that will only take a few minutes (and a few dollars!) to create.

***
Fruit baskets are usually a welcomed gift, but often the amount of fruit is overwhelming. I decided to make a cute little mini-version.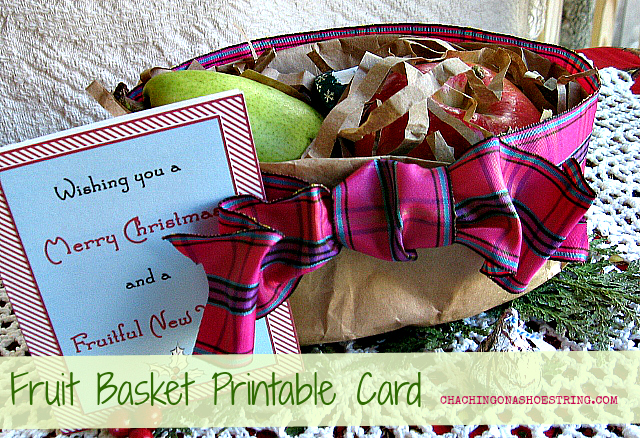 I like the shabby-chic look of this fit-in-your-hand-lunch-bag "basket". [As in FREE.] I started folding the bag down from the top, over and over, until  it created a "basket' about 3" high.
One apple
one pear
and a few Hershey Kisses
all fit nicely on a bed of brown paper shreds I had sliced with my trimmer from another bag. [Once again, as in FREE.]
All I had to do then was to wrap the "basket" with a fat ribbon, tie a bow, and slip in this Fruit Basket Printable Card. [Yup, you guessed it: FREE.]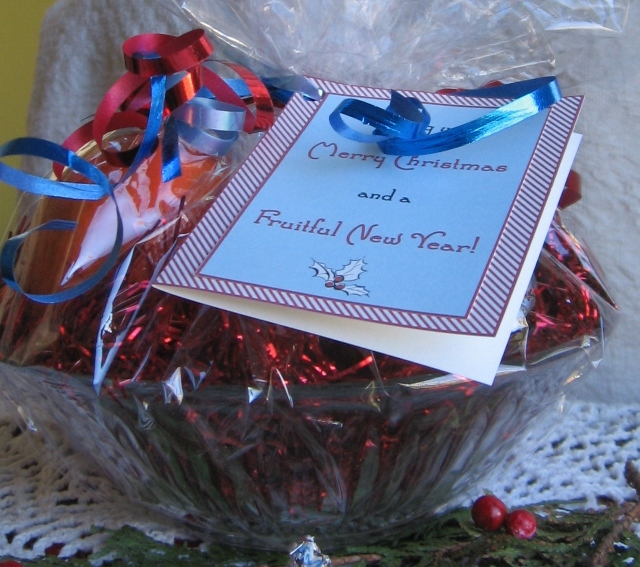 For a second mini-fruit basket, I filled a pretty little glass bowl from the Dollar Store with a strand of red tinsel garland, then added three pieces of  fresh fruit–an apple, a pear, and an orange–and a few Kisses. Finally, I wrapped it all with cello wrap, tied it with some curly ribbon, and attached the same Fruit Basket Printable Card.
I took it to my beautician today.
She loved it.
Wouldn't a teacher also love a gift like this? Or a ________________, or ____________________, or ________________. [You fill in the blanks. You can even put my name in one of the blanks.]
And I really do wish all of you a
 Merry Christmas
and a
Fruitful New Year!
***
For those of you who haven't met her, the Dollar Store Diva happens to be my Mom, Nancy,  who has a special power.  She can transform Dollar Store and other inexpensive finds into super fun gifts that would brighten anyone's day!
See more Dollar Store Diva ideas here.