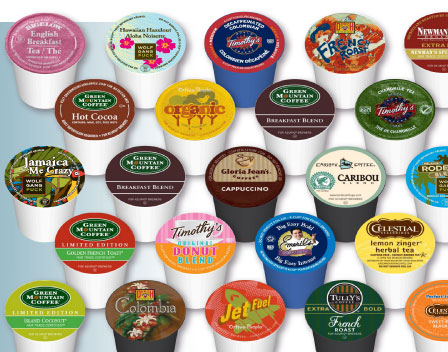 If you got one of the recent deals on a Keurig, did you know that you can score a sweet deal on K-Cups when you register it?  After coupon code, you can order 96 K-cups for only $0.30 each!
Here's how:
Step 1: Register your Keurig Brewer online at Keurig.com. You will need your serial number, which is likely on the bottom of your brewer.

Step 2:  In your welcome email you'll receive a unique coupon code for Buy Two Boxes, Get Two Boxes FREE + FREE SHIPPING and the 10% Coffee Club discount on all K-cups you purchase.

Step 3: Go pick out your K-cups. Add four of the large boxes to your shopping cart. You can mix and match brands and flavors, but add the more expensive of the boxes to your cart first. The large boxes will have either 22, 24 or 25 cups per package, depending upon brand. The Buy Two, Get Two FREE offer is not eligible for the 80-count value-size boxes.

Step 4: Proceed to checkout and enter your unique code. The 10% club discount and FREE shipping should automatically apply.
Thanks, Kosher on a Budget and Olga!