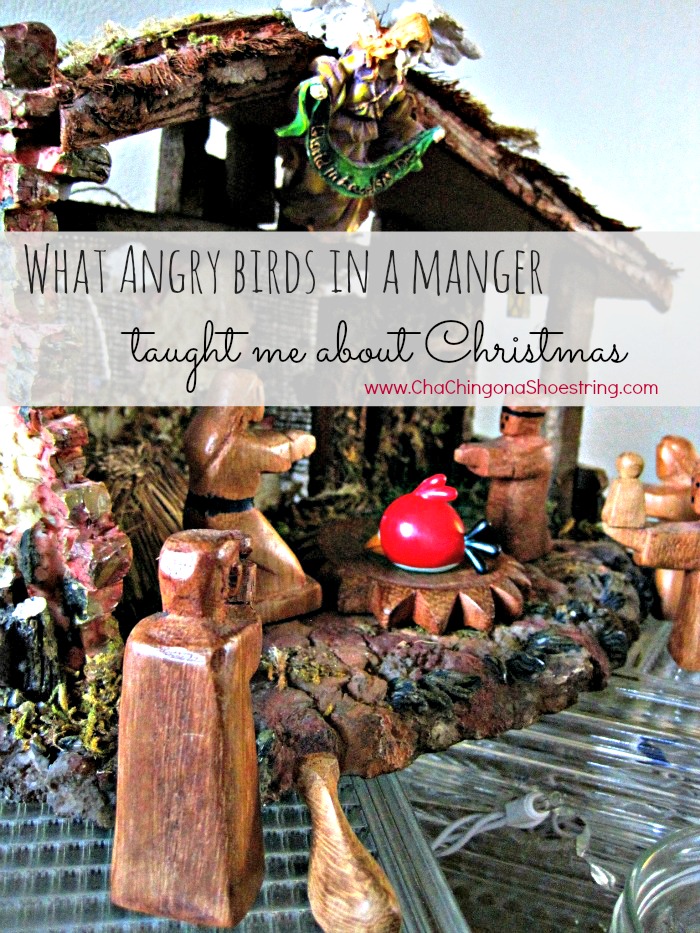 Want to
Do Christmas Well
with me? 
LIKE The Merry Little Christmas Project
on Facebook and be a part of our community! We are a Christmas-loving community that is working together to make Christmas simpler, organized and more meaningful. Come join us!
"Who put the Angry Bird in Jesus' manger?"
It was more of a rhetorical question than anything.  There was a 4 year old and a 7 year old who had some explaining to do.
I laughed, but in full disclosure…I was a little annoyed.  I had asked the boys to put their angry bird figures away.  This is not exactly what I meant.
My kids somehow missed the memo about angelic behavior being required at Christmas time.
Take for example the other night when we gathered to read by candlelight.  Surely the ambiance of the dimly-lit room and the flickering flame would result in a Norman Rockwell–esque moment this holiday season.
Instead the two little urchins angels spent the majority of the time arguing over which of them was going to blow out the candle when we were done.
Didn't they know that this was not how Christmas is supposed to be?  For goodness sake, didn't they know their behavior was not Pinterest-worthy?!
There is something about Christmas that reminds us that we long for perfection.
Well now.  I guess the cat's out of the bag, all.  We aren't perfect.  Nope.  Not even close.
What do you long for at Christmas?
A family that doesn't fight?
A paycheck that stretches further?
Things to return to the "way it used to be"?
__________ (Go ahead.  Fill in the blank.)
This year, more than ever, I think we all long for PEACE on earth.
I look at my Boys,
My Angry Bird Pranksters.
My Candle Light Fighters.
My _________ (fill in the blank with any number of stresses they will cause me through the years.)
I realize something.
This IS how Christmas is supposed to be. 
Messy.  Imperfect.  Full of noise and chaos and sleepless nights and LEGO's all over the floor and dirt on the rugs and countless moments that don't make it on Instagram.
Because that is LIFE.
Tonight my oldest re-told the story of Christmas to me.  My favorite part was when he described the barn where Jesus was born.
"It was full of animals and it stinked," he described emphatically.
This One That I Celebrate – Who was born in a barn – certainly isn't scared off by my imperfection.  He gives me HOPE.
And I'm pretty sure He can handle that Angry Bird in His manger too.
Dear readers, would you please have yourself a Merry (and Imperfect) Little Christmas?   
And in case you didn't know – I'm so thankful for you.  I don't tell you that enough. 
Want to transform your Christmas with us? My Book The Merry Little Christmas Project – Five Words that will Transform your Christmas has helped thousands of women do just that. If you have ever wished that Christmas didn't have to be so stressful, I wrote this book for you. Click here to learn more and begin simplifying and organizing your Christmas with me!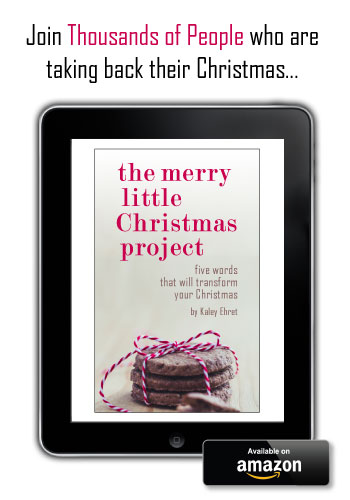 You May Also Like: