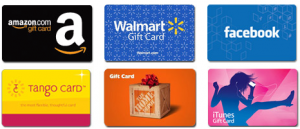 Have you heard about Plink – the new Dining Out rewards program?  You can actually get paid to eat out!
PLUS right now they are offering a FREE $5 gift card to Amazon.com (or Home Depot, Walmart, Facebook and more)  when you sign up and attach one of your credit/debit cards to the account.  No purchase is required!
Then when you use that card you will earn points when you make purchases at certain restaurants, stores, hotels, with your card.  As you earn points, you can turn them into MORE gift cards to Amazon.com, Home Depot, Walmart, Facebook and more.
I signed up with Plink today and within a few hours, my points were added to my account and I redeemed them for a $5 Amazon gift card, which showed up tonight!  (Could take up to 48 hours.)
So here's how to claim your FREE $5 Gift Card:
Register your card.
Wait 12 – 18 hours and 500 Points will go into your account – which you can redeem for a $5 Gift Card.
In case you are worried about adding your credit/debit card, you can head over here to check out their rating with the Better Business Bureau.
Looking for other ways to earn free stuff?  Check out other rewards programs that I recommend.