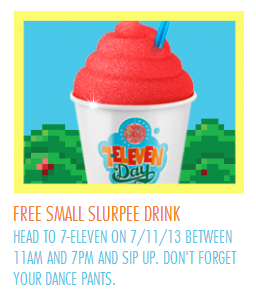 Just a reminder to stop by 7-Eleven on Thursday (7/11) for a FREE SMALL Slurpee drink from 11 a.m. to 7 p.m. to celebrate their 86th birthday.  While supplies last!
PLUS right now Plink is offering new members a FREE $10 gift card when you make a $25 in-store or gas purchase at any 7-Eleven.  Fill up your gas tank while you are there and you're all set!
Here's how to claim the offer:
Register your card.
Make your purchase at 7-Eleven before 7/21.
Your 1,000 Points will go into your account will be credited to your account within 7 business days – which you can redeem for a $10 Gift Card to stores like Amazon, Target, Walmart, Fandango and more!
If you'd rather simply get a $5 gift card (no purchase necessary), head over here to sign up.