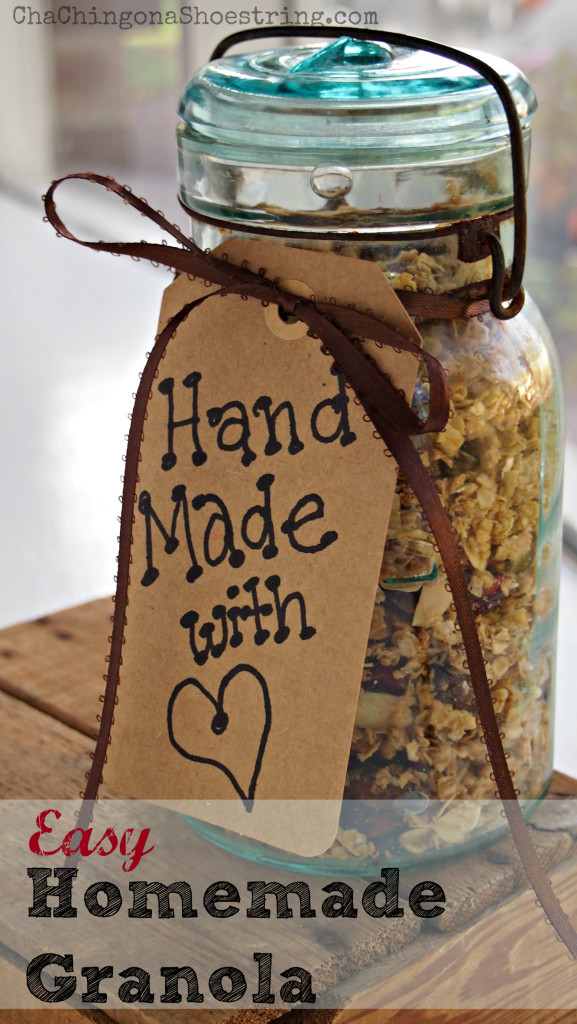 I have a crush on homemade granola.  It's just so yummy.
I don't, however, have the same feelings for the amount of time that it takes to make homemade granola.
So when the folks at ALDI sent me a recipe for EASY homemade granola – I jumped at the chance.
And let me tell you – this recipe is easy.  And yummy.  The best of both worlds.
It's also fantastic because it stays fresh for two weeks, so you can make large batches ahead of time.  I totally realized my error in making a single batch when my family devoured it in exactly two seconds.  The good news?  It's easy to make up another batch!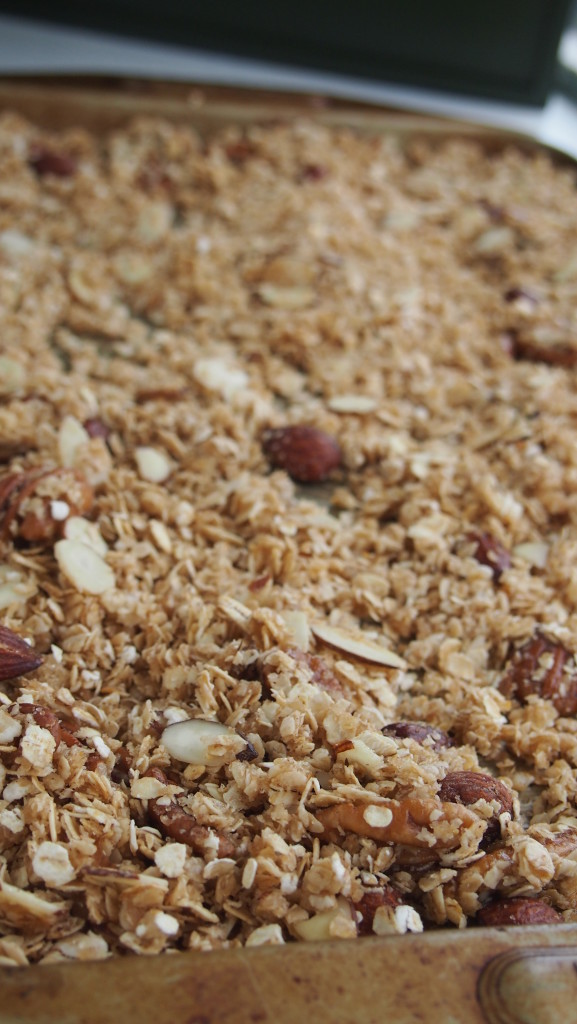 Easy Homemade Granola Recipe: 
ALDI Shopping List: 
4 cups Millville Instant Oatmeal, Maple Brown Sugar (I replaced half with regular oatmeal.)
1/2 tsp. Stonemill Essentials Salt
Pinch of Stonemill Essentials Cinnamon, Ground
1/2 cup Southern Grove Deluxe Almonds, Dry Roasted
1/2 cup Southern Grove Sliced or Slivered Almonds
1/2 cup Southern Grove Pecans, halved
1/3 cup maple syrup of your choice
1/3 cup Baker's Corner Brown Sugar
1/3 cup Carlini Canola Oil (I used vegetable oil.)
1/2 cup Southern Grove Dried Cranberries
1/2 cup Baker's Corner White Baking Morsels or Baker's Corner Milk Chocolate Baking Morsels (optional)
Recipe:
Step 1: Preheat oven to 250 degrees.
Step 2: In a small bowl, mix the maple syrup and canola oil.
Step 3: In a large bowl, mix the instant oatmeal, salt, cinnamon, almonds (both kinds), pecans and brown sugar.
Step 4: Pour mixed liquids over combined dry ingredients and stir.
Step 5: Spread granola out across two to three baking sheets and bake for one hour.
Step 6: Let baked granola cool for 30 minutes.
Step 7: After 30 minutes, break up granola and place in air-tight container.
Step 8: Add in dried cranberries and baking morsels (optional).
Step 9: Finish with a ribbon or hand-written note.
This would make such a thoughtful gift for teachers or friends at Christmas time.  It's also a fantastic after school snack for kids (if you are willing to share!) and is so delicious on yogurt or ice cream.
Enjoy!
Disclaimer: ALDI sent me a gift certificate to cover the cost of the ingredients in this recipe.  But all opinions are completely and totally my own!
Check out more recipes from my kitchen.