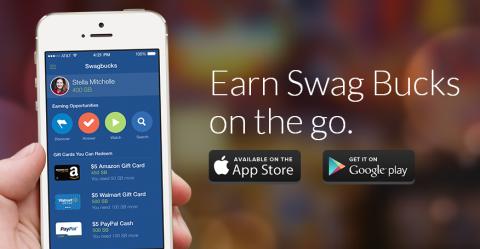 What is Mobile Swag Bucks Friday?
Fridays on Swagbucks.com have always been a day for big wins with MSBD — but now, the site is taking their wins to mobile! Starting today, Jan 17th, Mega Swag Bucks Day is now Mobile Swag Bucks Day!
What is Mobile Swag Bucks Day? It is a day filled with opportunities to win bonus Swag Bucks for sharing images of your Swag Buck wins on your mobile phone. To win, share any SB award from a mobile device, such as:
Search win from the mobile app
Answering the Daily Poll on the mobile app
Discover awards on the mobile app
Awards for watching SBTV Mobile
Awards for watching EntertaiNOW app
Redeeming a Swag Code on the mobile app
Just take a screenshot of your win and share it on Swagbucks Facebook or Swagbucks Twitter including #MSBD and your swag name. Throughout the day Swagbucks will randomly choose members and award them 25 SB!
One way to get your next mobile win from Swagbucks is this Swag Code for 3 SB: MobileSBDay through 10 am EST.
New to Swagbucks?
Enter my exclusive code CHACHING70 to start off with 70 Swag Bucks in addition to the 30 you normally get when you sign up here and complete your profile. (Just look for the text that reads "I have a sign up code".)
That will get you almost a quarter of way to earning your first $5 Amazon gift card!
Not familiar with Swag Bucks yet?  Click here to read all my favorite way to earn FREE stuff!