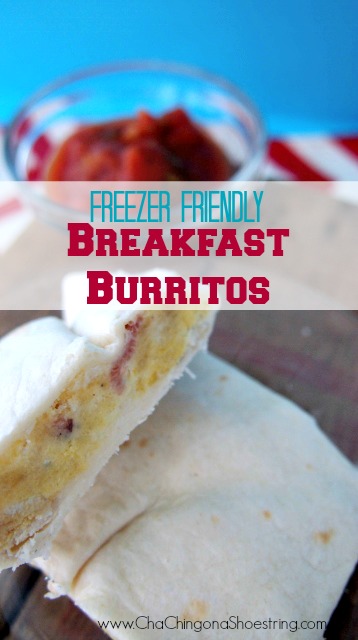 Make Ahead Freezer Breakfast Burritos Recipe
These Make Ahead Freezer Friendly Breakfast Burritos are another effort to fulfill my New Year's Resolution to try new and healthier breakfast recipes. I love how easy it is to pull a burrito or two out of the freezer to warm up in the morning.
I also did the math and by shopping at ALDI  it cost less than $8 to make the whole recipe which makes them about $0.40 per burrito – much cheaper than a McDonald's Breakfast Burrito!
And may I add that ALDI's new Simply Nature Black Forest Ham is so yummy?  Oh my.  I had to hold myself back from snacking on it.  (And at just $2.99 for a 7 oz. package, you gotta try it.)
Do yourself a favor and double this recipe.  Grabbing one of these from the freezer is even easier than pouring a bowl of cereal and these are a great way to get that protein we need to start the day!
Freezer Friendly Breakfast Burritos with Cheese and Ham
Ingredients
2 Tbsp butter
1/3 cup chopped onion
1/3 cup chopped green pepper (optional)
18 eggs
1/2 cup milk
1 cup chopped ham
1 teaspoon salt
1/2 teaspoon pepper
2 cups shredded cheddar cheese
20 flour tortillas
Salsa (optional)
Instructions
Saute onions and peppers (if desired) in butter. Beat eggs and milk together and add them to the skillet.
Add the ham, salt and pepper. Cook, stirring occasionally. When eggs are set, mix in cheese and let melt.
Scoop 1/2 cup egg mixture onto tortillas. Fold ends under and roll up.
If you prefer not to freeze: Put all burritos in a baking dish, top with extra cheese (if you'd like) and bake at 350 degrees for 20 minutes or until heated through.
If you prefer to freeze: Wrap burrito in a paper towel and then in a sheet of foil. Seal tightly and place in freezer bags. Freeze.
To serve: Remove foil and put paper-towel-wrapped burrito in microwave. Reheat for around one minute. If still cold, heat up at 10 second intervals until heated through. Serve with salsa, if desired.
Notes
https://chachingonashoestring.com/2014/01/24/make-ahead-freezer-breakfast-burritos-recipe/
I linked this to Thrifty Thursday.