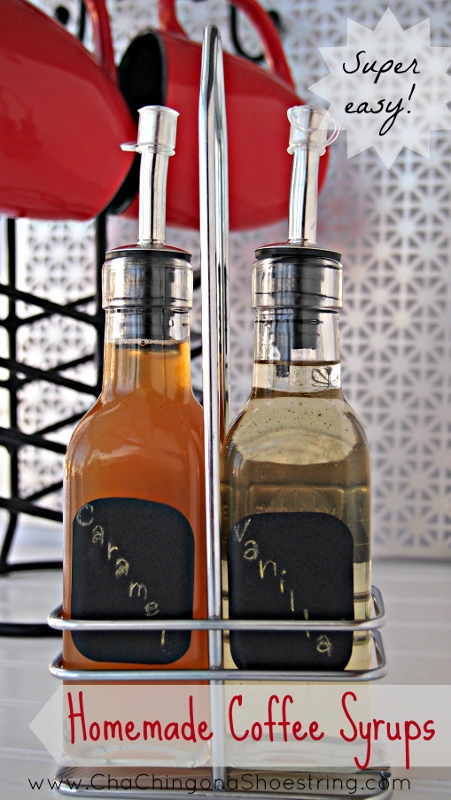 Easy Homemade Coffee Syrup Recipe
I have been thinking about making Homemade Coffee Syrups for as long as I can remember. After all, I am a coffee lover! I love a cup of coffee that tastes just like it's from your local coffee shop; I want to recreate this at home with these syrups and the best coffee equipment I can get, like what is available at The Full Moon Cafe. As I said, I've been meaning to make these syrups for ages! Okay, so maybe it's only been a few months, but at this point in life, I'm having a hard enough time remembering the details of yesterday. So you can imagine how long a few months feels.
I even bought these super cute glass syrup bottles on Amazon a while back. (DEAL ALERT: I spotted these at the Target One Spot a few months ago…check there first!)
For some reason, making my own syrup felt so intimidating to me. Like I was going to go have to go out and find a Maple tree to tap or something.
Good news, folks. I learned today that making homemade coffee syrup requires no trees and no taps. In fact, this recipe is about as easy as recipes come.
This would make a fun gift for a coffee lover in your life or just a great way to mix up the coffee love in your own life. And besides…it's just plain cute.
Easy Homemade Coffee Syrup Recipe
Ingredients
The Basic Recipe:

1 c. water
1 c. granulated sugar

Optional Ingredients:

1/4-1/2 c. Caramel topping
1 vanilla bean pod or 1/2 - 1 t. Vanilla Extract
1 tsp. ground cinnamon
Instructions
Basic Recipe:

Add water and sugar to a small saucepan over medium-high heat and bring to a low boil, stirring often. Boil for 5-7 minutes, or until all sugar has dissolved. Remove the pan from the heat and allow to cool. Store in the refrigerator in a sealed container.

Variations:

Caramel Syrup:

Once syrup is removed from the heat, stir in 1/4 - 1/2 c. caramel topping.

Vanilla Syrup:

Add 1 vanilla bean pod to the saucepan with the sugar and the water and remove after the syrup has cooled. OR add 1/2 - 1 t. vanilla extract to the syrup once you have removed it from the heat.

Cinnamon Syrup:

Add 1 t. ground cinnamon to the saucepan with the sugar and water.
Notes
https://chachingonashoestring.com/2014/02/07/easy-homemade-coffee-syrup-recipe/
I linked up to Thrifty Thursday.