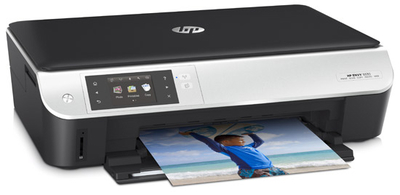 HP Instant Ink Review – Ink Replacement Service
I shared my review of the HP Envy 5530 e-All-in-One printer a couple of weeks ago, but you may recall that I left you with a little teaser about one more fantastic feature about this printer.
With this printer, you may never run out of ink again.
How is that, you ask?
It's an innovative new program called the HP Instant Ink Service. Here's how it works: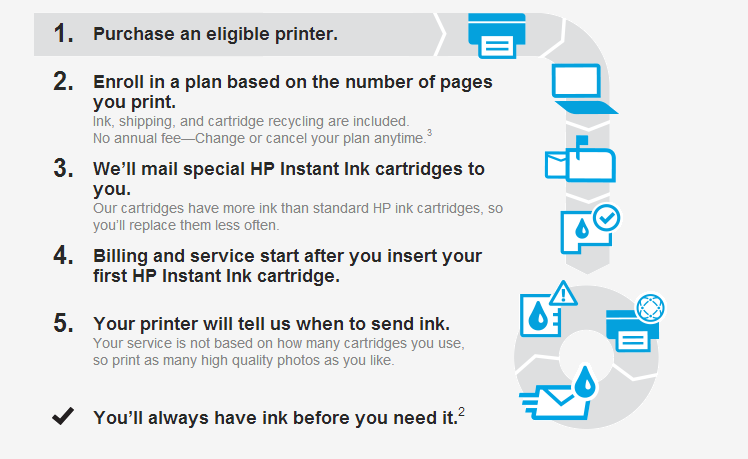 Learn more here.
Instant Ink subscribers are not charged by ink usage, but instead by the number of pages printed, meaning that regardless of what's being printed – black and white or color documents and high quality photos – it's going to cost the same.
Plans start as low as $2.99 per month (although if you print as many coupons as I do, I'm guessing you will need the $4.99 per month subscription or higher):

As you print pages, your HP account will keep you informed about how many pages you have left for the month:

Additional pages are available in sets of 15, 20 and 25 pages, depending on your plan, for $1. As long as your printer is connected to the Internet, HP will even send you an email to remind you when you are near printing all of the pages in your plan.
When your ink gets low, your printer will actually let HP know and you'll receive another ink cartridge in the mail! No extra fee…just keep paying your monthly amount like you always have.
And if you decide you don't want to keep the service, you can cancel at any time. Just continue using the printer and buy ink when you need it.
I have not figured out an effective way to do the math to determine how this stacks up to my normal ink costs. However, as a $4.99 per month subscriber, I would be paying about $60 per year. Since it costs about $40 to refill both of my ink cartridges, this would be equivalent to buying ink less than twice per year. Sounds pretty great to me!
Update: As of January 2015, I have switched to the $2.99 plan for several months and it has worked great for me! There have been a couple of months that I have gone over the 50 page limit, but only needed to spend the extra $1 for additional pages, so I still only paid $3.99. I also love how easy it was to switch plans!
I will say that I LOVE the idea of never running out of ink. There have been many times that I have missed high value coupons because I did not realize how low my ink was. That's a chunk of savings right there to always have extra ink on hand.
Not to mention, this saves the time of going out to buy ink – and time is money, right? Ultimately, it will depend on the user whether this is an effective service. But I'm definitely going to be a subscriber for a while. If you're wondering whether or not to try and incorporate this printing method into your home, or even business, you should consider whether it will be economical and useful for you. Try reading other HP Instant Ink Review pages to see if this service is for you or not. The method might fit in well in an office environment, but if you're working from home, or using it for your own personal use, you might want to do a bit more research to check that you will be printing off enough pages for the subscription to be viable.
Click here to learn more about HP Instant Ink.
I wrote this review while participating in a program on behalf of HP and received an HP ENVY 5530 e-All-in-One printer and an HP Instant Ink package as part of my participation.