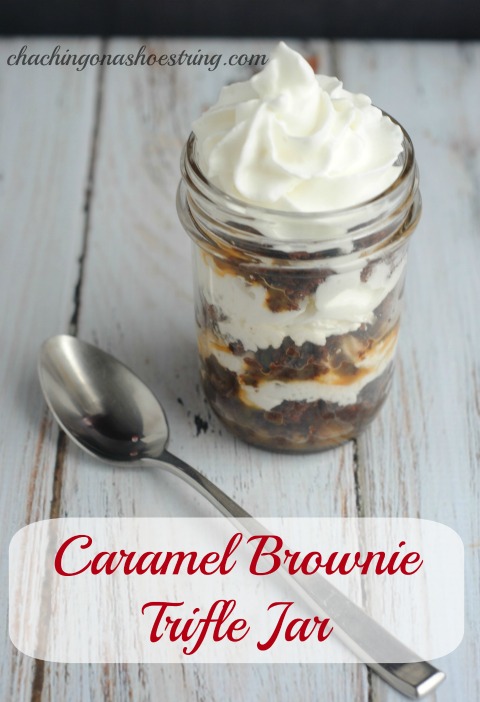 Caramel Brownie Trifle Jar Recipe
I can't think of many desserts that I love more than brownies. Throw a little caramel on top of them, and that's delicious. Create several layers of ooey-gooey brownie, whipped cream and caramely-ness and that is simply divine.
Serve it all up in a mason jar, and that's just FUN!
This would make such a fun treat for guests this summer – or ANY time of the year! And it's simple enough that the kiddos can get involved in the process – although it's up to you if you want to share any of those leftover crumbs at the bottom of the pan or not. 😉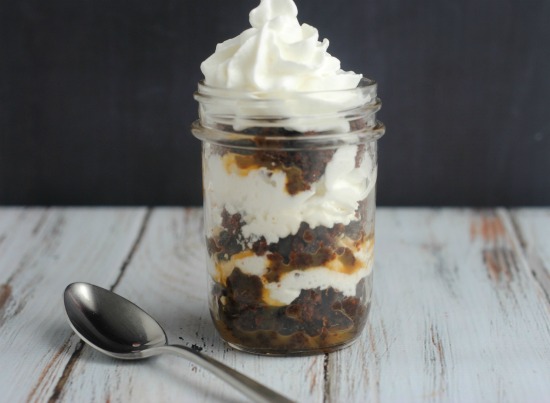 Caramel Brownie Trifle Jar
Ingredients
6 tbs. cocoa powder
2 tbs. oil
1/3 C. butter or margarine
2 eggs
1 C. sugar
¾ C. flour
½ tsp baking powder
½ tsp. Salt
non-stick spray
8x8 baking dish
15 ½ pint jelly jars
Whipped cream
caramel syrup or sauce
Instructions
Preheat oven to 350 degrees.
In a medium size bowl, combine the flour, cocoa powder, baking powder and salt. Set aside.
In a separate bowl, combine your wet ingredients – 2 tbs. oil, 1/3 C. butter or margarine and your eggs.
Slowly fold in your dry ingredients in with the wet ingredients and mix well.
Pour the batter into the greased 8x8 baking dish and bake for 25-30 minutes. Around 25 minutes insert a toothpick into the brownies and if it comes out clean, they are done. Let the brownies cool a few hours prior to layering your jars.

Jar Assembly:

Cut the brownies into small chunks.
Add a 1-2" layer of brownie to the bottom of each jar.
Add 2 tbs. of caramel syrup/sauce on top of the brownies.
Add about 2 tbs of whipped cream (more or less if you prefer)
Another 1-2" layer of brownie
Caramel syrup/sauce
One last layer of brownie and then top with more whipped cream.
Notes
Makes approximately 15 ½ pint jelly jars. 1 jar = 1 serving. If not serving immediately, store covered. I don't recommend storing longer than a few hours. The whipped cream does get very liquidy and doesn't look appealing.
https://chachingonashoestring.com/2014/06/17/caramel-brownie-trifle-jar/