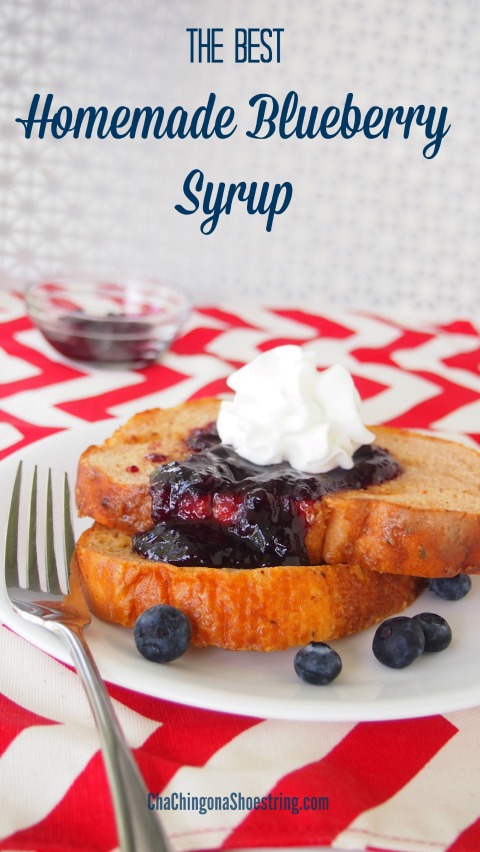 The BEST Blueberry Syrup Recipe
Every once in a while, I stumble upon a recipe that is SO easy and mouth-wateringly delicious that I have to ask myself, "How in all of my 30-mumble-mumble years have I not known about this??!"
Yeah. That's how I feel about this blueberry syrup recipe I recently discovered.
In my 8 year old son's own words, "It's to die for."
What is also amazing to me is that every single person that I've told about my new favorite use for blueberries has been as completely in the dark about blueberry syrup as I have been.
I feel like I've stumbled on some kind of secret national treasure or something.  (Did I mention it only takes 10 minutes to make?)
Well, dear friends, the secret is out. You MUST try this blueberry syrup recipe. Don't wait. It will change your life – and your breakfast – forever.
The Best Blueberry Syrup Recipe Ever
Ingredients
1 cup frozen blueberries
5 tablespoon sugar
1 tablespoon cornstarch
1 1/2 tablespoons lemon juice
6 tablespoon pure maple syrup
Instructions
Combine the berries, sugar, and 1/2 cup water in a saucepan and cook over medium heat until sugar is dissolved.
Dissolve the cornstarch in 1 tablespoon cold water. Whisk into the berries. Bring to a boil and let boil while whisking for 2 minutes.
Remove from heat. Add the lemon juice.
Stir in the maple syrup and serve (A dab of whipped cream on top is never a bad idea!)
Notes
I haven't tried this yet, but you can substitute almost any frozen berry or fruit in this recipe. Try using 1 cup strawberries or raspberries or 3/4 cup peaches in place of blueberries.
https://chachingonashoestring.com/2014/07/15/best-blueberry-syrup-recipe/
 Let me know what you think!