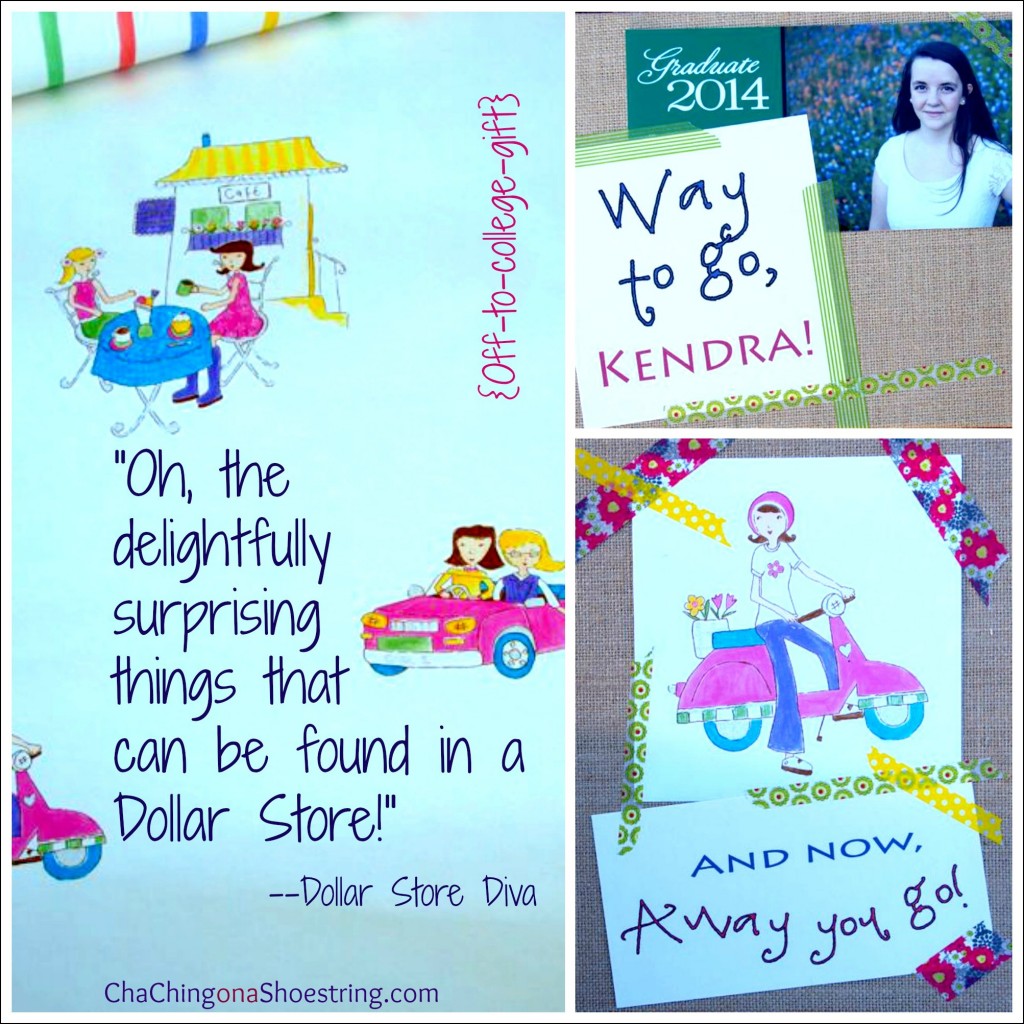 I was looking for a special college send-off gift for my granddaughter. Our family is spread across the United States, but we were spending a week together in Virginia so I wanted to seize that moment to help Kendra celebrate this off-to-college milestone in her life.
To get my creative juices flowing, I headed to a Dollar Deals Store. You'll never guess what I found:
Wallpaper!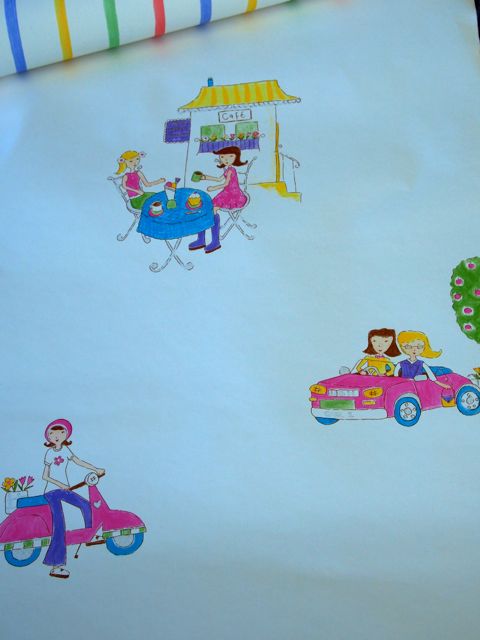 Yup–wallpaper!
I couldn't believe how perfect this paper was for Kendra's off-to-college gift.
I was giddy with excitement.
I already had some 8×10″ canvas-covered mats I had found at Michael's for 70% off. There were four scenes depicted on the wallpaper, so I cut each one into a rectangle and attached it to a mat with a fun assortment of washi tape.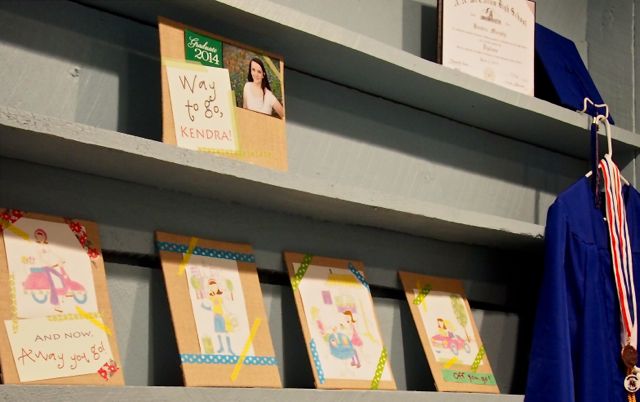 Our vacation cottage had the perfect shelves for the display.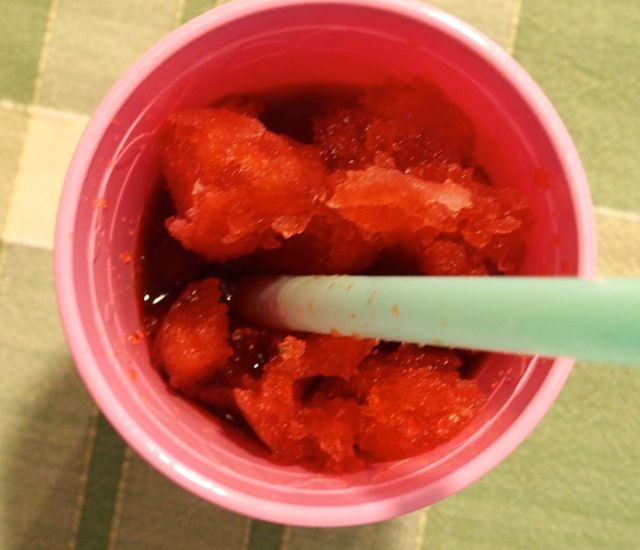 We all gathered around for the gift presentation and sipped Frozen Strawberry-Lemonade and Raspberry Slushies.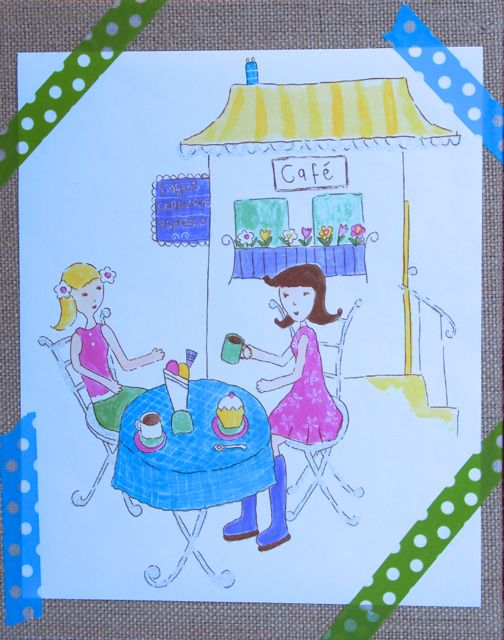 The family had pitched together for gifts. A soon-to-be college student would certainly need a Starbucks gift card, so that was placed behind this picture.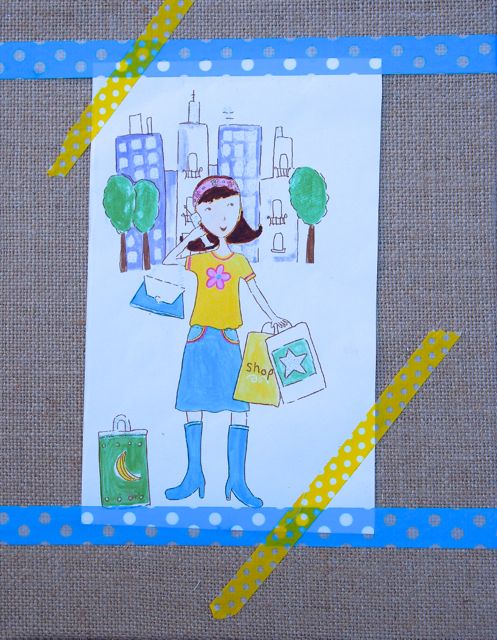 And most definitely there would be shopping for her dorm room, so a Target gift card was placed behind this picture.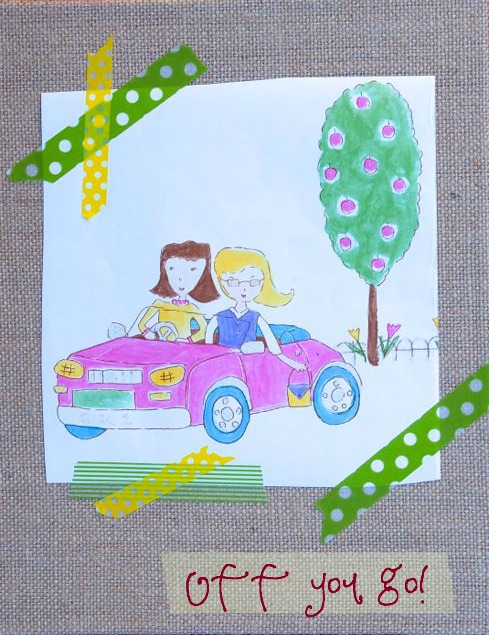 Finally, it would soon be time to pack the car and Off you go!, so we found a vintage suitcase at Goodwill and filled it with an assortment of towels and toiletries.
So there you have it–giggles and delight all around as Kendra's family applauded her high school successes and wished her well on this next step in her young life.
NOTE: I am aware that this particular wallpaper may have been on a Dollar Store shelf only one time in the history of the world, but perhaps it will spark some ideas of your own. The internet is overflowing with free printables that can be used to create a story for any occasion.
Have fun and let me know in what direction your own creative juices flowed 🙂
***
For those of you who haven't met her, the Dollar Store Diva happens to be my Mom who has a special power.  She can transform Dollar Store and other inexpensive finds into super fun gifts and crafts that would brighten anyone's day