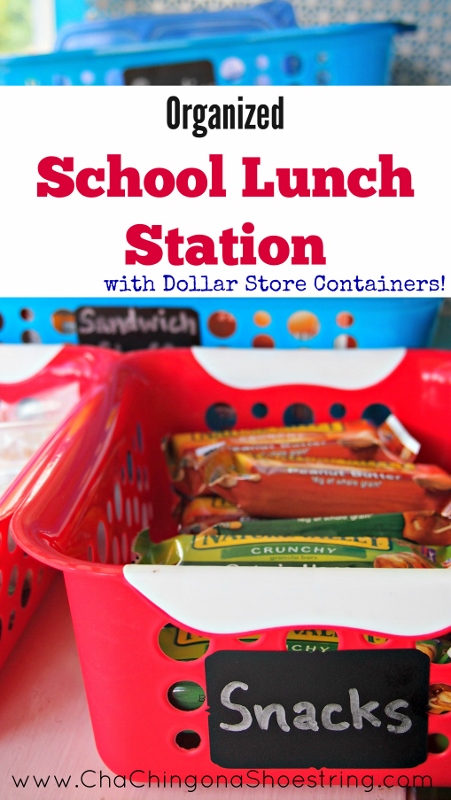 Organized School Lunch Station
Raise your hand if you simply love to make school lunches.
Anyone??
Yeah. Me neither. It's simply just not one of my favorite things.
Not even one of my second favorite things.
But the other day when I spotted a School Lunch Making Station on Pinterest, I got a little giddy. It was a moment of pure inspiration and immediately I knew my School-Lunch-Making-Angst would soon come to an end (or at least get a lot cuter).
If there's anything I have learned since I first experimented with Dollar Store Organization, it's this. Organization does not need to be complicated! For years, I've thought only the select few could make organization a simple process. And now I know the real truth.
It's all about the storage bins.
The secret is out, people. And since the dollar store is full of adorable containers at the right price, organization can be simple for all.
So with that in mind, I made haste to my favorite Dollar Tree with a list of needed items in hand, found the cutest storage bins possible and headed home with a little organizational skip in my step.
I am also sooo glad that I took the plunge and bought an assortment of Chalkboard Labels a while back. They have made my life so much more functional (and did I mention adorable?)
So here's how I put those containers and labels to work: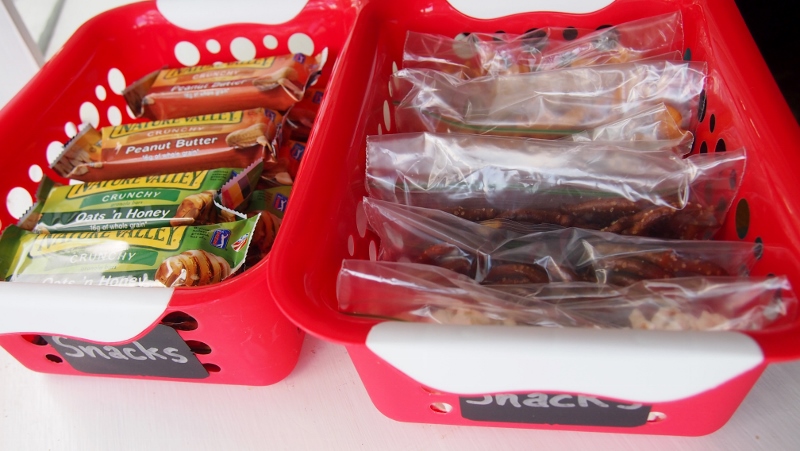 The Snack Bins
No more searching the cupboards for possible snack items. Grab 'n go snacks can be prepped ahead of time. I fully intend on keeping up with this system. Hold me to it, k?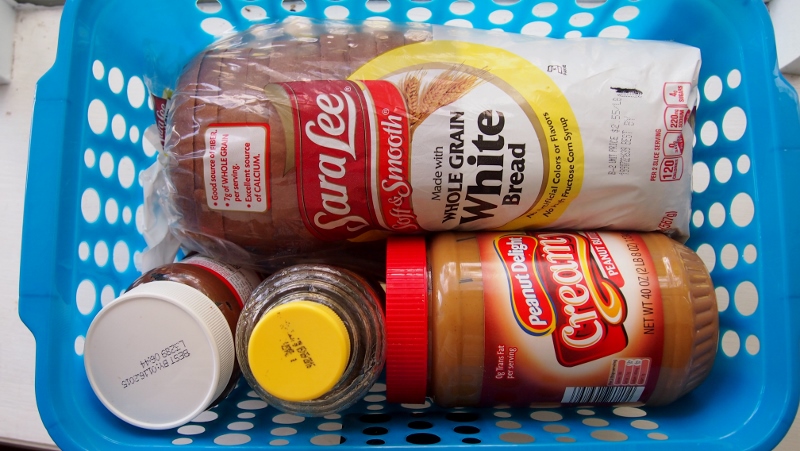 The Sandwich Stuff Bin
Fits like it was made for this.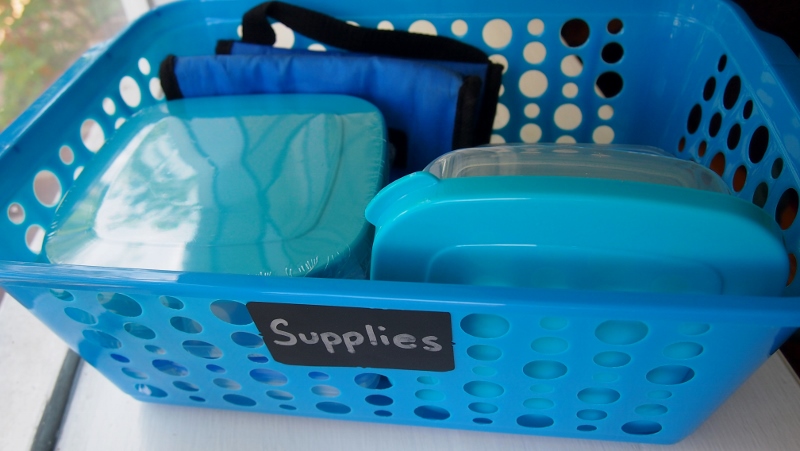 Supplies Bin #1
Yep. Those snack containers came straight from the dollar store. Score.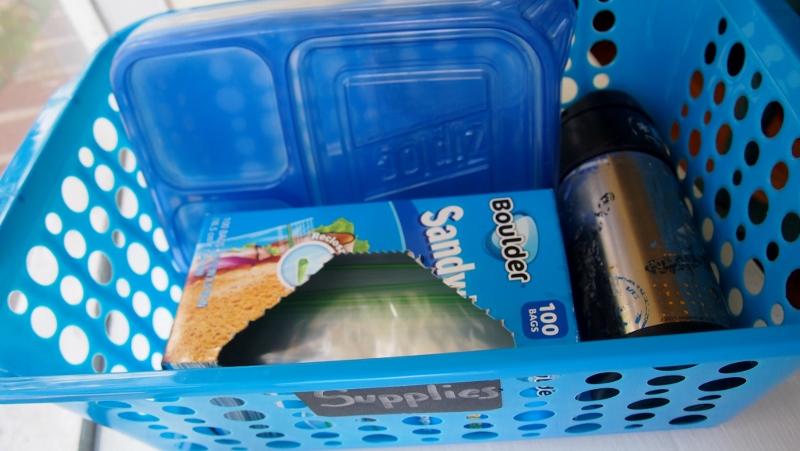 Supplies Bin #2
We love our Ziploc storage containers. Makes lunch-making even snappier.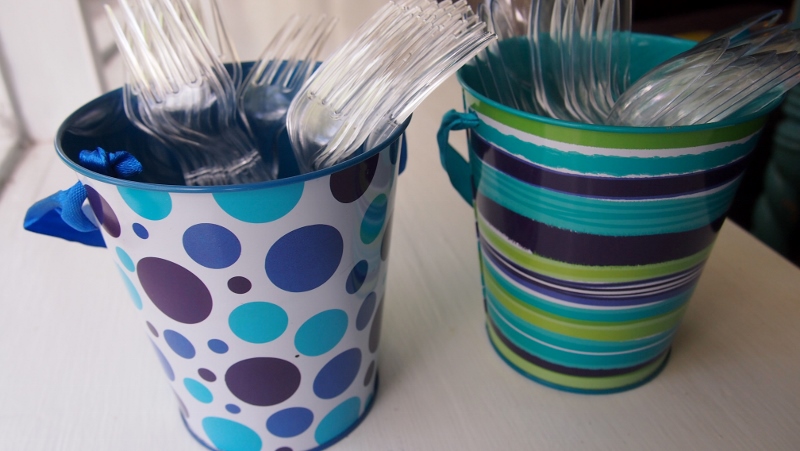 Plasticware Storage
Because how could I resist these adorable little things? (Yes, I kind of have a thing for adorable – is it that obvious?)
And now…for the final reveal: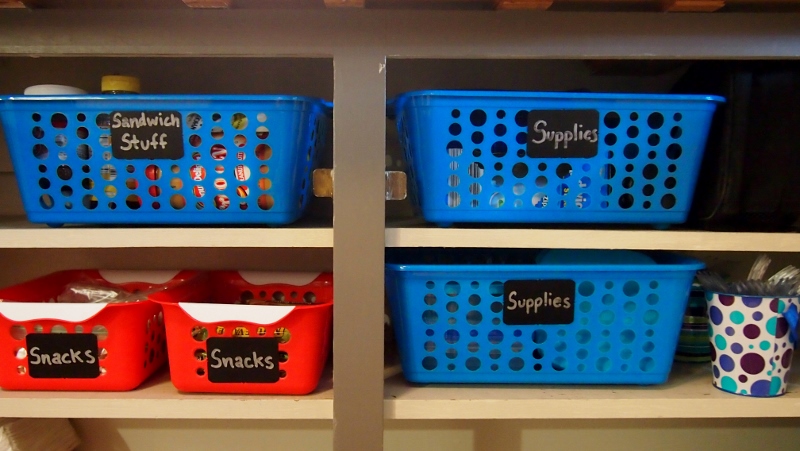 These shelves in our island were previously holding an assortment of odds and ends. They all found a lovely new home elsewhere (others made it safely to the trash).
What do you think? I think I really really like it. 
I'm quite sure that my new Lunch Making Station will solve all matters of lunch-making crises. I will happily pop out of bed in the morning, eager to get my hands on that peanut butter and honey once again.
Or something like that.
How about you? How do you make School Lunch Making more fun?