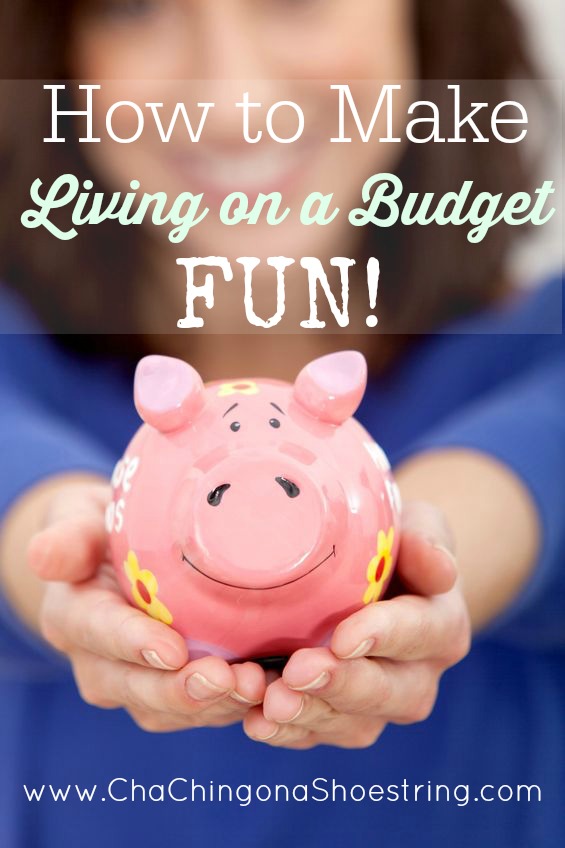 When you think about the word "Budget", what thoughts comes to mind?
I'm going to guess that "FUN!" isn't the first word to pop into your head, am I right?
It's likely words like "Restrictive" or "Boring" or "Help!" are more likely to pop into your thoughts when considering the idea.
If you are anything like me, though, there needs to be some good old-fashioned FUN involved in budgeting or it just ain't gonna happen.
Budgets don't have to be all about line items and spending limits and giving up that latte. No matter what your income, there is ALWAYS room for fun. Trust me. I've lived on a very limited income at times in my life and it was those times that taught me that living on less just means you have to get a little more creative when it comes to fun.
Here are some ideas to get you started: 
Find ways to earn extra cash online. 
If you stick around for long, you'll discover that I am a BIG fan of this method of making a little wiggle room in your budget. Whether I'm taking part in our 20 Minute Extra Cash Challenge or the Cha-Ching! Christmas Club, I have always found ways to take advantage of rewards programs online. In fact – it's how I spent only $50 on Christmas a few years ago!
Challenge yourself.
Want to go on vacation? See how much money you can earn selling a few of your items on Craigslist or in a Yard Sale. Don't have much in your grocery account this week? Use coupons and see how many deals you can score for the amount of money that you have. (Check out how much I bought for just $10 a few years ago!) Or get creative in the kitchen and shop from your pantry that week.
Make a list of ways that you can have FUN without spending a dime.
Dance party in the kitchen. Sightseeing. Walks through the park. Movie night. (Free Redbox rentals are pretty common around here!) Library activities. Free concerts in the park. Having friends over for coffee. FREE is FUN!
Leave room in your budget for a little fun. 
My husband and I each get an allowance every month to spend as we choose. He likes to save up for big ticket items. I prefer the freedom to stop by Dunkin Donuts for my medium French Vanilla Coffee from time to time. Don't have extra money for an allowance? Earn gift cards with Swag Bucks or MyPoints and set them aside for the occasional splurge.
Find FREE Stuff
We are all about FREE around these parts. Forget the junk mail – around here, we find FREE stuff in our mailbox daily! We're all about those birthday freebies too! There's nothing more fun than free breakfast, lunch, dinner and dessert on your special day! And did you know that there are NINE secrets to finding FREE stuff on Amazon? If that's not fun, I don't know what is.
Celebrate. 
Set savings goals. When you achieve them, find a way to celebrate. You deserve it!
How about you? How do YOU make living on a budget fun?
This post is part of the 30 Day Budget Bootcamp I am participating in with other frugal bloggers and the Mommysavers forum.  You can join the discussion by creating a free Mommysavers Forum account and check out all the posts so far this month.