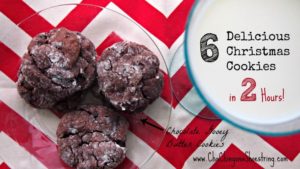 Want to transform your Christmas with us? My book The Merry Little Christmas Project – Five Words that will Transform your Christmas has helped thousands of women do just that. If you have ever wished that Christmas didn't have to be so stressful, I wrote this book for you. Click here to learn more and begin simplifying and organizing your Christmas with me!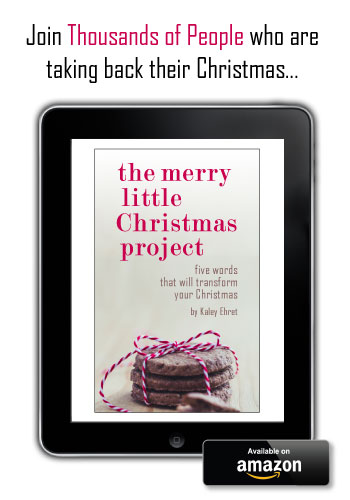 6 Christmas Cookies in 2 Hours
Two hours. It's the magic number for many moms of kids-who-still-take-naps. Two hours of uninterrupted time to accomplish a whole lot.
I decided to challenge myself recently to see how many Christmas cookies I could make in 2 hours – I'm very motivated by deadlines – particularly when the cause of them is sleeping soundly in the other room.
I am happy to say that in just a little over 2 hours, I had all the prep done for 6 delicious Christmas cookies and they were all either freshly baked, in the oven or ready to go. The cleanup on the other hand did not get done in that time frame – Super Mom I am not.
A little disclaimer: I am not an expert when it comes to freezer baking. However, in our family, Christmas cookies don't last real long in the freezer, so I haven't had to worry about it too much. I typically just place them in an airtight container with a couple layers of wax paper. However, I think it would be a good idea to separate cookies into gallon baggies before doing so since the flavors of some of our cookies have seemed to mix a bit. This would help to prevent that from happening.
To make things simpler for you, I created a Master List of Ingredients and the 6 cookie recipes here. If you'd like to give this a go, I wanted to simplify your experience as much as possible! Be sure to scroll to the bottom of this post to find some helpful steps in making your freezer baking session a success.
Here were the results:
Recipe #1: The Chocolate Gooey Butter Cookies pictured above are a new recipe I discovered this year. These babies really do melt in your mouth and couldn't be easier (hint: they use a cake mix!)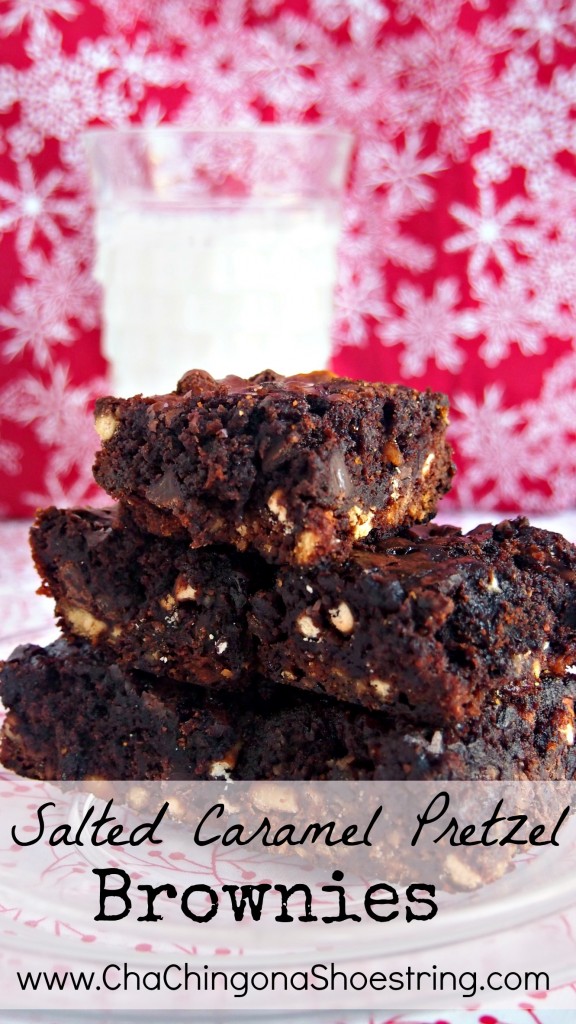 Recipe #2: I am partial to these Salted Caramel Pretzel Brownies. The pretzels and caramel break up the richness of the brownies and they freeze really well.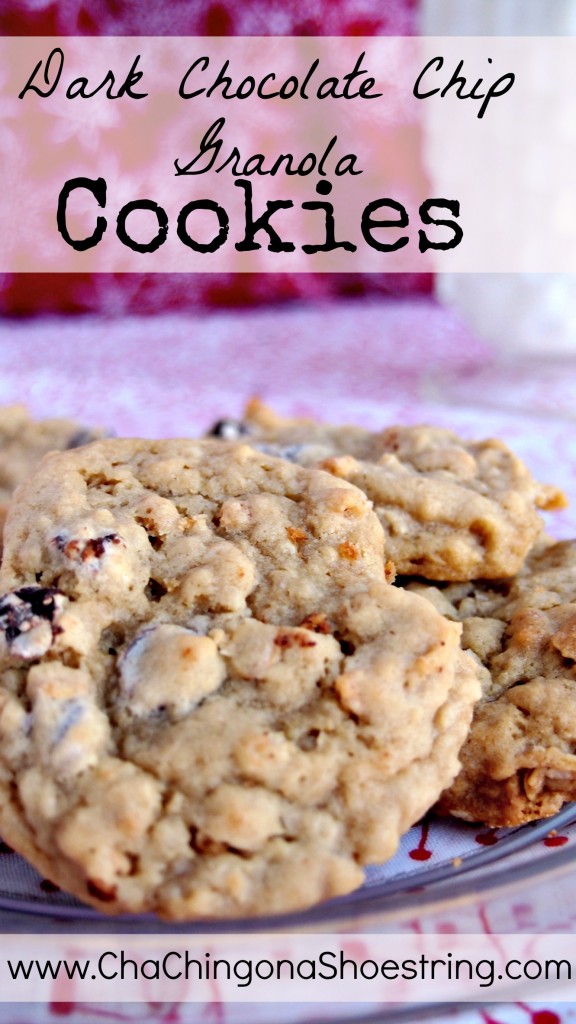 Recipe #3: I discovered these Dark Chocolate Chip Granola cookies last year and instantly fell in love. They are the perfect combo of Chocolate Chip and Oatmeal cookies – and again, really easy.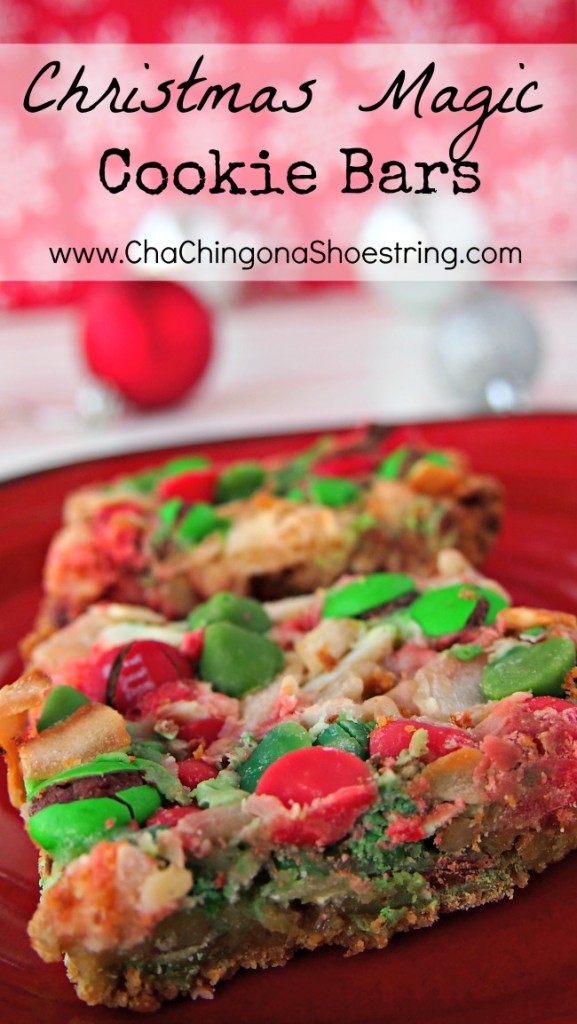 Recipe #4: Another new recipe this year and incredibly easy. These are the cookies for those coconut lovers in your life.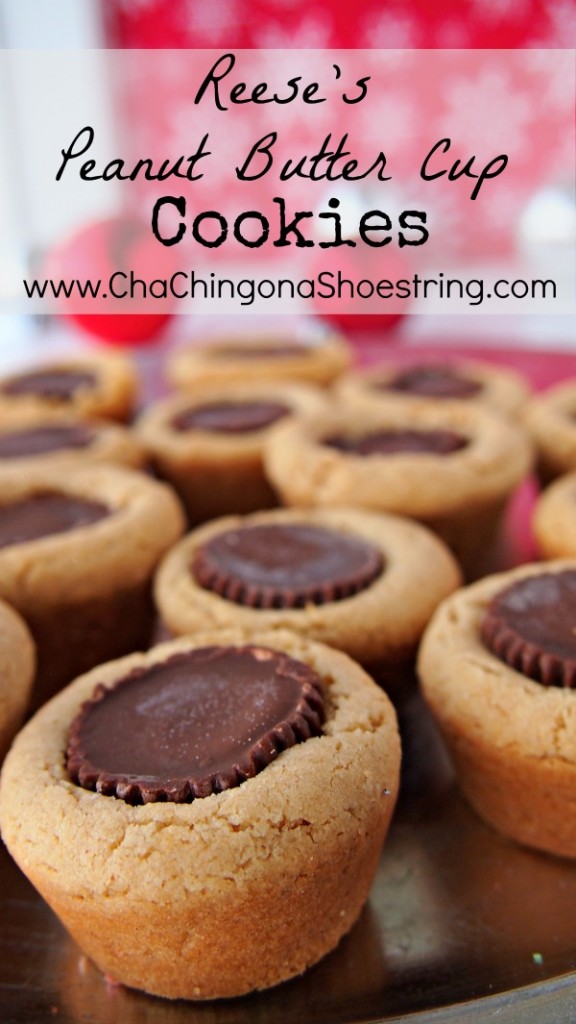 Recipe #5: What baking session would be complete without some sort of Peanut Butter and Chocolate concoction? I have been wanting to make these Reese's Peanut Butter Cup cookies forever – and this recipe did NOT disappoint. Warning: These are super easy to just pop in your mouth for breakfast (ask me how I know).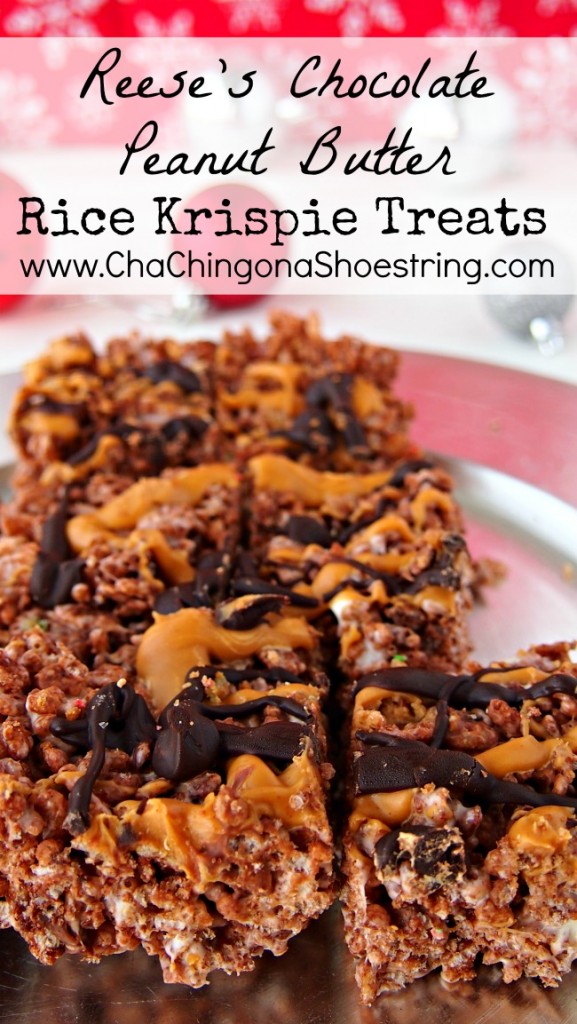 Recipe #6: My husband's new favorite cookie/bar. I'm with him – these are awesome. It's like a suped-up version of your regular Rice Krispie treats and about 1000x better.
Here is my "6 Christmas Cookies in 2 Hours" Baking Method:
Step 1: Download the Ingredient List and Recipes here and print them out to make shopping and baking easier. If you don't plan on making all of the recipes, you can just select which pages you'd like to print.
Step 2: Use the ingredient list to check your pantry and go shopping if need be.
Step 3: Set up yourself for success before beginning your Baking Spree. I decided it would be easier to set up "stations". I laid out all of the supplies and ingredients/recipes that I needed on my kitchen table like this: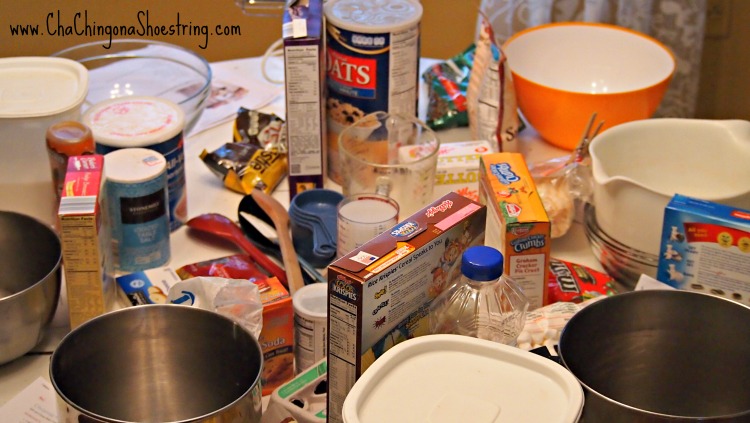 I also had a mixing station and used my counter as my 'prep for baking' station (cookie sheets and pans).
Step 4: Prep your ingredients. Crush the pretzels, dice the Reese's Peanut Butter Cups and open the Sweetened Condensed Milk. (If you plan to bake the Reese's Cookies today, you should go ahead and take the wrappers off 16-18 peanut butter cups now too.)
Step 5: Fill your sink with soapy water. It will come in handy when you need to rinse any bowls or spoons during your baking session.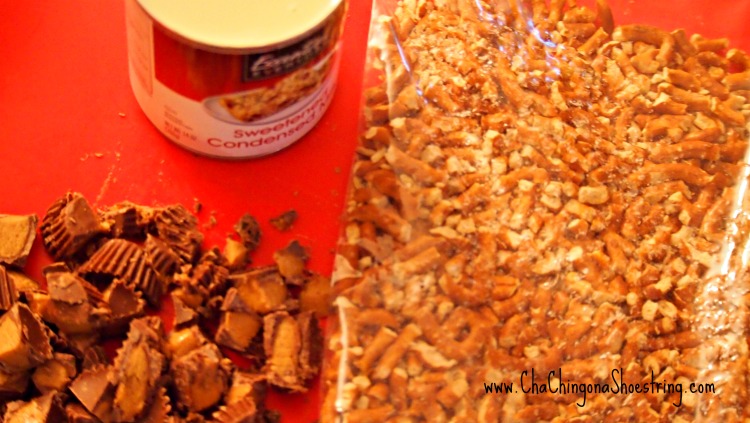 Step 6: Get baking! I tried to order the recipes in the easiest way possible, but feel free to switch them up if it seems better to you.
It is up to you if you decide to bake all of the cookies or if you opt to freeze some of the dough. I did a little of both and enjoyed having both options in my freezer.
If you do give this a try, let me know how it goes and whether you were able to complete it all in one naptime too. 🙂
Oh, I forgot a step!
Step 7: Plan some get-togethers with friends so you don't eat all of these cookies all by yourself. 🙂 (Don't say I didn't warn you!)
I shared this with Thrifty Thursday.