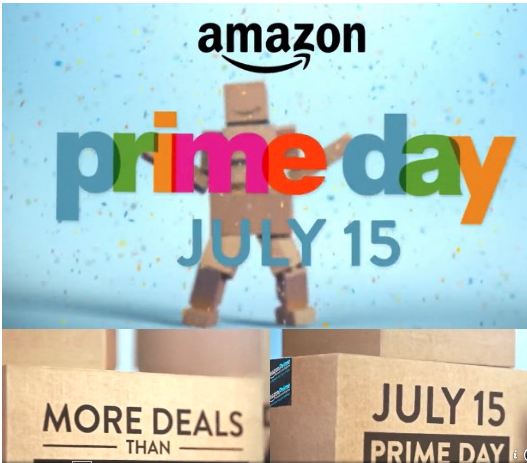 Amazon Prime Day 2015 – What are the best deals?
Don't miss it! Amazon Prime Day starts a little after midnight on Wednesday, July 15th and the promise is that they will feature deals that are better than Black Friday.
If you are looking for the best deals on Amazon Prime Day, you've come to the right place! I'll be posting all the greatest deals all throughout the day tomorrow, so be sure to check back often!
Update: You can check out ALL of the Amazon Prime Day deals I've posted so far HERE.
Amazon has released a sneak peek of just some of the great deals we will see (I've highlighted a few of my favorites): 
Fire TV Stick for $24
Kindle, $30 off
Fire HD 7, $60 off
Fire HD 7 Kids Edition, $60 off
32-inch LED TV, $75
40-inch 1080p LED TV, $115
Brand-name 32-inch Smart HDTV, under $200
50-inch 4K TV bundle, under $1000
Bose headphones at the lowest price ever on Amazon
Chromebook laptop, only $199
Over 50% off two Nikon COOLPIX cameras
Highly rated binoculars, under $120
Two security camera-kits, $279.99
K'NEX 2-in-1 Ferris Wheel Building Set (Amazon Exclusive), $35.99
K'NEX Crossfire Chaos Roller Coaster Building Set (Amazon Exclusive), $23.99
Playskool Heroes Transformers Rescue Bots Optimus Prime, $9.99
iRobot Roomba Pet Vacuum Cleaning Robot, under $300
Husqvarna mower, under $300
40 lightning deals on DVDs up to 75% off
Up to 50% off any of the Harry Potter books
Save more than 70% on the Divergent Series Complete Box Set of books
Save up to 70% on brands like Cuisinart, KitchenAid, Foodsaver and Thermos
Save up to 50% on select tools for the DIY auto enthusiast
Connected Car and Scan Tool products starting at 60% off
Road-trip-ready automotive products starting at 50% off
Save more than 50% on Drinkwell Platinum Pet Fountain
30% off select clothing, shoes, jewelry, watches & more
60% off Amazon Elements Baby Wipes with code ELEMENTS60
Free luxury beauty sample box with $50 purchase with promo code LUXSAMPLES
Buy an Amazon.com Gift Card multipack, get $10 in Amazon.com promotional credit
Get 25% bonus Amazon Coins when you buy 5,000 or 10,000 Amazon Coins
It's never too early to start snagging great deals for Christmas – so be sure to make a list of items you'd like to check out!
Please note that these offers are exclusive to Amazon Prime members. New to Amazon Prime? Sign up for the 30 day FREE trial HERE and learn more about the benefits for Amazon Prime members HERE.