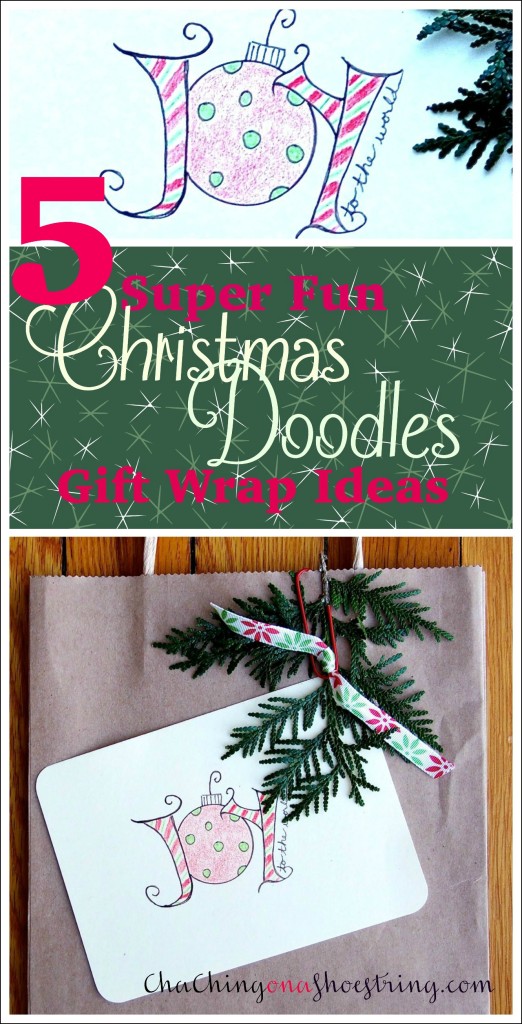 Idea #1

 Joy to the World
In a recent Christmas post, I explained that I had been motivated by The Merry Little Christmas Project to simplify Christmas 2015.
For me, Christmas offers a season of creative outlet, so I knew I would have to simplify my December-long crafting mania. So instead of–per usual–attempting to make each wrapped gift a work of art, I decided to wrap all my gifts in kraft paper or brown paper bags. But here comes the fun part: even though I don't have a speck of artistic ability, I would decorate them with quick  and easy Christmas doodles.
And what fun I've had.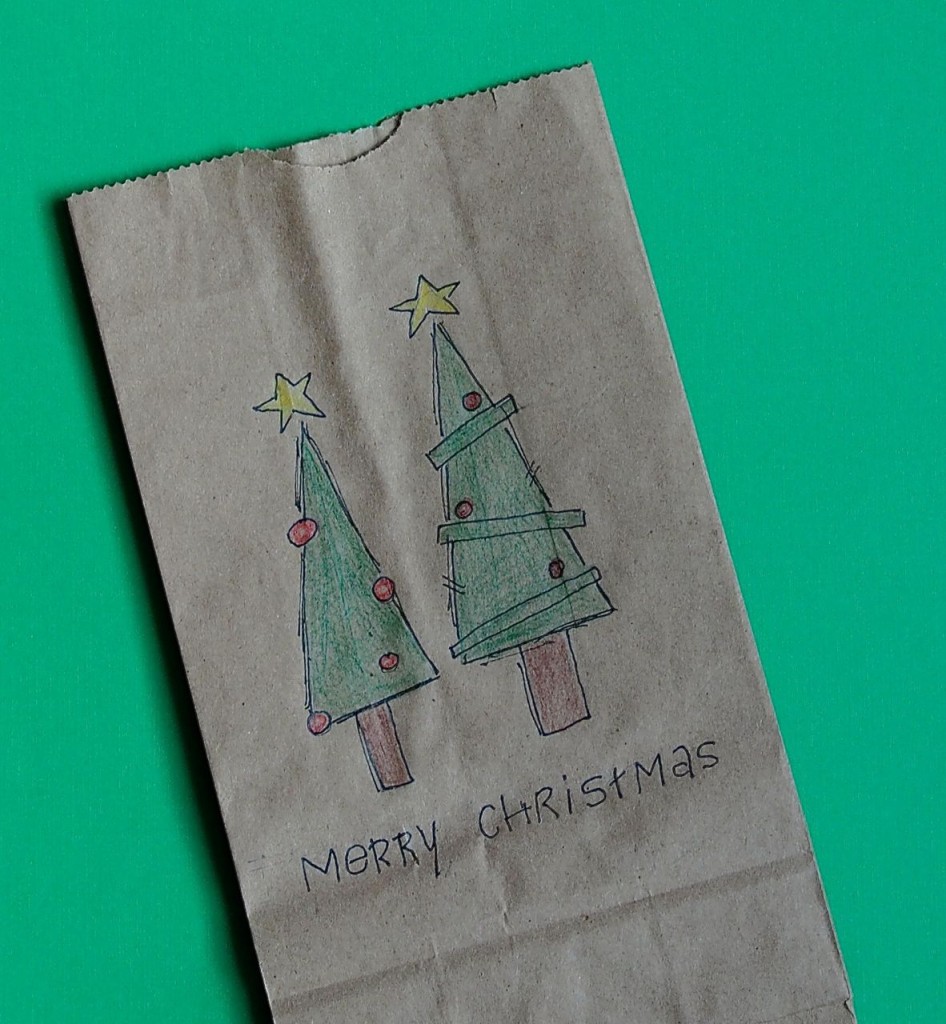 Idea #2  Merry Christmas colored-pencil sketch on a lunch bag
  My daughter, son-in-law, and their six oh-how-I-miss-them children live in Kansas–many hundreds of miles away from our New York home. Each year my daughter shops for me on Amazon; I then place the order (using my Prime free shipping) and have the gifts sent directly to their Kansas address. A great idea, but I have always felt a bit sad that I don't get to wrap the gifts.
This year I decided to create the wrapping paper at home using paper bags so Desiree could just slip the gifts into the bags along with some tissue paper, attach the decorative sketch, and there it is–a personal touch from Grandma.
Since the bags are flat it is easy to send them via USPS.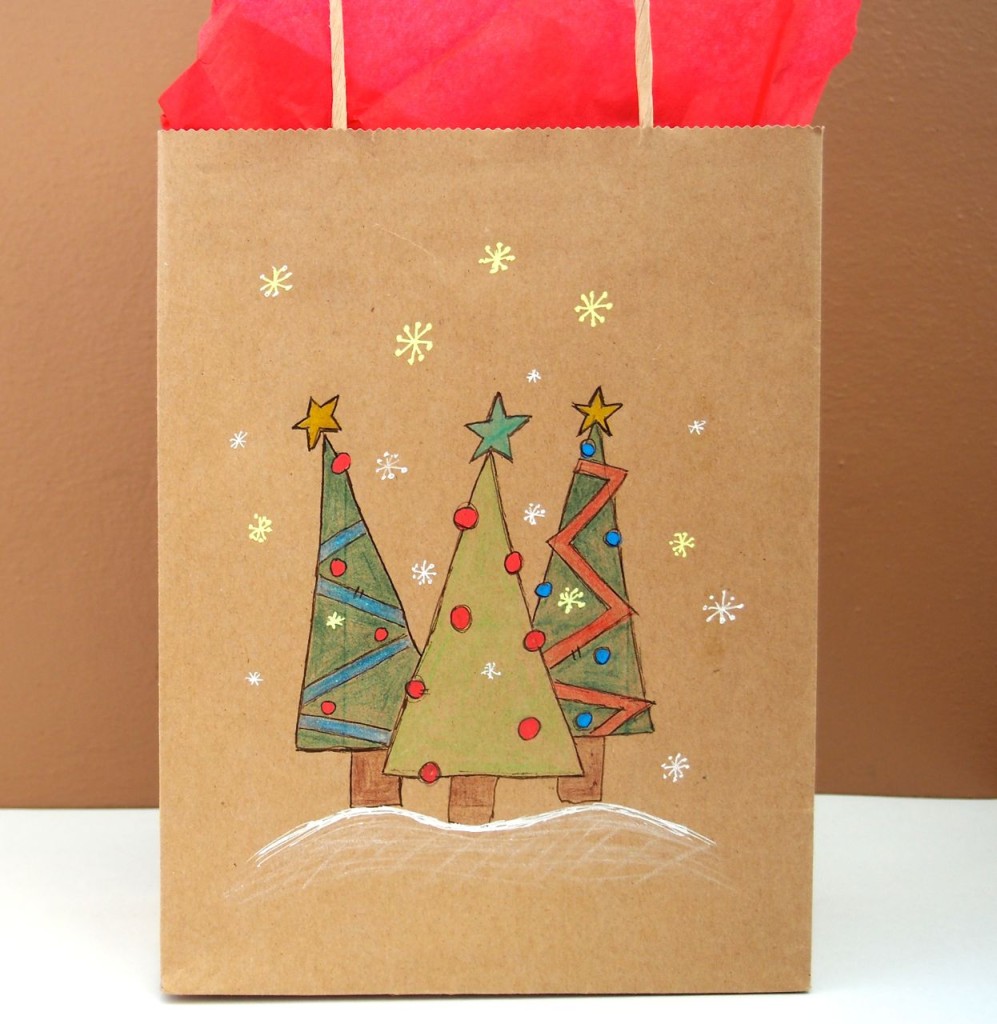 Idea #3 For this sketch I used colored pencils and drew right on the bag.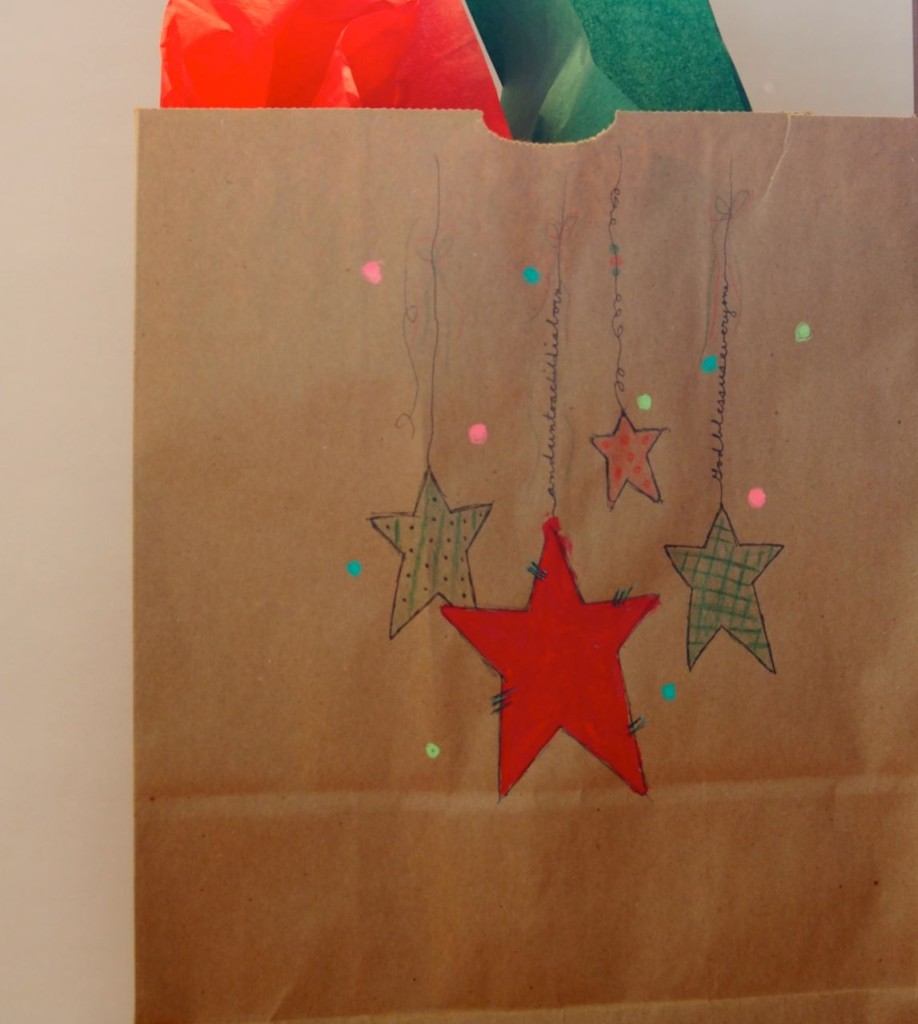 Idea #4 I sketched these stars onto a grocery bag.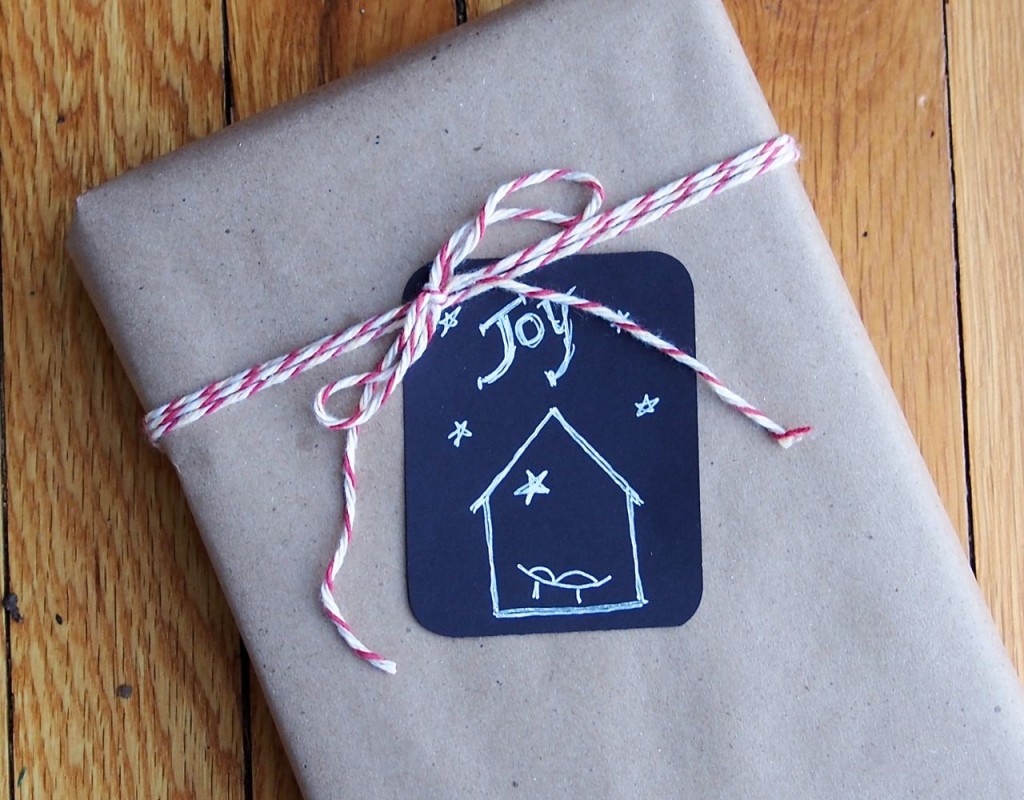 Idea #5 I love the simplicity of this nativity; I made a tag to adorn the simple Dollar Store kraft-paper wrapping.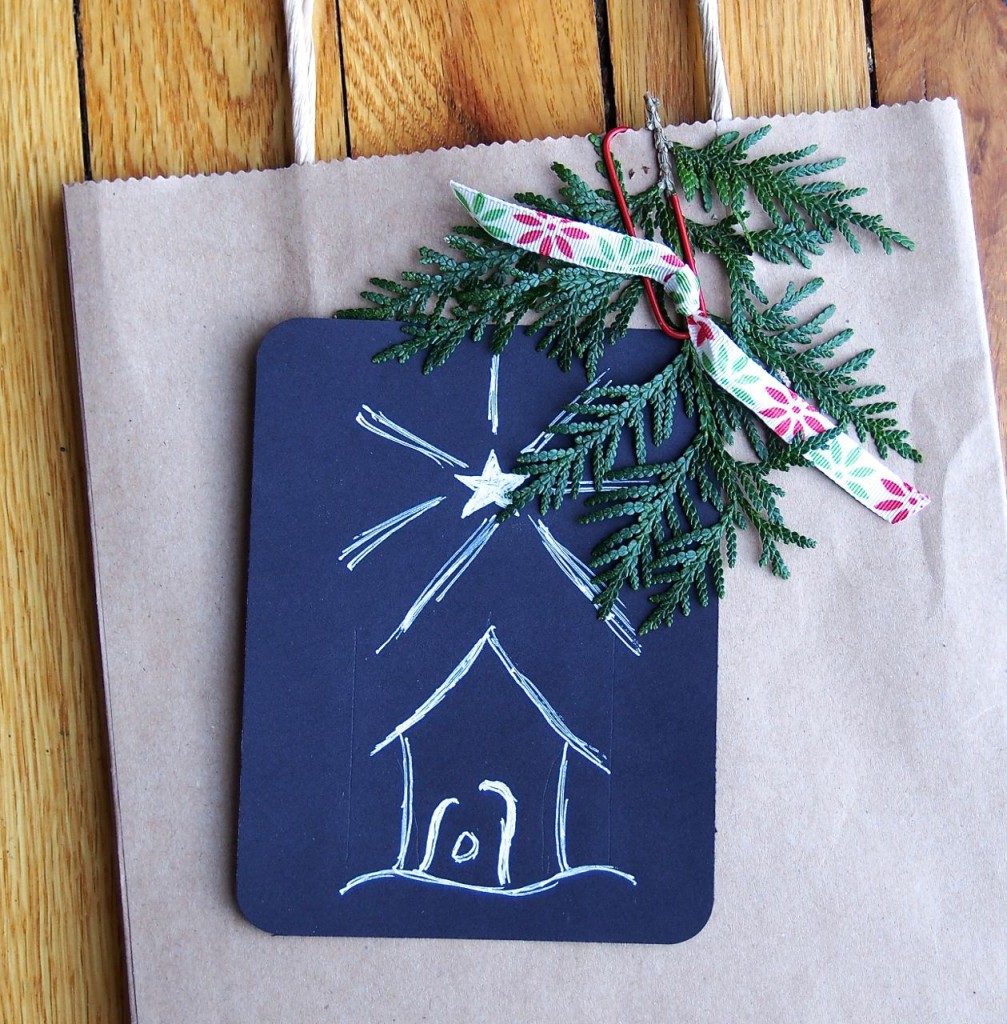 And the quiet simplicity of this sketch is almost breath-taking.
I also sketched it directly on a grocery bag. No artistic skill required, just lots of love.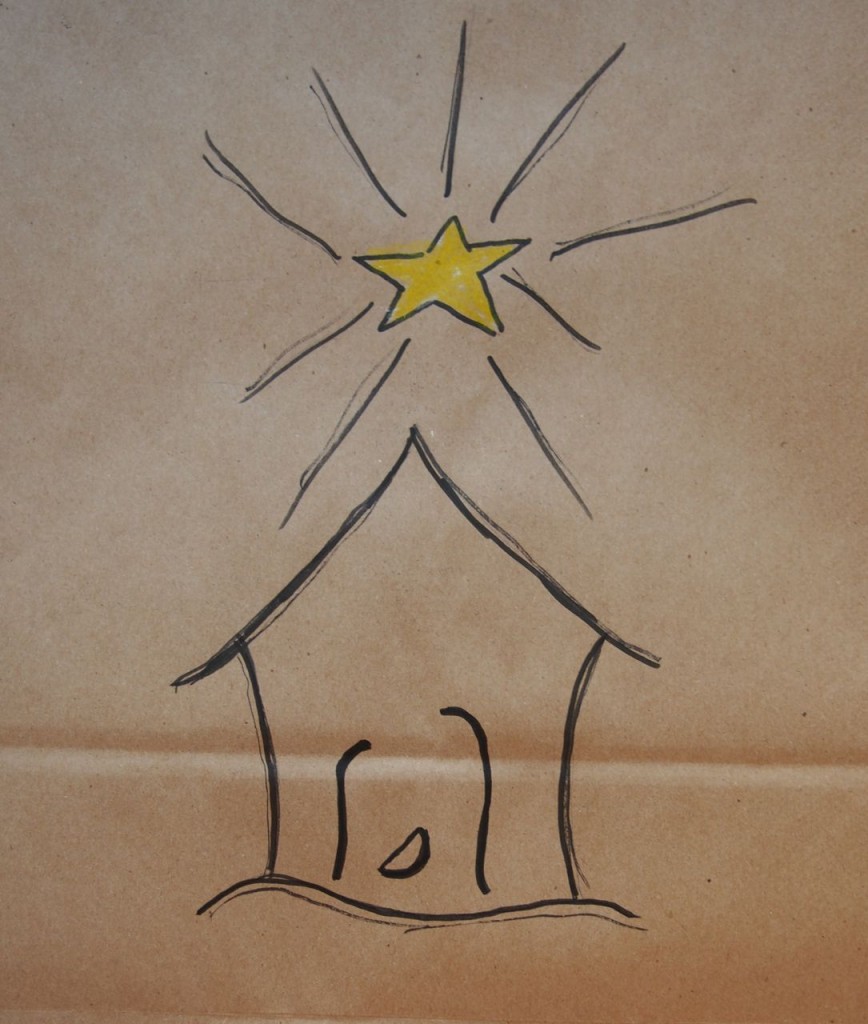 Bit by bit I have made an assortment of doodled paper bags to have ready to grab for last-minute gifts. [Flat bags take up so little space.]
So there you have it: five super-fun Christmas Doodles gift-wrap ideas!
And in the words of beloved Tiny Tim: May God bless us one and all!
***
Want to join us on our mission to choose the LESS instead of the STRESS this Christmas season? You can grab your own copy of The Merry Little Christmas Project here.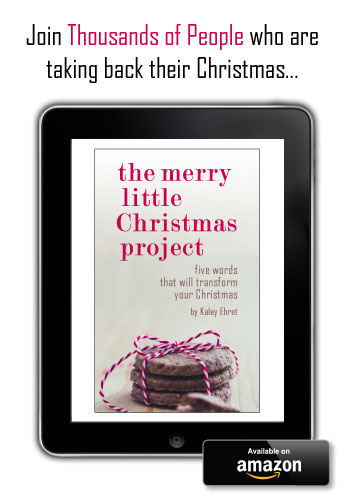 ***

For those of you who haven't met her, the Dollar Store Diva happens to be my Mom who has a special power.  She can transform Dollar Store and other inexpensive finds into super fun gifts and crafts that would brighten anyone's day!