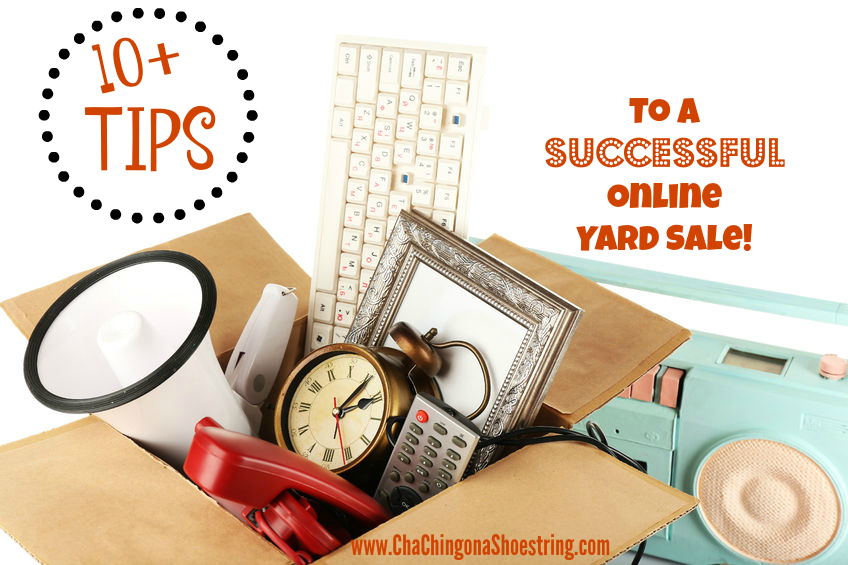 We all have too much stuff. I have never heard ANYONE say otherwise. NO ONE is telling me they need more. If you find yourself in this crowd and want to unload it, think about making some extra cash in the process by selling through online yard sales on Facebook or Leolist. Getting rid of your clutter will make you feel so good, and giving it away rather than sending it to a landfill is helping to save the planet. Plus, you can make a little cash whilst doing it. Yard Sales are also a great way to find second-hand antiques and can bring in customers who may be interested in finding antique furniture for sale or an antique item that you may have sitting around your house.
I've sold quite a bit of things over the years but I think the person in my family to make the most money at this is my 10 year old son! He's quite the entrepreneur and after I told him that he could have the money from anything he sold, he has often raided his room when he wanted to save for something new – especially LEGOS.
Here are a few tips to get started:
Search Facebook for local yard sale groups or ask your friends which ones they would recommend (some are better run than others and all have their own rules)

Most groups are private so you will have to request to join and wait for administrator approval

Once you are in, you have an audience of up to several thousand people!

Go through your house and look for some of the items listed below
10 Things That Sell Well Online:
Classic Toys (Legos, Star Wars, Thomas the Train, American Girl Doll, etc.)

Outdoor toys for toddlers (playhouses, slides, push toys, ride on toys)

Sporting & Exercise Equipment (youth and adult)

Household items in "like-new" condition (lamps, curtains, candleholders, decor)

Furniture

Baby equipment (strollers, pack n plays, bouncers, swings, highchairs)

Clothing sold in lots (especially baby & children's clothing)

Kitchen equipment (sets of pots/pans, dishes, knife sets)

Name Brand purses & shoes

Appliances (ovens, freezers, washer/dryer sets, etc)
Some DO's & DONT's:
DON'T list individual small items worth less than $5 (ie: clutter) no one wants to get in their car and drive to meet someone for a $0.25 trinket!

DO list smaller items in lots (ie: groupings). Things that do well with this are clothing, sets of similar toys (trains, cars, baby dolls, barbies), Books, DVDs, kitchen dishes and utensils.

DO take good pictures that are bright & clear, without shadows, glare or background clutter.

DO list important information in the description area (dimensions, age, color, size, etc).

DO meet in a public area – parking lot of a busy place (Target, CVS, Walmart, etc).

DON'T go to someone's house or invite them to your house. (Sometimes this is unavoidable – when the purchase involves big items like furniture). One advantage of Facebook

yard sales is that you can see who these people are and often you will have mutual friends because they will generally be from your area. In this case, determine your feelings of safety on a case by case decision. But I would strongly encourage meeting in public areas unless you are accompanied by another adult.

DON'T list with a price that is too high. No one wants to buy something used for a few dollars less than they can buy new. I would say that 50 -75% off retail value is a good start. I have found with online yard sales you can make more than at an actual yard sale but be careful of setting a price too high or it won't sell. It's better to go low and have several interested parties.

DO get your children involved! This is a great motivator for them to clean out their stuff, get rid of toys that are too young for them or they no longer play with. It also helps them learn a little bit about business.

DO consider setting up a website. If you have a large amount of items to sell, for example, if you make your own gifts, you might want to think about creating a website to advertise your wares. There are a number of Web Design Crewe companies out there who can help you to design a website that can be an excellent platform for online selling, so do not be afraid to reach out to an internet marketing expert for some tailored advice.
I hope this helps you put a little more cash in your pocket this summer!
And if you have any other tips I'd love to hear them! Please comment below.