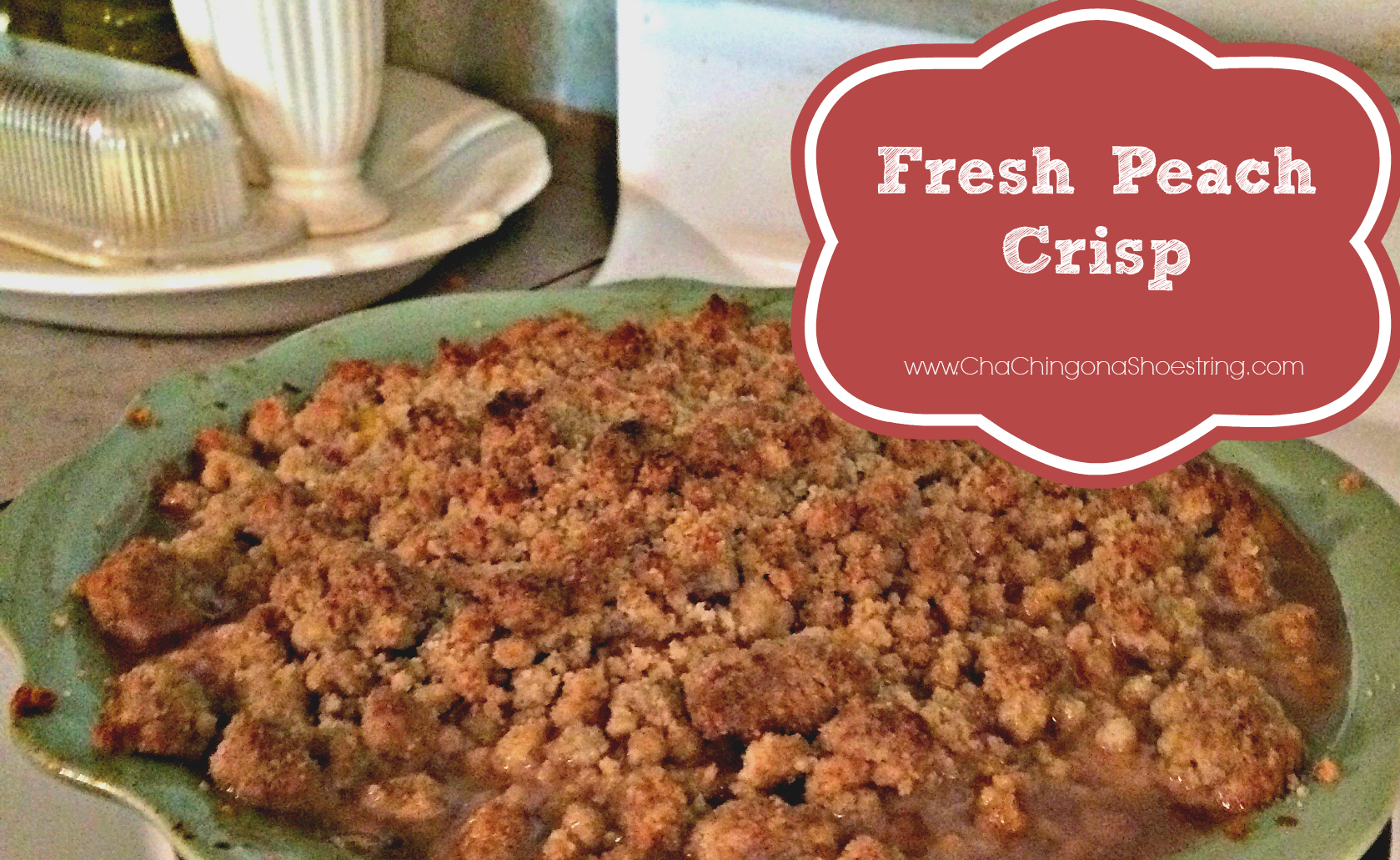 My kids went back to school this morning and in our last week of summer we tried to cram it ALL in!  On one of those bright and sunny mornings Kaley and I took our kids peach picking at a local orchard and before we knew it my kids and I had picked 35 lbs of big, beautiful peaches!!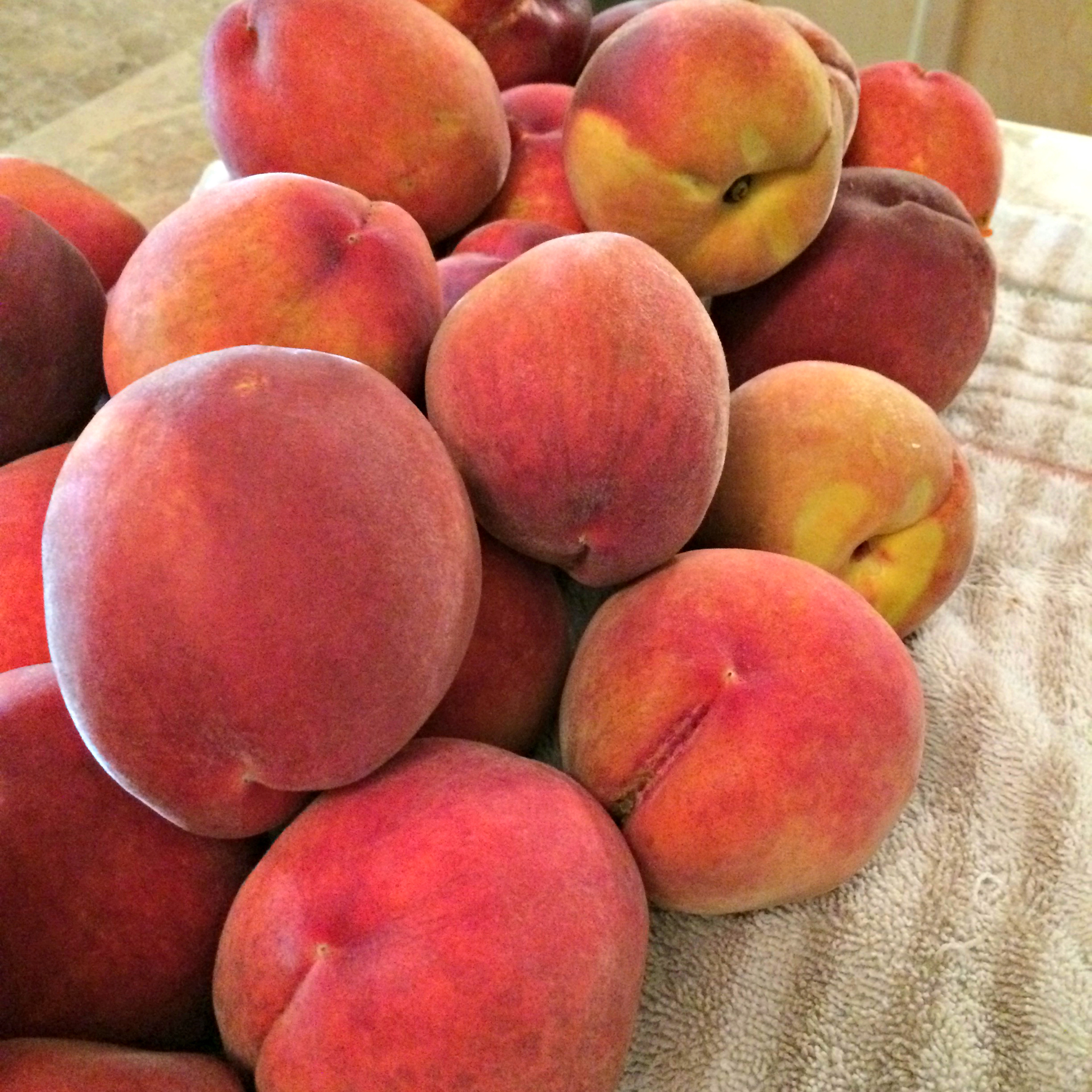 Once I got home and got everyone settled I immediately started washing them. Then I sliced up 4 trays of overly ripe ones and tucked them in my chest freezer to supply my winter time smoothies (or dessert cravings).
While I'm sure I will look up more fun and creative things to do with our haul, I knew immediately what my first recipe would be – Peach Crisp!
I love this recipe from Pioneer Woman. I use it every fall to make apple crisp so I thought I would try to adapt it for peaches. This is a simple recipe that doubles easily so I almost always do. The doubled recipe fits nicely in a 9×13 dish to serve a crowd or to make a surprise gift for a friend (which I'm doing today).
Start by slicing and peeling 5-6 large peaches.
Toss the sliced peaches with sugar, salt, cinnamon & vanilla. (*Note: after seeing how much juice these peaches produced, I would suggest adding 1-2 Tablespoons of flour to the peaches to thicken up the juice)
Pour the peach mixture into a pie dish.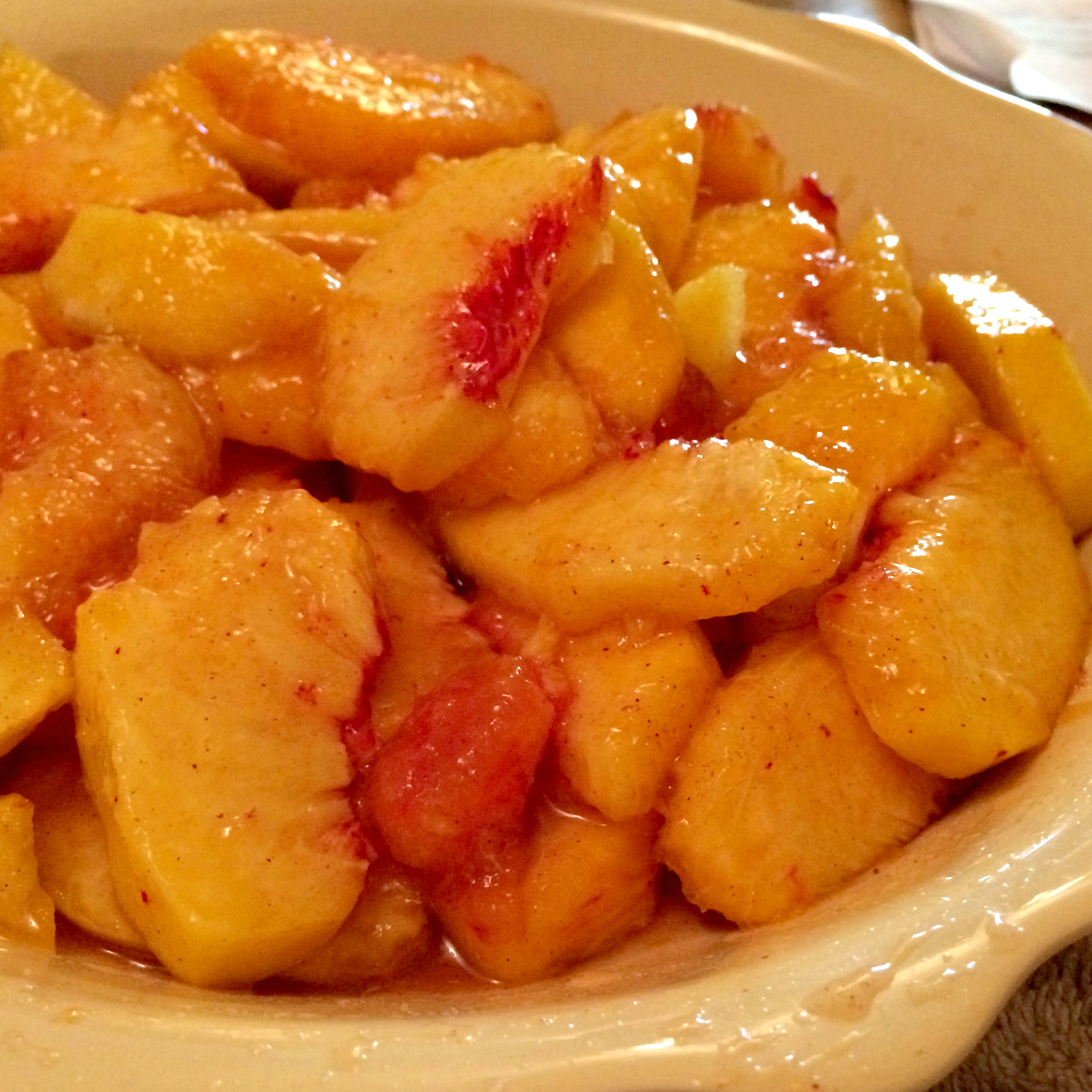 In another bowl mix together flour, white sugar, brown sugar and cinnamon.
Drizzle melted butter into the flour & sugar mixture and stir with a fork until it resembles course crumbs.
Spread your crumbs evenly over the prepared peach mixture.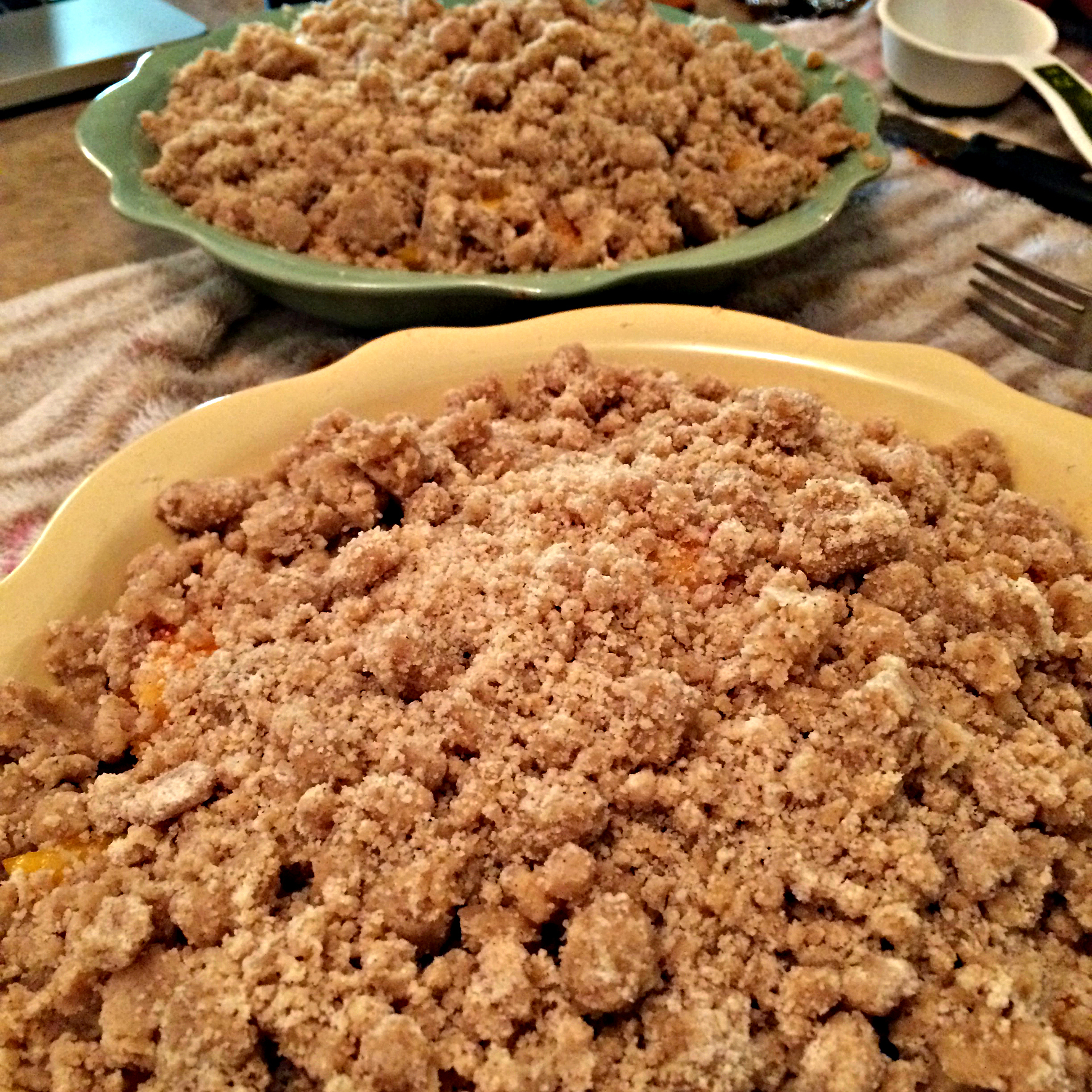 Bake in a 350 degree oven for 30-40 minutes or until you see the fruit bubbling and the crumbs are starting to turn a golden brown.
(I always place my fruit desserts on top of a cookie sheet while baking just in case it bubbles over – I hate cleaning my oven!)
I LOVE to serve mine warm with a scoop of vanilla ice cream and a sprinkle of cinnamon.
Ingredients
5 - 6 large peaches
1/2 cup sugar
1 tsp vanilla
1/4 tsp salt
1/4 tsp cinnamon
1-2 Tbsp flour (optional)
1 1/2 cups flour
1/3 cup white sugar
1/3 cup brown sugar
1/2 tsp cinnamon
1 stick of butter, melted
Instructions
Preheat Oven to 350 degrees
Peel & slice peaches and place in a medium sized bowl
Add 1/2 cup sugar, 1/4 tsp salt, 1/4 tsp cinnamon, 1 tsp vanilla & 1-2 Tbsp flour to peaches and stir to coat
Pour peach mixture into a pie dish
In a separate bowl mix together 1 1/2 cups flour, 1/3 cup white sugar, 1/3 cup brown sugar, 1/2 tsp cinnamon
Drizzle melted butter into flour & sugar mixture, stirring with a fork until it forms coarse crumbs
Top peaches with crumb mixture
Bake in 350 degree oven for 30-40 minutes until fruit is bubbling and crumbs are golden brown
https://chachingonashoestring.com/2016/08/30/millions-peaches-peaches-millions-peaches/
Now what to do with all the ones I have left over…MILLIONS OF PEACHES…