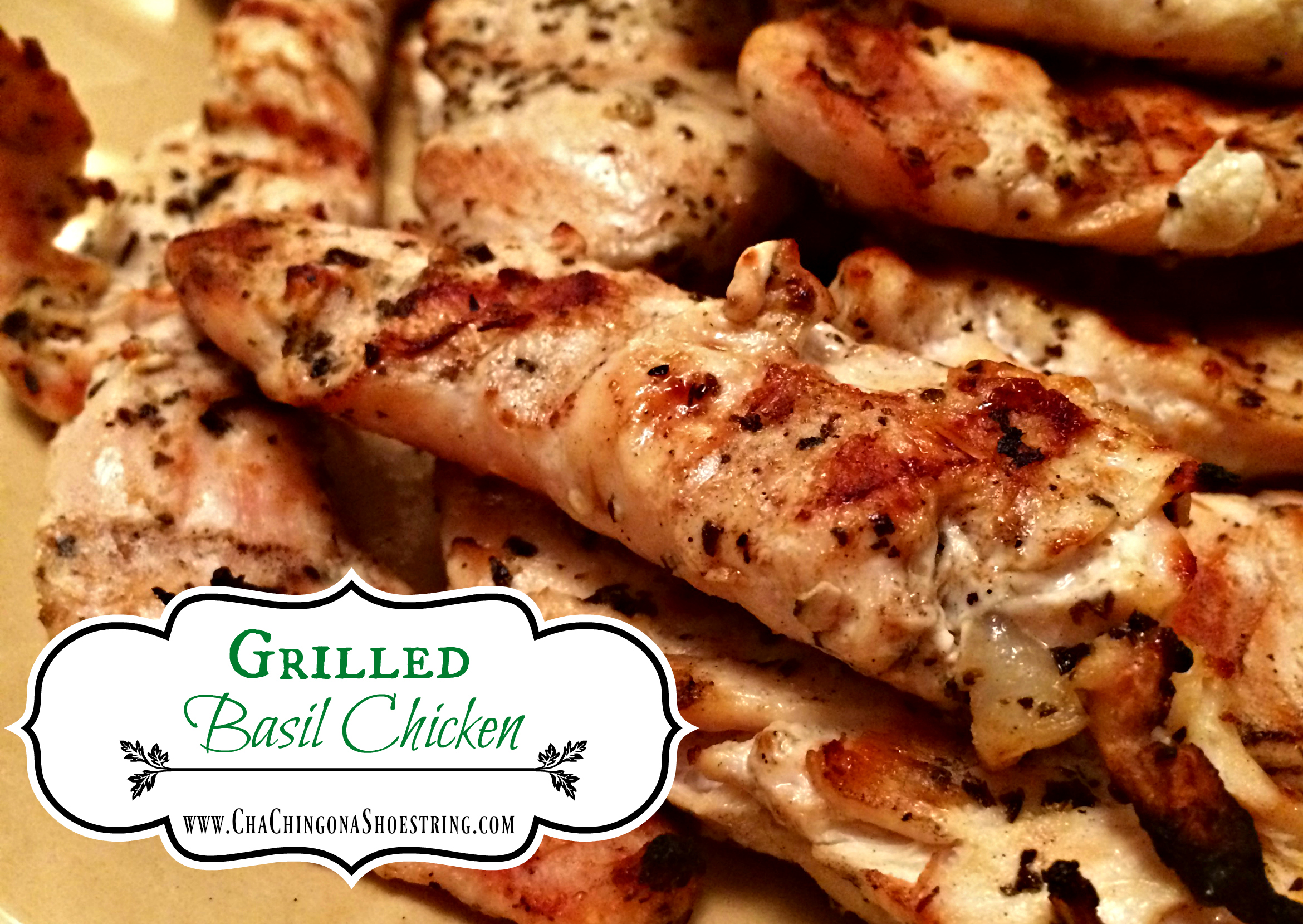 Chicken!  So many delicious flavors, marinades, sauces….and just as many ways to prepare and eat it!
This recipe is one of my favorites when it comes to making grilled chicken and you won't believe how flavorful this chicken turns out with such a short ingredient list.
All you need to add to your chicken is:
Lemon Juice

Basil (fresh or dried)

Garlic cloves

Olive Oil

Sea Salt & Freshly Ground Pepper 
I generally buy a big bag of individually frozen chicken tenderloins every time I make my monthly trip to Costco. I like to use tenderloins for this recipe because these thin, tender pieces of chicken really soak up the marinade much better than larger breasts. Of course you can use whatever chicken you have on hand or like best: breasts, legs, thighs, bone-in or boneless. It's all delicious.  
If you like to stock up on chicken when you see a great sale this is also an easy way to prepare it before it goes in the freezer. I will make multiple gallon freezer bags of the marinade all at once, throw in my cheap chicken and then pop it in the freezer. The chicken will freeze in the marinade and when you take it out to defrost it will start to marinate without all the prep! It's always nice to have several bags in the freezer for unexpected company or a busy night.
To make this delicious recipe simply combine all your ingredients in a gallon zip top bag, throw in your chicken, turn until all pieces are coated and marinate at least 30 minutes or up to 24 hours.
Grill your chicken over medium heat (300 – 350 degrees) with the lid closed for 20 – 30 minutes, depending on the thickness of your chicken pieces.
That's it! How easy is that?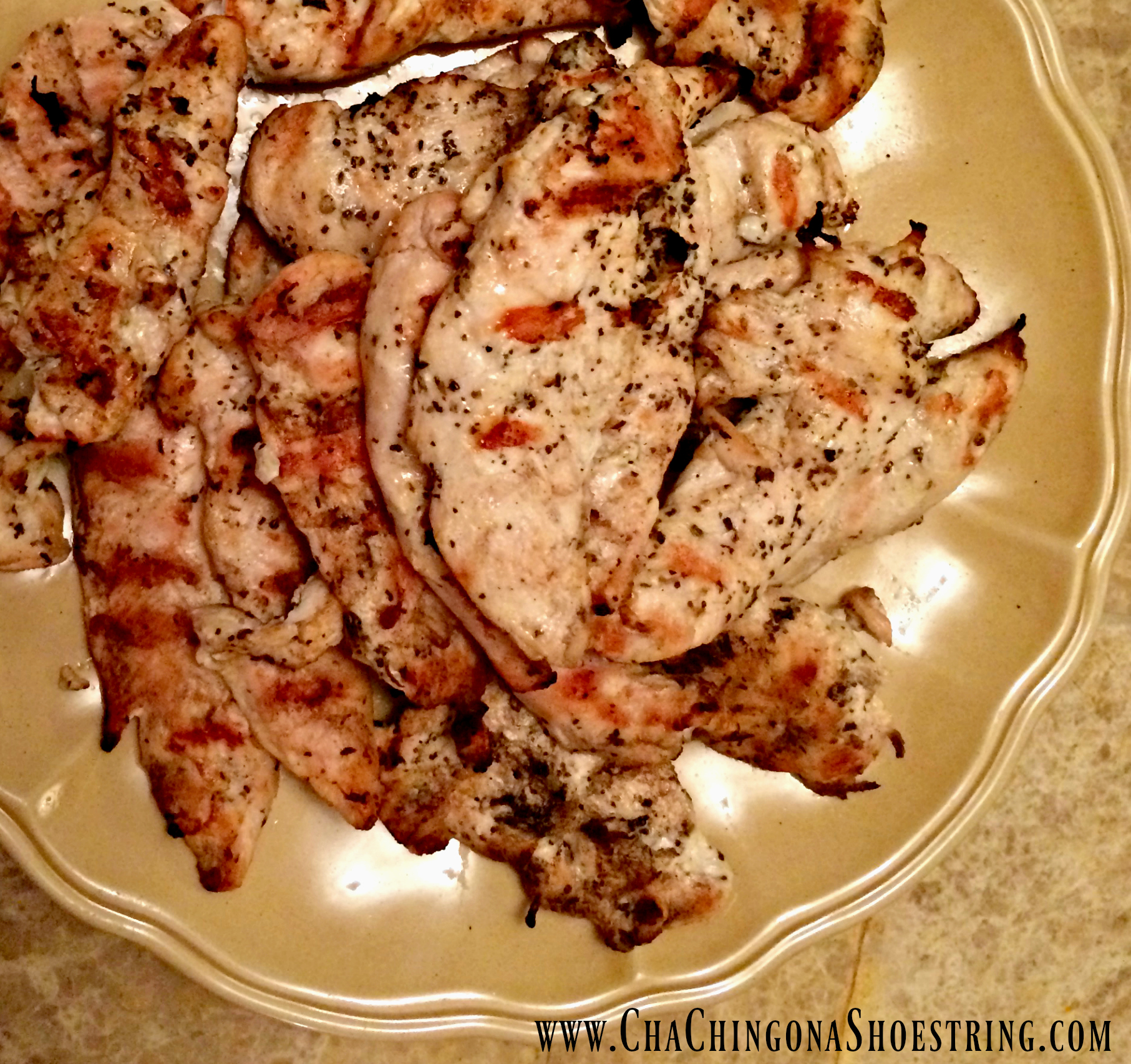 Ingredients
1/2 Lemon, juiced (approximately 3 Tablespoons)
2 Tablespoons chopped fresh Basil or 2 teaspoons dried Basil
1 Garlic Clove, minced
1/4 cup Olive Oil
1 teaspoon Sea Salt
1/2 teaspoon freshly ground Black Pepper
4 Chicken Breasts
Instructions
Combine all marinade ingredients in a gallon zip top bag
Add chicken to the bag
Toss to coat chicken completely in the marinade
Marinate for at least 30 minutes or up to 24 hours
Remove chicken from bag and throw away remaining marinade
Grill chicken over medium heat (300-350 degrees) with lid closed for approximately 20-30 minutes depending on the thickness of the chicken
Serve!
https://chachingonashoestring.com/2016/10/16/grilled-basil-chicken-recipe/
(Recipe adapted from The Ultimate Southern Living Cookbook)
It's worth the effort to double this recipe and make extra chicken. The leftovers are a delicious addition to chicken salad, sandwiches and salads! YUM.