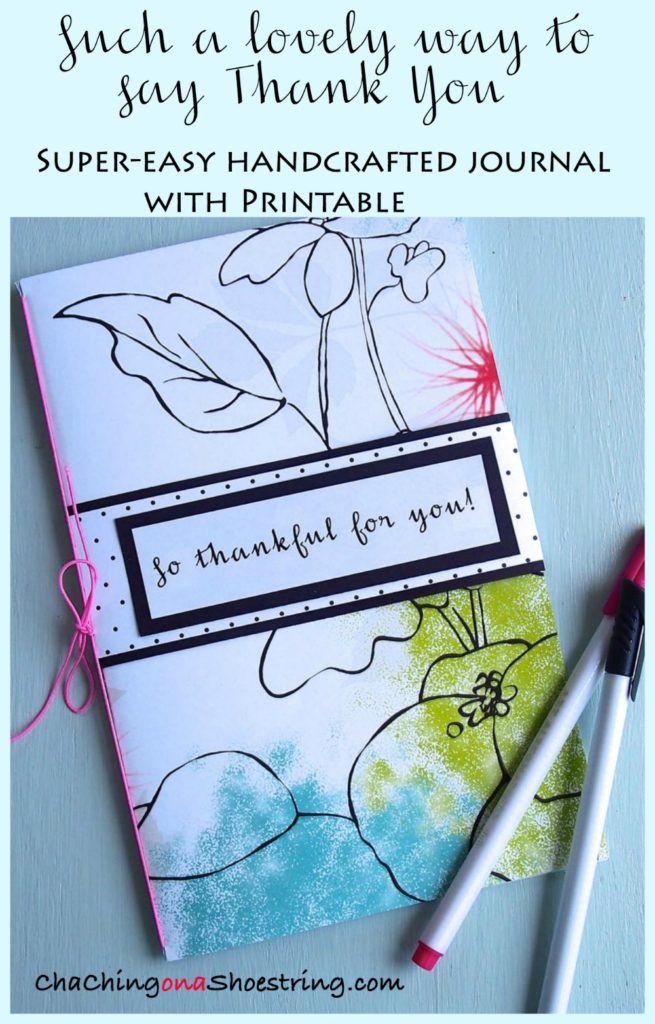 See part 1 of this post here.
The gift of a handcrafted journal is such a lovely thing.
Once my friends and I decided we wanted to create some small gifts to bless special people in our life who have blessed us, this idea seemed the perfect place to start.
I searched online for journal-making ideas, and I found some impressive tutorials. But they included scary words such as tapestry needles, binding awls, coptic stitch binding, and screw punches. That all sounded a bit too ambitious for me.
Then one day I came across a roll of elastic cord in my craft cabinet. Inspiration struck for an incredibly simple binding–without one scary word included. And, then, look what I found at the Dollar Tree–exactly the elastic cord I needed. And, of course, for only one dollar.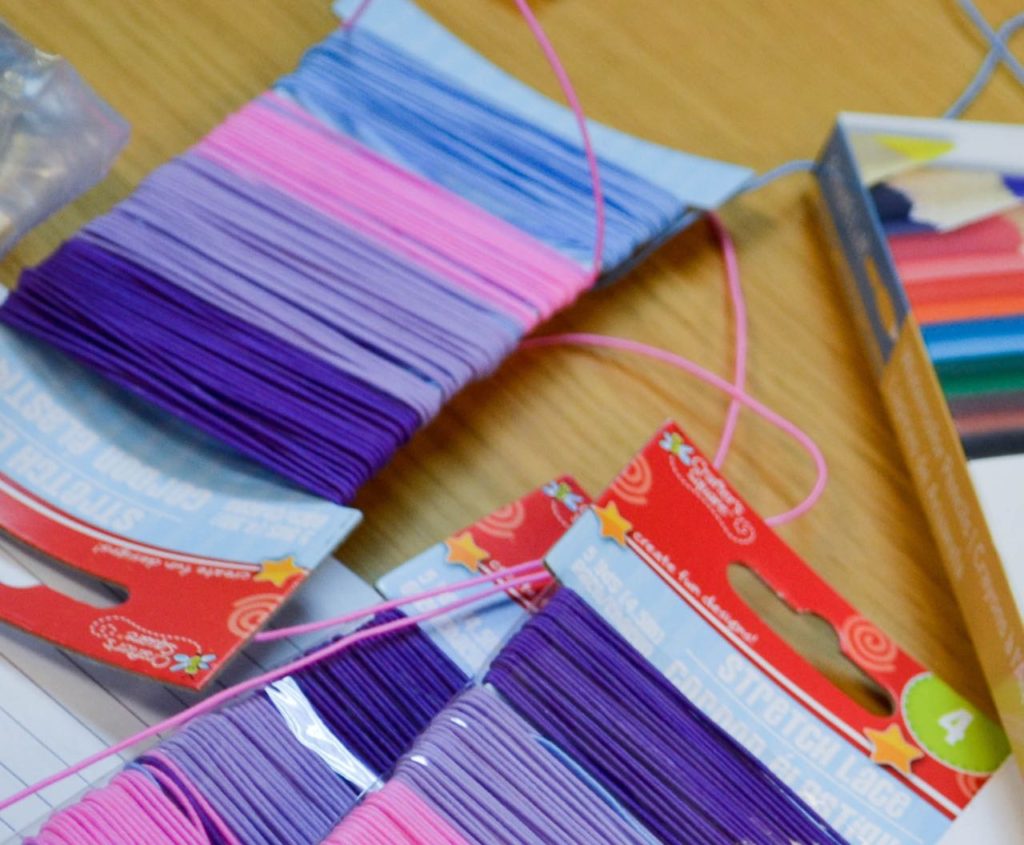 Five Easy Steps for a Lovely Journal:
#1
First, print double-sided these Lined Journal Pages. [I print six or seven for each journal–that equals 12 (or 14) pages with 24 (28) sides.] Be sure that when you print the second side you have put the sheets in the printer correctly so that it will print out the same as the front side.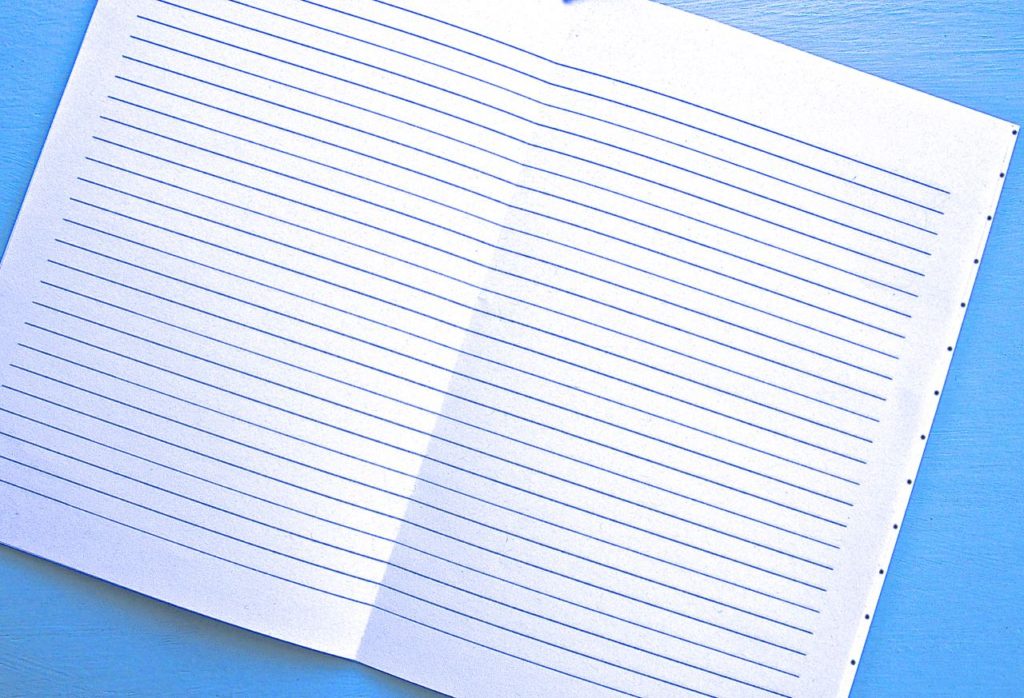 #2
For the cover, fold in half a sheet of decorative 8 1/2 x 11″ heavy paper or cardstock. Then fold the sheets of lined paper in half and flatten the folded edge. Place the lined paper inside the cover.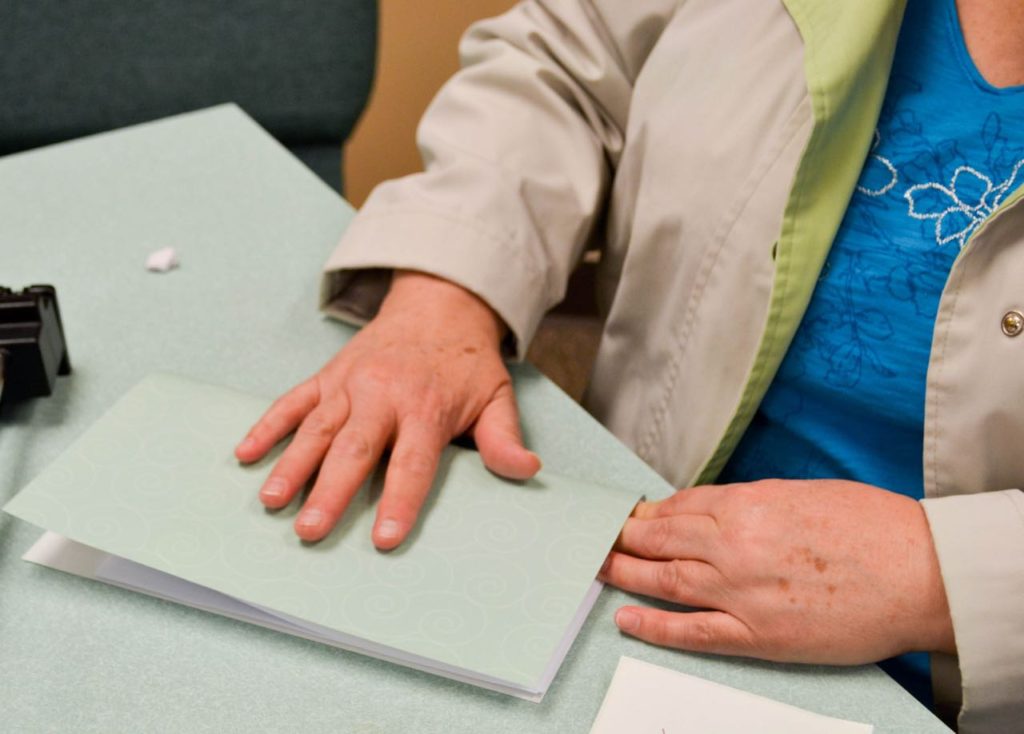 #3
Here's where my inspiration comes into play.
To create an it-couldn't-be-easier binding, use scissors to snip two tiny cuts in the fold–one at the top of the page and one at the bottom. (See slideshow tutorial below.)  Then cut a length of the elastic, slip it through the two snips and wrap it around the journal.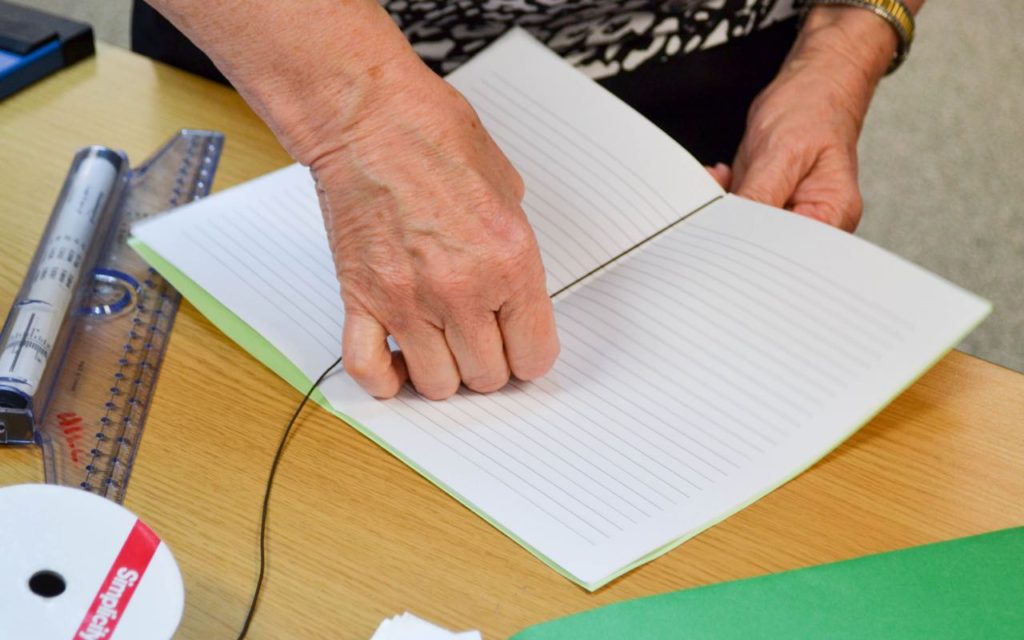 #4
Finally tie the elastic in a bow and double-knot.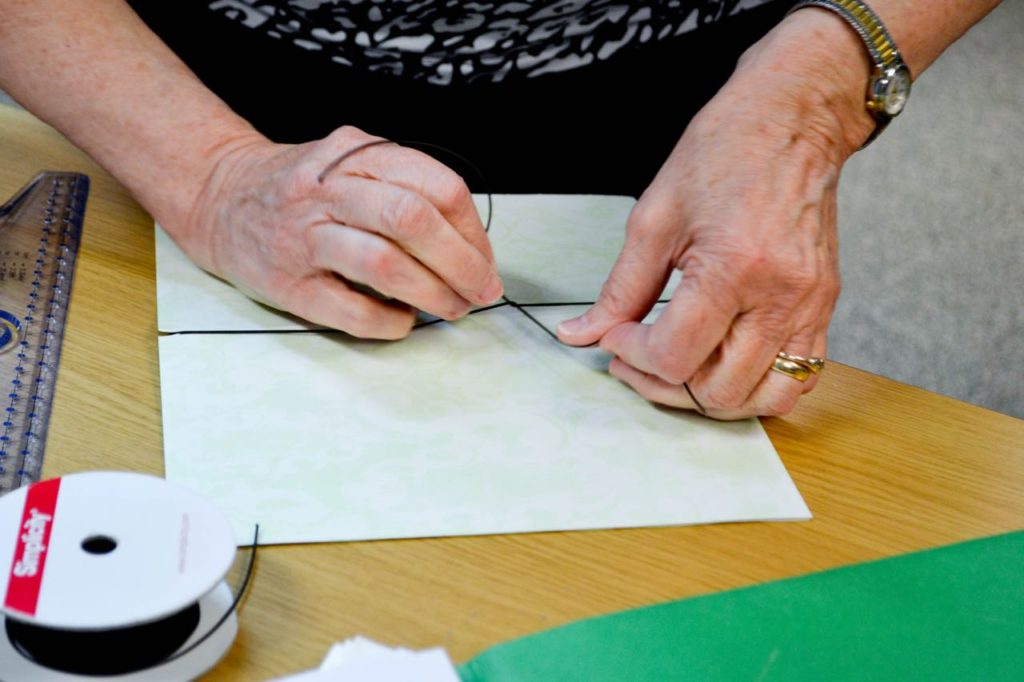 How easy is that?!
My crafting friends also used rubber stamps, painted them with water colors, and adhered them on a plain cardstock cover.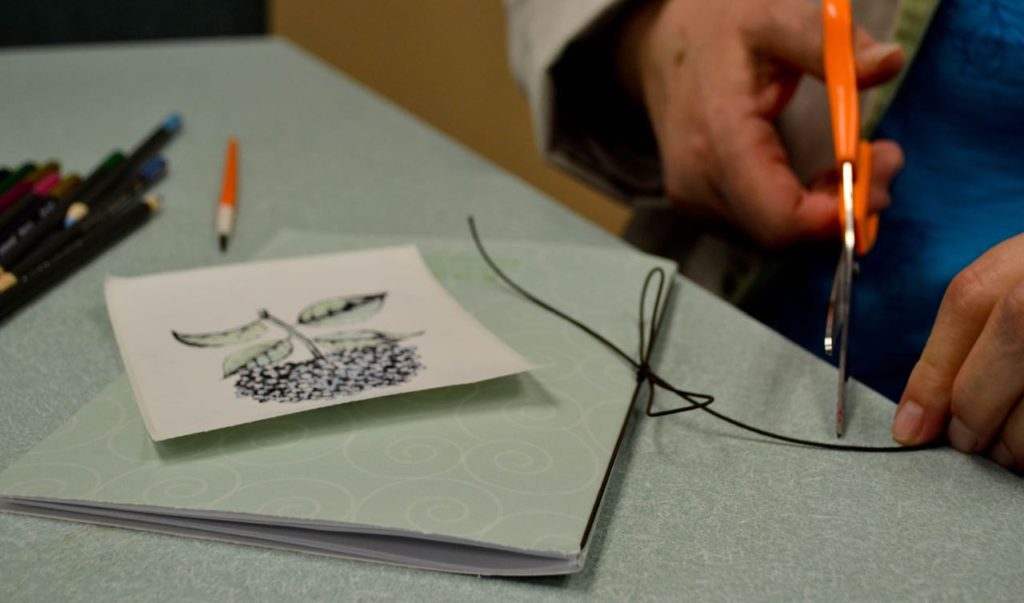 #5
If you want to add a belly band for a final touch of spice, print a selection of thank you sayings. Trim the saying of your choice, mat it with a wider strip of 12×12′ colored paper, wrap it around the journal over the elastic binding, and adhere the two ends. [Don't adhere the belly band to the back of the journal because it will tear the journal when it is ripped off.] Or use your own handwriting to express your warm thoughts. The easy steps are explained in the slideshow tutorial at the end of the post.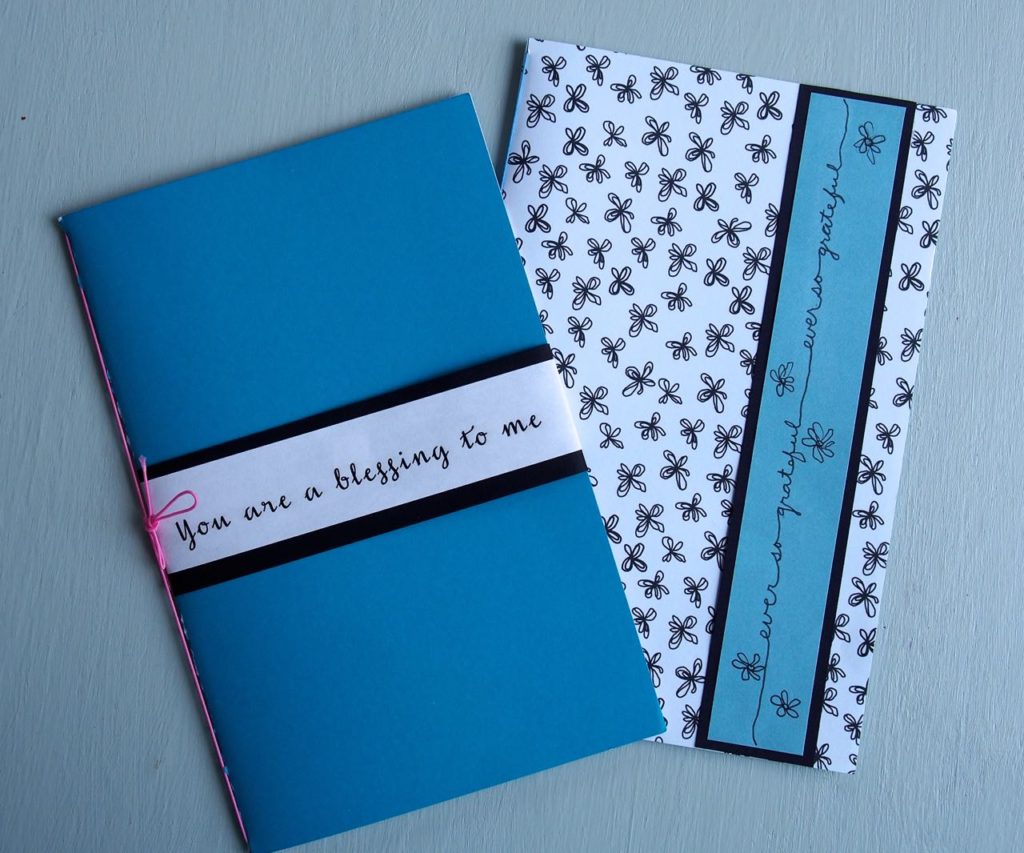 One of the beauties of this gift project is that several can be created at one time–and ever so quickly. And they can be sent in the mail–ever so easily.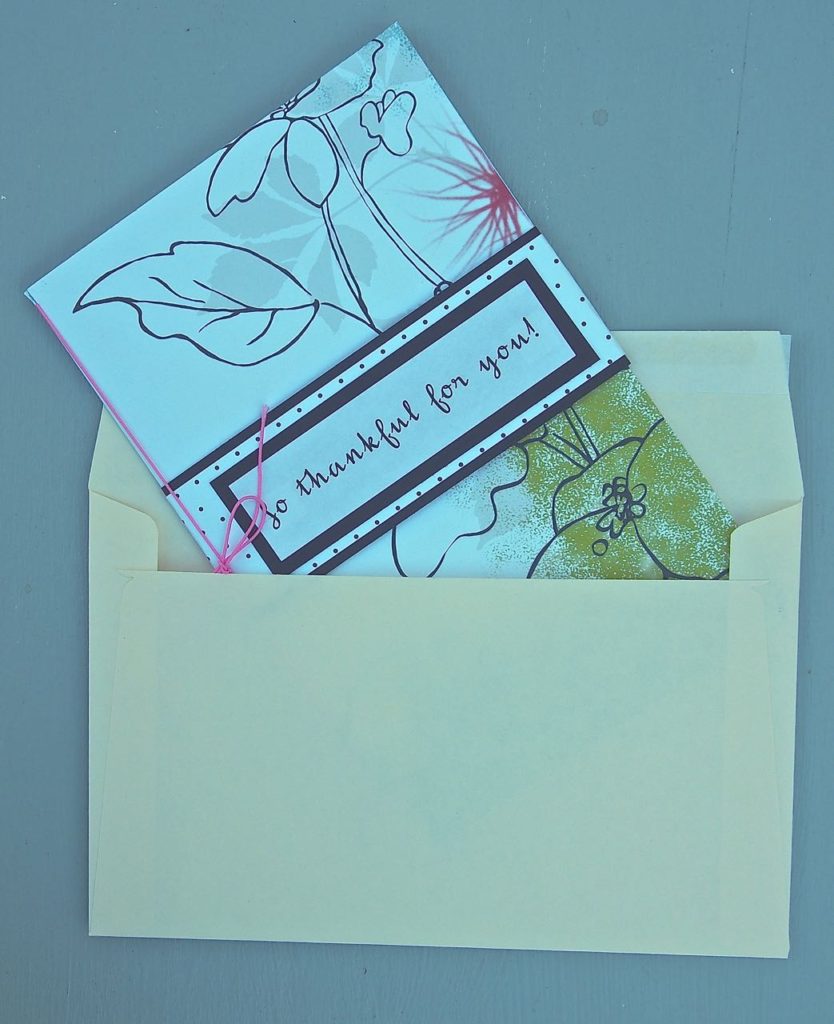 Some of the people I want to bless are not local, so I like to send journals in the mail. I discovered that 6 folded sheets of paper fit comfortably in an A9 envelope (5 3/4 x 8 3/4″) ] and mail with two first-class stamps.
Wouldn't you like to find a journal like this in your mailbox?
Enjoy the following 2.5 minute tutorial.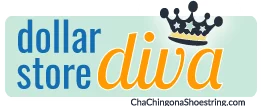 ***
For those of you who haven't met her, the Dollar Store Diva happens to be my Mom who has a special power.  She can transform Dollar Store and other inexpensive finds into super fun gifts and crafts that would brighten anyone's day! Check out more from her here.