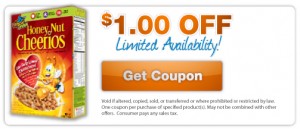 Here's some great news for Cellfire users.  Cellfire has released an exclusive $1/1 Honey Nut Cheerios coupon! Gotta love cheap cereal!
Check out the rest of the newest ecoupons below.
Not familiar with  Cellfire?  These are ecoupons that you can load to your Kroger  and Safeway family store loyalty cards.  No clipping or printing involved! Read my Cellfire FAQ post for further details.
Cellfire has also now launched with all the stores that our owned by Safeway. In addition to Tom Thumb and Randalls, you can now also use Cellfire Grocery Coupons at Carrs, Dominick's, Genuardi's, Pavillions, Safeway, and Vons.  So if you've been missing out because you don't have a Kroger store nearby, this may be your chance to hop on board!

Check out a few of my favorites below and then go here to find the rest!
Hamburger Helper
Save $.75 when you buy THREE any flavor Hamburger Helper® Tuna Helper® OR Chicken Helper® Home Cooked Skillet Meals.
Betty Crocker Fruit Snacks
Save $.50 when you buy TWO BOXES any flavor Betty Crocker® Fruit by the Foot® Fruit Gushers® Fruit Roll-Ups® OR Fruit Roll-Ups® Fruit Stickerz ® Fruit
Nature Valley Granola Bars
Save $.40 when you buy ONE BOX any flavor/variety Nature Valley® Granola Bars
Fiber One Bars
Save $.40 when you buy ONE BOX any flavor Fiber One® Chewy Bars.
Betty Crocker Cookie Mix
Save $.40 when you buy any flavor 17.5 OZ. OR LARGER Betty Crocker® Cookie Mix.
Nature Valley Granola Nut Clusters
Save $1.00 when you buy ONE BAG any flavor Nature Valley® Granola Nut Clusters.
And many more!  Go here to add them to your Kroger and Safeway stores loyalty card!