Would you like to have these great deals delivered right to your inbox? Subscribe to our email digest. Or if you use a feed reader, subscribe to our RSS feed. Thanks for stopping by!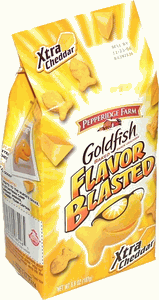 There is a HOT new coupon for $.75/1 6.6 oz. bag of Goldfish Flavor Blasted or Garden Cheddar variety crackers.  If your store doubles and paired with a sale, you should be able to score these for free or close to free!  This one will go FAST so hurry on over!
There are several other new coupons that I saw while I was there:
$1/1 Ore-Idea Steam 'n' Mash potatoes
$1/1 California Pizza Kitchen Crispy Thin Crust Pizza
$1/2 Keebler Flip Sides Crackers
$1/2 Horizon Organic Large Dozen Eggs (Rare coupon!)
$1/2 California Pizza Kitchen Flatbread Melts
$1/1 Mariani Dried Fruit Product
…and several others.  Print your faves now before they are gone!