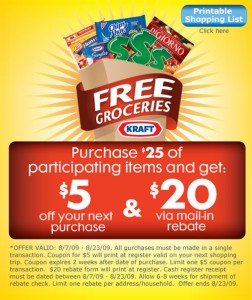 If you live near a Super Valu grocery store, (Acme, Albertsons, Biggs, Cubs, Farm Fresh, Hornbachers, Jewel Osco, Shaws, Shop-N-Save and Shoppers), I have some great news for you!  Starting on Aug 7th through Aug 23rd, Super Valu grocery stores will have a catalina and rebate promotion going on.  When you buy $25 in selected Kraft products in one transaction, you will get a coupon for $5 off your next order AND a rebate form to get $20 back will print at check out.  That's right–spend $25, get $25 back!  Gotta love FREE FOOD.
Here's what you need to do in the next few weeks.  Keep your eye out for coupons for the products listed here to make this deal into a moneymaker!  I'm sure there will be plenty.  If you signed up for the coupons at NabiscoWorld.com, you can always hope that they get here in time as well!
Thanks, Money Saving Maine-iac!