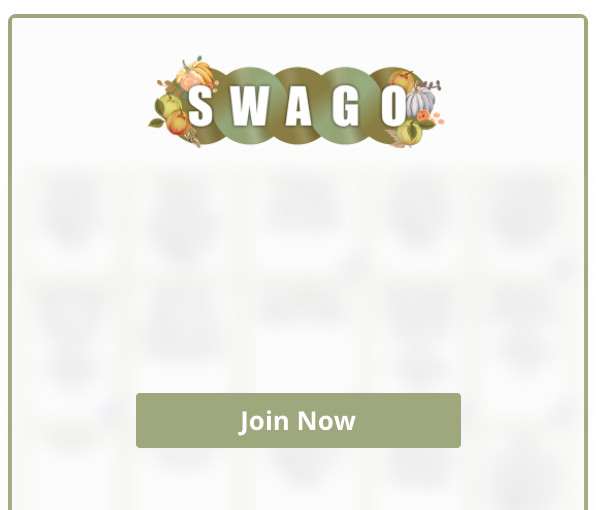 It's time for another round of Swago! The digital rewards site Swagbucks is offering bonus SB during their October Swago Board, which runs through  at .
Swago is just like bingo, but in this case you're filling out squares as you earn points on their site for doing things you already do online. If you're thinking of trying Swagbucks, this is a great chance to learn all about how the site works and earn bonus points while doing it, meaning you can get more gift cards faster. Here are a few tips:
How Swago Works:
We are adding Buy SB back to the Swago board! Need to add some extra SB to your account? Buy SB and check off this square. You can earn a 300 SB bonus + a 490 SB discount on your next Gift Card redemption when you complete the full board this mont
Shop Swago will begin on Monday, October 11th at 8am PT/11am ET, make sure you hit "Join" otherwise you won't get credit for completing the action items. You can pre-register today.
Each square on your Swago Board will contain an action item to complete. Action items will include activating the SwagButton by visiting merchants, visiting merchants through Swagbucks on your mobile device and purchasing Gift Cards from MyGiftCardsPlus.
Once you complete the action item in a particular square, that square will change color signifying the action item is complete.
You have a limited amount of time to mark off as many squares as possible so use your time wisely.
Be mindful of the patterns and their corresponding bonuses located on the right of your Swago Board. The patterns will vary in difficulty and bonus value.
Once you've achieved a pattern, the corresponding "Submit" button will light up. You can have multiple patterns available for submission, however, you can only submit ONE pattern so choose wisely.
The game ends Monday, October 18th at 11:59pm PT . So make sure to hit "Submit" on the pattern you wish to submit. If you don't hit "Submit" before the game ends you won't receive your SB bonus.
Click here to sign up and look for the Swago tab to join!
New to Swagbucks and want to join me in earning free gift cards every month? Sign up here for your free account. Be sure to use my exclusive code CHACHING70 to start off with 70 FREE SB! (Just click on the words, "I have a sign up code.") Then get started earning free $3 – $50 Gift Cards or PayPal cash by taking surveys, searching the web, watching videos, or shopping online.
Click here to find out how to earn a FREE $25 Amazon gift card every month with Swagbucks!