Would you like to have these great deals delivered right to your inbox? Subscribe to our email digest. Or if you use a feed reader, subscribe to our RSS feed. Thanks for stopping by!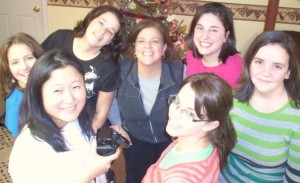 So…how many pictures did you take at Christmas?  I haven't counted mine, but I'm guessing it was ALOT.  (By the way, that picture is one of our many photo ops.  We took it to show off new socks that we all got–somehow the socks didn't make it into the picture!)
Kodak has an awesome deal going on right now for new members.  Get 50 FREE prints with only $1.99 shipping plus tax. Here's how:
Upload your photos and add to cart.
The discount will be added after you choose your shipping option and your mailing address at check-out.
You will have 14 days to order your photos once you sign up.