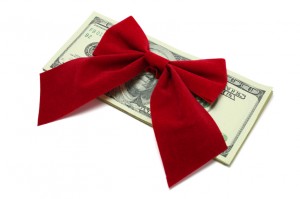 I just finished another step in my spending-less-than-$50-this-Christmas-money-saving strategy. Right from the comfort of my own home. (Click here to check out the rest of this series.) To remind you, I have always had to resort to taking out loans at this time of year, and while I have been so grateful that they are now an option in my times of need (when it comes to short term loans bad credit doesn't get in the way anymore!) I would like to reach a point where I successfully manage to stay within my budget.
I used some of my MyPoints to snag a gift card. Since most of the people on my Christmas list read this blog faithfully (or so they say!), I hesitate to divulge the exact details of the gift card. I will simply say that I am confident that the recipient of the gift will be delighted. (Although no cash was spent on the purchase of this gift, there is still a lot love in those hard-earned MyPoints.)
I actually can't believe that I haven't talked with you all more about MyPoints. I have been a MyPoints member since 2003. Although money-saving blogs were not even a twinkle in their mother's eye yet, this was the beginning of a beautiful relationship between me and free stuff on the internet.
I have accumulated over 30,000 points over the years, and hope to save up for some home furnishings when we finally buy our own home. However, occasionally I like to dip into my savings for special occasions and Christmas happens to be one of them!
Becoming a MyPoints member is simple:
Simply sign up here.
You will begin receiving e-mails and will receive 5 points each for 'reading' them. (All you really have to do is click on them once you've opened the e-mail.)
If you decide to accept the offer that is being shared, then you will receive a certain amount of points for doing so.
Here are some of my favorite ways to earn points:
Refer friends. You will receive 25 points for each of your friends that sign up through your referral link. You'll then receive 10% of the eligible points that your friends earn. Click on 'Easy Points' then 'Refer-a-Friend' to learn more.
Shop through MyPoints. Planning on doing some on-line shopping at Christmas time? Check out their extensive list of merchants by clicking on 'Shop'. You'll receive a certain amount of points per dollar spent by clicking through the MyPoints site when you do your shopping.
Simply be faithful in reading your e-mails! I typically receive 8 -10 e-mails a day from MyPoints. That's 40-50 points a day just for clicking on my e-mail. Since rewards begin around 1400 points, it should take only about a month or so to earn enough points to claim your first reward!
My gift card should arrive in 2-6 weeks, which gives me plenty of time to order a couple more if I decide to use them as Christmas presents. If you choose to  
" target="_blank">sign up today, why not plan on making  
" target="_blank">MyPoints your savings center for next Christmas? By then, you should have plenty of points to use!
Stay tuned for even more money-saving Christmas ideas!