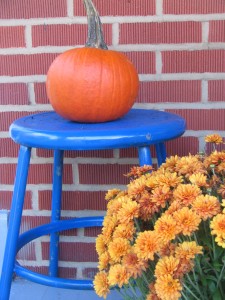 My Fall-ish Decorations on my Front Porch
The smell of freshly baked pumpkin chip cookies is in the air at our house, which reminded me about this post that I shared a year ago with you all.  I thought it would be a shame not to share it with you again!  If Fall isn't your favorite season, these cookies might just change all that.
This week I am choosing to live large by appreciating the beauty of friendships and soaking up this crispy, delightful time of year called Fall.
Today I sat on my front porch with my cousin and childhood best friend.  We are delighted that we only live about half an hour away from each other since our move to PA.  We got caught up on each other's lives, shared the joys and struggles of motherhood and watched our boys play together like we used to do at their age.
Taking time to value friendships like this is one of the best ways that I know to live large, no matter what your budget may be.
But it gets better.  We also sipped hot coffee and munched on some of the most delightful fall cookies known to man.  And yes–you can have the recipe.  Just promise to share them with someone you love.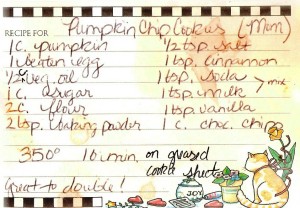 As you can see, it's a well-loved recipe.
NOTE:  You may want to bake them longer than 10 minutes.  They come out pretty gooey that way.  I'm a 10-11 minute kind of girl, while Wes is more of a 13-14 minute fan.  It's all in your preference!
p.s.  Let me know if you need help deciphering my handwriting!