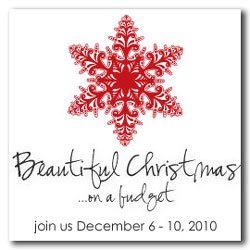 The season of Christmas holds such deep meaning for me.  I just really want to celebrate it well.
Don't you?
That's why for I've teamed up again with three other bloggers to share tips on how to have a Beautiful Christmas without breaking the bank.  We are going to share practical, simple advice to help you enjoy this season to the fullest and save money at the same time.
To get us started, Sharon at Good, True, and Beautiful will be sharing some simple tips on how to make gorgeous Christmas decorations for free.  Grab a cup of coffee, set your Pandora station to something Christmas-y, sit back and enjoy her wonderful post.
Here are a few teasers for the rest of the week:
Tuesday: Katie at Frugal Femina will be busy in the kitchen cooking up some festive goodies.
Wednesday: Come back on over here where I'll be sharing ideas on celebrating the season with fun and meaningful traditions.
Thursday: Traci at Beneath My Heart will give us the scoop on how to make beautiful gifts on a dime.
Friday: Head back on over here where I'll have a place for bloggers to link up their Christmas ideas.  This will be the place to be for everything Christmas.
Get ready to sit back and enjoy.  And have yourself a Beautiful Christmas!