Note: If you are reading this in an email or reader, click here to view the video above.
The Dollar Store Diva (a.k.a. my Mom!) strikes again!  This time she shares a clever way to give the Gift of Time.
Who doesn't long for an evening with no dishes to wash? The other evening some new friends had us over for dinner. I was so happy to take this gift to the hostess–and she seemed to be equally pleased!
Gift ingredients I included:
–One package of festive paper plates
–Matching paper cups and napkins
–Plasticware
–For the final touch, I threw in a few red and white "puffy mints" and wrapped the package in blue cellophane wrap
(I purchased these from the Dollar Tree for a total of just over $4.00!)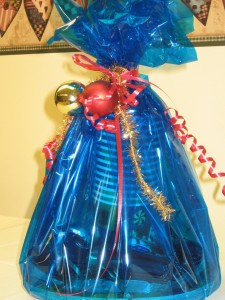 The Final Product.  Isn't that fun?!
By the way, if you are wondering what the answer was to how many items were from The Dollar Store in this picture–many of you were correct.  ALL of them!