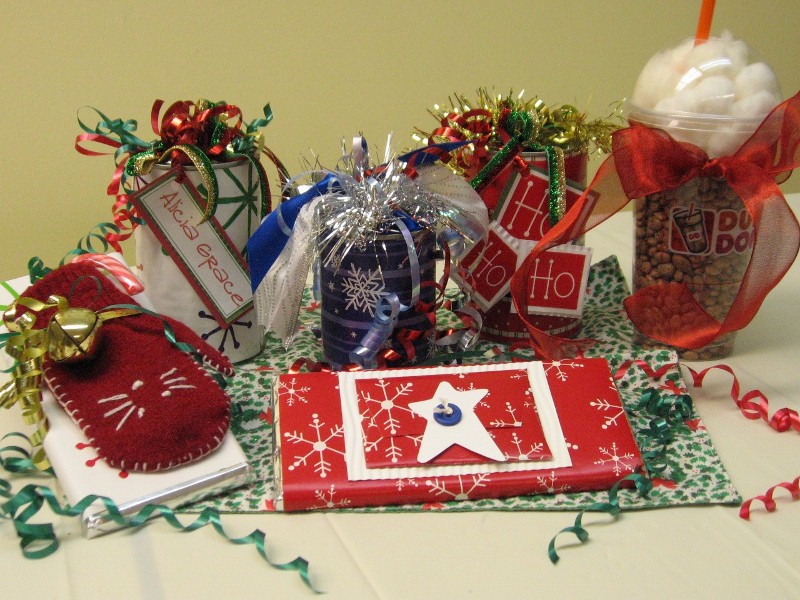 This has got to be my favorite idea yet from the Dollar Store Diva!  LOVE the Dunkin Donuts gift card holder! Be sure to check out the rest of my Mom's creative Dollar Store creations here.

***

Gift cards have become a popular gift, for obvious reasons. However, I have a problem just handing over an envelope with a card in it–no matter how generous the card might be. In the picture above, you will see several ways to add pizazz.
From left to right:
–A large Hershey candy bar wrapped in white snowflake Dollar Store paper. I also found at the Dollar Store adorable red woolen mittens for a baby. I attached one mitten with ribbons and a bell, stuck a McDonald's gift card inside, and added a candy cane.
–I think the three decorated soup cans in the back are a stroke of genius. When I found the idea with a picture tutorial here, I was so excited I could hardly sleep that night! The trick is to buy a can with a pop top lid and to open the bottom of the jar, instead of popping the top. Empty the can, serve soup for dinner, wash and dry the jar, put in a gift card (some candy Kisses would be fun too) and add some paper confetti. Then hot glue the bottom lid back on to the can. To open it, the receiver gets to pop the lid! Is that fun, or what! Thank you Beneath My Heart for such a colorfully creative idea!
–On the far right is an idea my sister Sharon told me about. I used a large latte cup from Dunkin' Donuts, slipped in a Dunkin' Donuts gift card, filled it with pinto beans (to look like coffee) and then topped it with cotton ball whipped cream. (Hope I find one with my name on it under the tree this year!)
–In the front is another Hershey bar wrapped in more Dollar Store paper. I opened a small envelope and used it for a pattern to create an envelope out of the same red snowflake paper just the right size for a gift card. Since the envelope is made from the same paper as the wrapping, I matted it with white paper. I cut out a star and added a button to weight down the flap of the envelope.
Yea for pizazz!