Would you like to have these great deals delivered right to your inbox? Subscribe to our email digest. Or if you use a feed reader, subscribe to our RSS feed. Thanks for stopping by!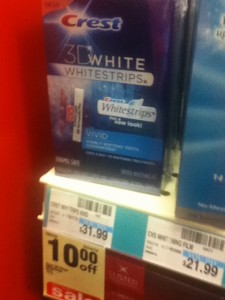 Update: I want to give you guys a heads up that the $10/1 coupon is meant for the 3D 2-hour Express or the Professional Effects products which are more expensive than the 3D Vivid Whitestrips that I posted.  I totally missed this fact since my coupon scanned without a beep.
Heather wrote in to let me know that she discovered that $10 ECBs printed for her when she purchased Crest Whitestrips this week at CVS.  This is in addition to a $10 discount being taken off at the register PLUS there is a $10/1 coupon in the P&G 1/16 and 1/30 inserts.  Heather found them at her store priced at $29.99 making them FREE after coupon, discount and ECBs.
So I decided to go check it out for myself and the $10 in ECBs printed for me as well.  The lowest that I found were priced at $31.99, making them $1.99 after coupon.
Crest 3D Whitestrips (10-ct.), $29.99-$31.99
$10 discount taken off at regsister
$10/1 coupon from PG 1/16 or 1/30
Plus get $10 ECBs at checkout
As low as FREE after coupon, discount and ECBS!
I'm guessing this is a limit of one.
There is a possibility that this is a monthly deal since it isn't advertised in the weekly ad.  But if you want to be safe, I recommend heading to CVS by the end of the day tomorrow 2/12 if you'd like to snag this HOT deal.
Thanks, Heather!