Here's another edition in the Dollar Store Diva's Valentine's gift ideas.  I love how she incorporated the free Staples post-it notes that were available last week!

***
A Cereal-ously Cute Idea: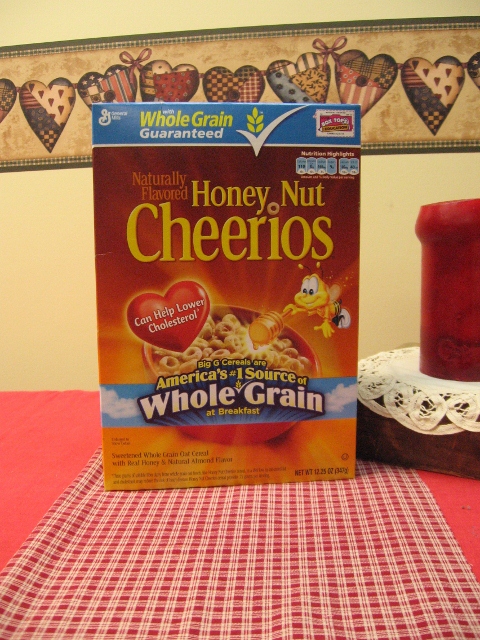 My sister and I have been chuckling because, for some inexplicable reason, I have started calling her "Honey."
"Honey?" Where did that come from? (She is my "baby" sister, but a "baby sister" who is eligible for senior coffee.)
As I was looking through this week's CVS flyer, I noticed that there was a special on Honey Nut Cheerios. I knew immediately that I had the perfect Valentine for Sharon.
On a sheet of colored paper I printed "Honey, I'm nuts about you," then added, "Happy Valentine's Day, Sis." and printed her address and my return address.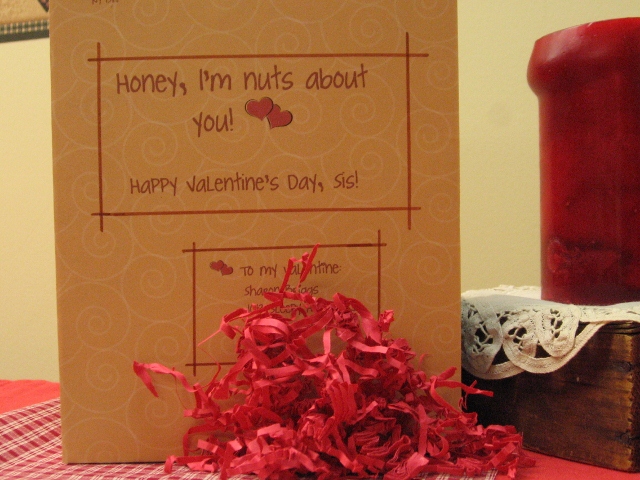 I glued the paper to the back of the box (leaving the front exposed), headed to the post office, and it will soon be arriving at her door. (The cost to mail this was $5.10 because of its size and weight, but it's still not a bad deal because between sale price, a coupon and ECBs, I paid $0 out of pocket for the cereal.)
***
Let's Stick Together: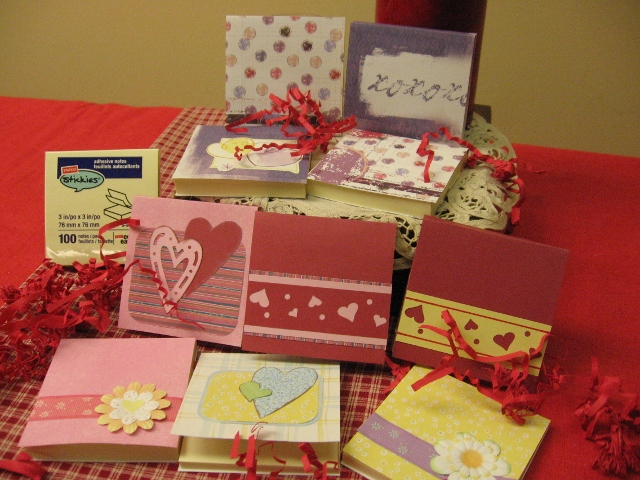 If you have decorative paper, these little gifts can be made in minutes.
I used FREE sticky note pads from Staples (Can't argue with FREE. Thanks, Kaley, for posting this offer!) and an assortment of pretty Creative Memories paper I had on hand.
After I made a few, I decided to split the pads in half, and I actually thought they made a prettier gift.  With 3×3 note pads, I measured and cut each paper to just about 3 1/8  X 6 9/16 for the full pad, a bit shorter if you split the pad in half.  You want the paper to hang over the edges only the tiniest bit.
I adhered the pad to the bottom half of the paper strip (it already has an adhesive on the back–hence the name "sticky" notes) and simply used my fingers to firmly fold the paper up and over. Again I used my fingers to make the two creases tight and neat. If the paper is decorative enough, your job is done. If you have used plain paper, now you can have fun adding pretty touches.
I made some tags with the phrase "Let's stick together, Valentine" on them, or you can simply write this on the top sheet of the pad so it's the first thing they see when they open the cover. You can slip one in an envelope and send as a card, or you can stack them, tie with ribbon and a bow and you have a beautiful Valentine's gift. How fun is that?!
***
Don't worry.  The Dollar Store Diva fun isn't over yet!  Stay tuned for even more creative ideas later today!