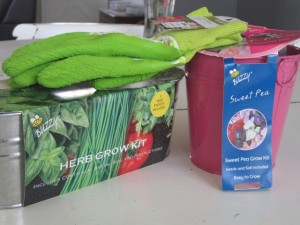 Good news!  In addition to the $50 ProFlowers Giveaway I posted earlier this week, I have several other FUN Mother's Day giveaways scheduled for this week.  Now, doesn't that just make you happy?
As you all know, CVS is one of my favorite places on earth.  So when I was contacted to offer a Mother's Day giveaway, I jumped at the chance.
In all honesty, I was a bit skeptical at first.  I do a whole lot of shopping at CVS, but I'm not sure I would think to look for Mother's Day gifts there.
But then I checked out the following gift ideas:
For the mom who loves gardening:
·         Herb Grow Kits, $7.99 – $14.99
·         Sunflower, Sweet Pea, Lavender Grow Kits, $5.99
·         Decorative Planers, $2.99 – $19.99
·         Solar Landscape Lighting, $4.00 – $12.99
·         Lawn Decorations, $4.99 – $9.99
·         Gardening Gloves, $4.99
·         Gardening Shoes, $12.99
·         Sun Hats, $9.99
·         Wind Chimes, $7.99 – $14.99
·         Assorted Miracle Grow Products
For the mom who loves to be pampered:
·         Essence of Beauty line bath and body gels, lotions and lip gloss, starting at $1.99
·         Essence of Beauty Cotton Bath Robe, $9.99
·         Sarah Peyton Shiatsu Back Massager, $19.99
·         Four-Piece Spa Set, $14.99
·         Designer fragrances (Mariah Carey, Elizabeth Taylor, Halle Berry and more)
For the mom who has it all:
·         Gift Cards (Macy's, Gap, Dunkin Donuts, Nordstrom, Barns & Noble, iTunes,  American Express, Visa, popular restaurants and more)
·         In-store photo gifts including photo books ($5.99 – $14.99), KODAK Picture Movie DVD ($14.99), photo collages and calendars ($19.99).
I think these are some fantastic gift ideas!  In fact, did you see my Herb and Sweet Pea Grow Kits and Gardening Gloves pictured above?  How cute are they?  I'm considering them an early Mother's Day gift to me!
And now–I have one $20 CVS Gift Card to give away to one lucky reader!
Here's how to enter:
You have up to four possible methods of entry:
Leave a comment letting me know which of the items listed above are your favorite idea for a Mother's Day gift.
Subscribe to this site in a reader or by e-mail and leave a comment letting me know you subscribed.  If you are already a subscriber, simply let me know in a comment.
"Like" Cha-Ching on a Shoestring on facebook and leave a comment on this post letting me know.  If you are already a fan, simply let me know in a comment. (I love comments on the facebook page as well, but those will not count toward the giveaway!)
Note: Be sure to scroll down to the bottom of this post to leave your comments.  (If you are reading this is an e-mail click here to do so.) By leaving a separate comment for each entry you will have a greater chance of winning!  E-mail responses will not be considered as an entry in the giveaway.
This giveaway ends at 10:00 a.m. EST on Monday, May 2, 2011. I will randomly select the winning comment. Winner will be notified by email and listed on this site.
Disclaimer: CVS provided me with this giveaway and product for review.  The rest, as always, is ALL me!