This week I needed to do some actual grocery shopping.  That's what happens when you eat, I guess.
I printed my E-Mealz meal plan this morning and headed to Aldi.  (And did I mention I didn't have any children with me?  And that I stopped by Starbucks for this while I was out?  Yep.  It was a good day.)
Here is my Aldi purchase:
*Disclaimer: I apologize for the blurriness of these photos.  My husband needed the camera today, so I used my iPod.  Won't be winning any photography awards any time soon.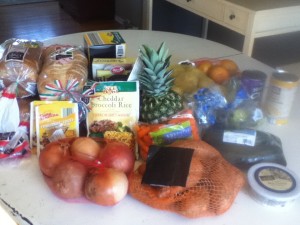 Some of the highlights include:
A 3 lb. bag of Tangerines for $1.49
A bag of baby carrots for $0.69
And thankfully, I already had quite a few of the items needed for the menu plan, so this was a quick trip!
Spent: $35.58
Saved: $15 (estimate)
I also stopped by Redner's on my way and grabbed a couple of their deals.  I don't have a picture, but highlights were Fresh Express Salad for $1 and Kraft Shredded Cheese for $2.  (Would have been cheaper, but unfortunately they wouldn't accept one of my coupons.)
Spent: $14.29
Saved: $7.97
Here is my CVS trip (minus a certain Reese's Chocolate Egg…)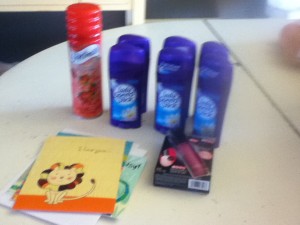 CVS has been very fun for me this week.  I took advantage of the FREE Physician's Formula deal, the Skintimate moneymaker (when it was still working), the free Speedstick (plus I'll submit a rebate) and the free Hallmark cards.  Oh…and there may or may not have been a Reese's Chocolate Egg deal that went down as well.  Ahem.
Total: $2.72
Saved: $37.61
I also made a run into Landis last night for a few deals and some cheese we needed for dinner.
Total: $7.94
Saved: $7.19
Total Spent: $60.53
Total Saved: $67.77
Have you gotten any great deals this week?