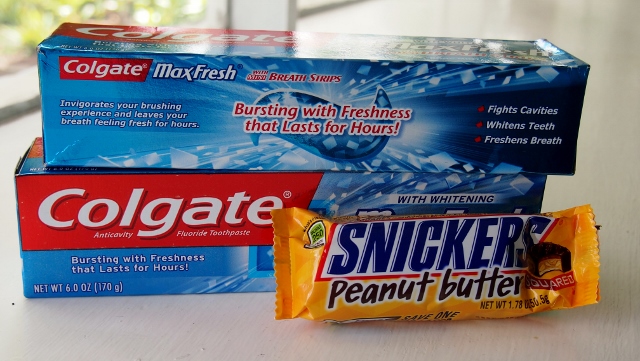 I finally made a quick trip to CVS this week. In fact, it was so quick, I didn't even take time to grab coupons before I left the house! Not my recommended form of couponing, but sometimes a girl's gotta do what a girl's gotta do. 😉
Not pictured in this photo: Hot Dog Buns – not an awesome deal, but I needed some!
CVS through 5/31:
Here was my transaction this week:
Buy (1) package of Hot Dog Buns, $2
Buy (1) Snickers Bar, $0.75 (Get $0.75 in ECB's)
Buy (2) Colgate Toothpaste, $2.99 ea. (Get $4 in ECB's)
Use FREE Snickers coupon I won earlier this year
Use $7.50 in ECB's
Pay $0.48 after coupons and ECB's!
I was tickled when I realized I still had that FREE Snickers coupon – which actually turned into a moneymaker after ECB's. I love to save my free coupons for such a time as this.
So, I paid $0.48 for $12.16 worth of products.  Plus I have $4.75 in ECB's for my next trip. I'll take it!
Click here to check out the rest of the CVS deals this week.
How about you?  Did you score any awesome deals this week?
Want to learn more about my 20 Minute Couponing System? Click here.