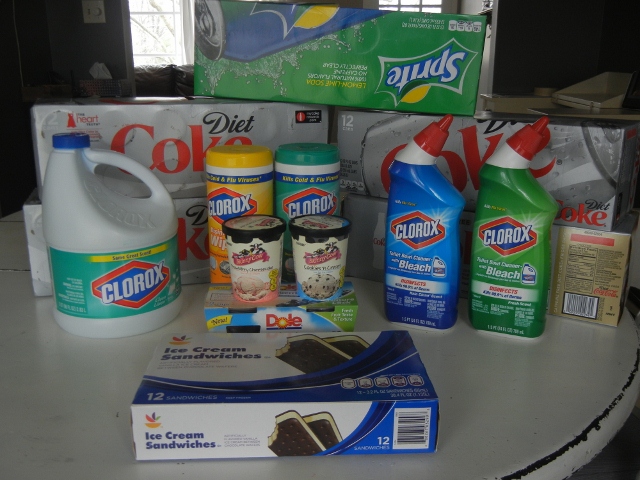 If this week's shopping trip was any indication of what we actually ate, we'd be in trouble.
I had no major shopping to do, so I shopped the sales and got some great deals on cleaning products, soda and ice cream.
How's that for a balanced diet?  🙂
Everything in the picture above totaled $5.34, so I was pretty excited about the deals I scored.  I also got a few essentials at Landis (milk, bread, fruit), but didn't get a picture.
So here's my deal breakdown:
CVS:
Spent: $0.00 after ECBs and gift card on five 12-packs of soda
Saved: $20.95
Giant:
Spent: $5.34 on (2) Clorox Wipes, (2) Clorox Toilet Cleaner, (1) Clorox bleach, ice cream sandwiches, (2) Skinny Cow Ice Cream Cups and Dole Frozen Fruit
Saved: $13.07
Landis:
Spent: $18.21
Saved: $6.29
Total Spent: $23.55
Total Saved: $40.31 (a savings of 63%)
Have you gotten any great deals this week?