It was a big shopping week around here.  I had stretched my Emeals plan as far as I could, so it was time to print out another menu plan and head to the store.
I really can't remember the last time that I spent over $100 in groceries for one week.  Thankfully, I've been under budget the past few weeks, so we had some room to spare in our grocery budget.
I didn't get a picture of my Aldi or Landis shopping trip, but you can see my Target trip pictured above.
Target:
Spent: $8.76 after coupons and gift cards (highlights were free Women's t-shirts, Welch's Fruit Fizz for $0.39, free nail clippers, and free Carefree liners)
Saved: $28.71
Aldi:
Spent: $87.65 (highlights were $0.79 bread, bananas for $0.43/lb., cantaloupe and pineapple for $1.79
Saved: approximately $20
Landis:
Spent: $24.87 (highlight was free Suave deodorant)
Saved: $15.24
Total Spent: $87.65
Total Saved: $63.95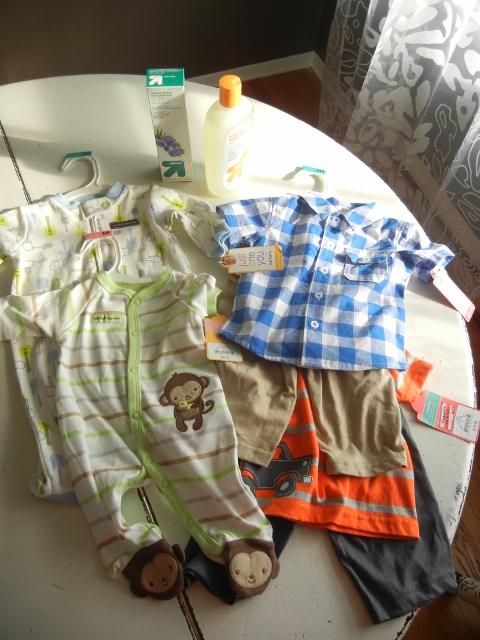 I just had to post a picture of this fun little haul I scored at Target with my free $50 Target gift card from MyPoints. (I still have some to spare.)  I can't believe there will be a little body in these clothes in about a month!