Learn more about our Savings Goals for this year here and here.
I really fell off the wagon with sharing our latest Saving on a Shoestring updates over the past few months.  I think we got a little distracted with our new little guy's arrival.  He's 3 months old now though, so I'm slowly starting to gain a little bit more normalcy around here!
We have still been putting our dollars aside for our two big goals this year, so I wanted to update you all on how much money we've set aside for each. 
The good news is that it's been so long since I updated that we have made a BIG jump in our savings goal toward Project Well.  At this rate, I'm hoping we will be able to donate a well by the end of the year.  So exciting!

So here our our current totals for our Saving on a Shoestring projects: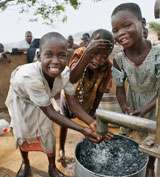 Project Well: 84%


Cha-Ching! Christmas Club: 19%.
*****
How about you? Have you been saving and scrimping toward a reward or are you a part of the Cha-Ching! Christmas Club?  Then leave a comment or a link below telling us about it.
AND just to add to all the fun going on around here, I will give a $5 Amazon gift code to one person who leaves a direct link to their savings post or a comment sharing an update on their savings.  (I figure it's just one more way to help you save on that shoestring!)
The giveaway will end Friday, August 10, 2012  at  11:59 pm EST. I'll randomly select the winning comment or link. Winner will be notified by email and listed on this site.