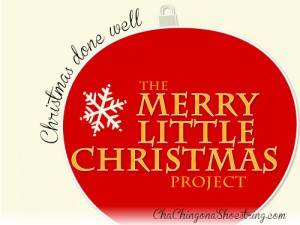 Happy November, all!
Today let's have a little pep talk. 
It is important to me not to get caught up in the commercialization of Christmas.  It's a sacred holiday to me.  I have always been the one to wait until after Thanksgiving to pull out even one. single. ornament.  And I refuse to play a single note of Christmas music until the last bite of turkey and pumpkin pie is consumed and the annual family football game has been played on Thanksgiving Day.
BUT this year I am choosing to change ONE very important aspect of how I celebrate Christmas.
My goal is to be DONE Christmas shopping AND wrapping by December first. 
Sound crazy?
Maybe.  But I have resisted this in the past because I felt that waiting until after Thanksgiving was the right thing to do.
And then I found myself trying to cram every single Tradition/Decoration/Cookie/Movie/Advent Calendar/You-Name-It-Christmas-Activity into December WHILE shopping for my entire family.
And I wondered why I was stressed.
I want December to be a month of celebrating…NOT stressing.
So I'm declaring the month of November to be my Christmas shopping month. And I invite you to join me.
Here are three simple ways to prepare to Christmas shop this month:
1.  Make a list of every single person that you will purchase presents for this year.  You can use one of these free printable Christmas planners to help get organized.
2.  Ask yourself if there are any ways to cut back on shopping this year.  Just because you did things a certain way in the past does NOT mean that you are locked into doing them the same way this year.
3.  Begin to follow my Christmas deals.  You can find them right on my navigation bar:

Maybe you'd rather just set a goal to finish shopping by the week before Christmas.  Whatever it may be, let's work together to make our Christmas season a little bit less chaotic this year.
Remember:
"Christmas does NOT have to be as stressful as we make it!"

-Kaley Ehret a.k.a. Me 🙂
See more posts from The Merry Little Christmas Project here.