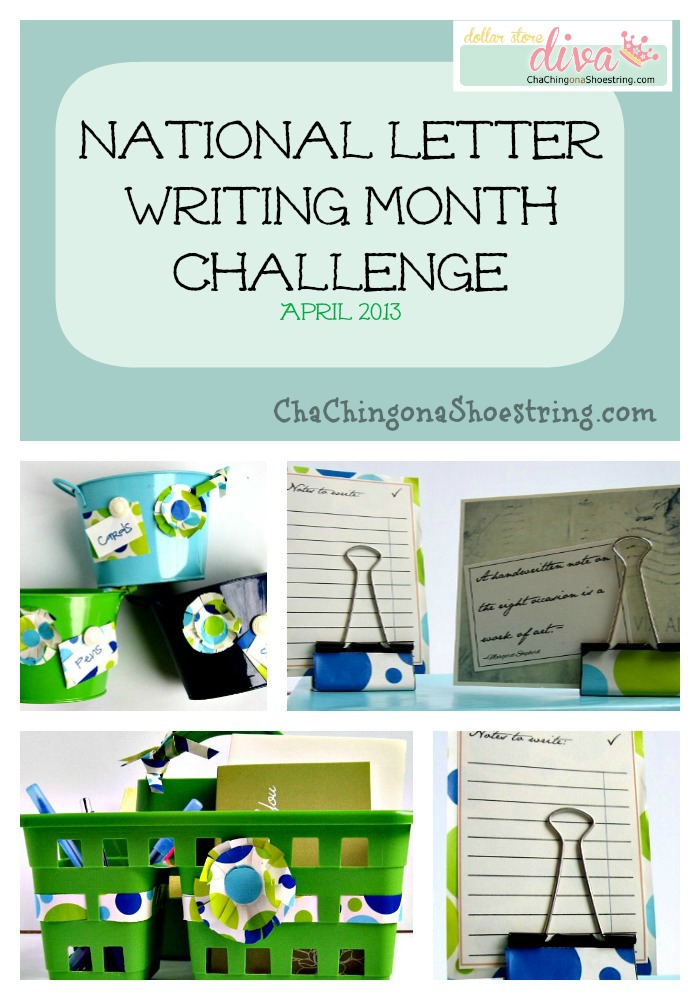 Another National Letter Writing Month Challenge from our one and only Dollar Store Diva.  Be sure to complete today's easy task at the bottom to enter to win a $50 Michaels gift card!

~~~~~~~~~~
So, how about some easy-as-can-be handmade stationery?
If  you're like me, you have p-l-e-n-t-y of scrapbooking paper in stock. Since I was a Creative Memories consultant for many years, you can be sure that I have a lovely supply available. I also keep an eagle eye open for paper sales in craft stores and dollar stores.
Isn't this double-sided Creative Memories paper bee-eau-ti-ful?  (That's my friend Sally's link if you'd like to order some from her!)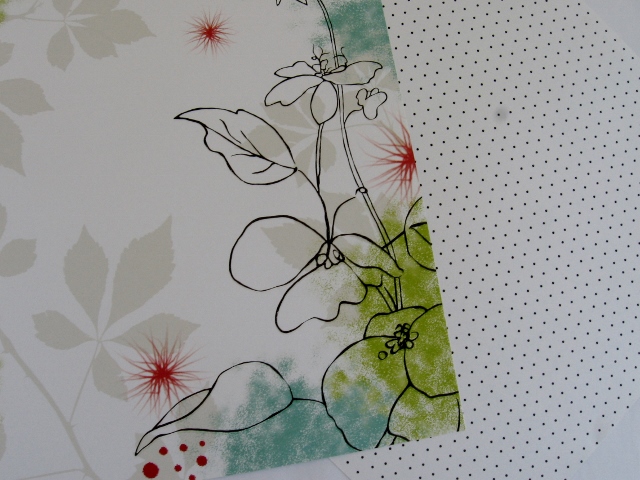 Last year I had a National Letter Writing Month blog
Just Pen, Paper & a Stamp
. I created a video clip for that blog showing a quick and easy way to use scrapbooking paper to create beautiful note cards that–yay–don't need an envelope. And since the paper is double-sided, when the card is opened, there is a surprise inside: a happy new design!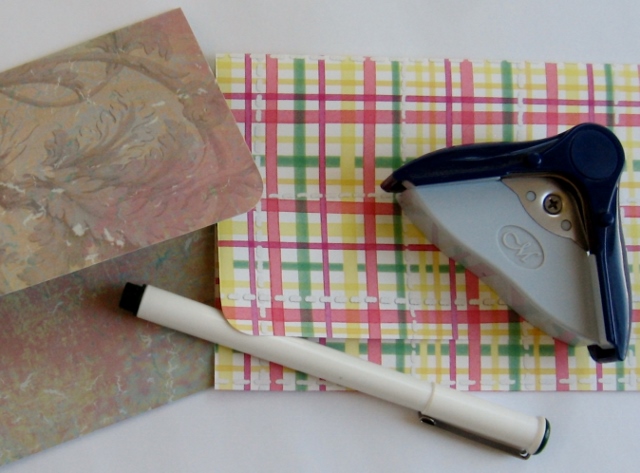 Fold it in "thirds" (notice the picture) and round the four corners with a corner rounder. And there you have it.
But, wait! That's not all!
You can make
all-occasion
stationery!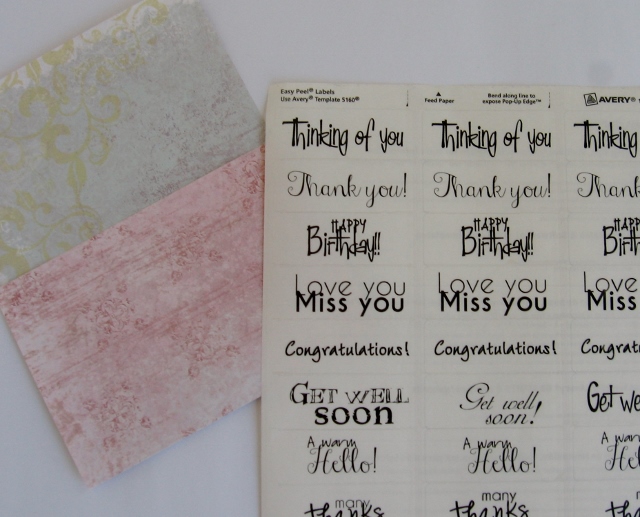 You can add a personal touch to your stationery by using these Stationery Labels I created for you.
(A word of caution: it's takes quite a while for the ink to dry after the labels have run through the printer.)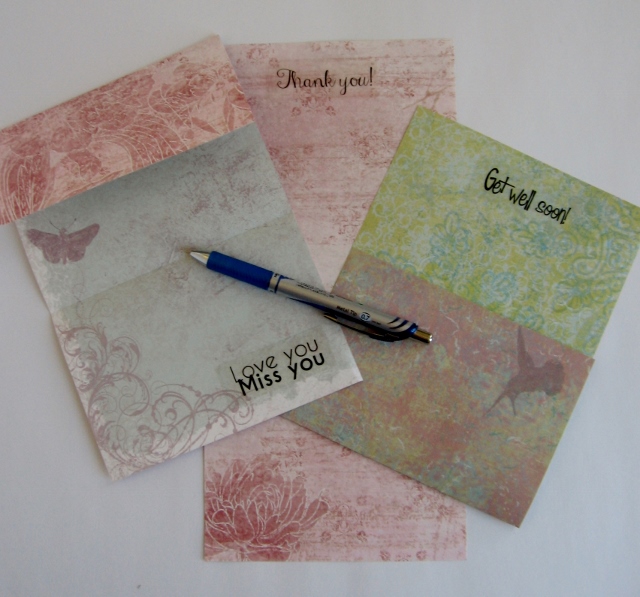 If you keep a supply of these note cards on hand, when it's time to write a birthday note, you can just slap on one of the Happy Birthday labels.
Or if your aunt has been sick, use one of the Get Well Soon labels and send her some love via the USPS.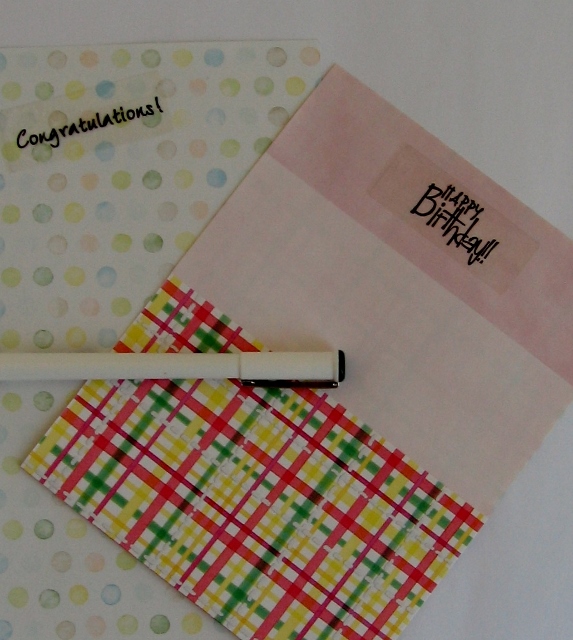 Oh, the possibilities are endless.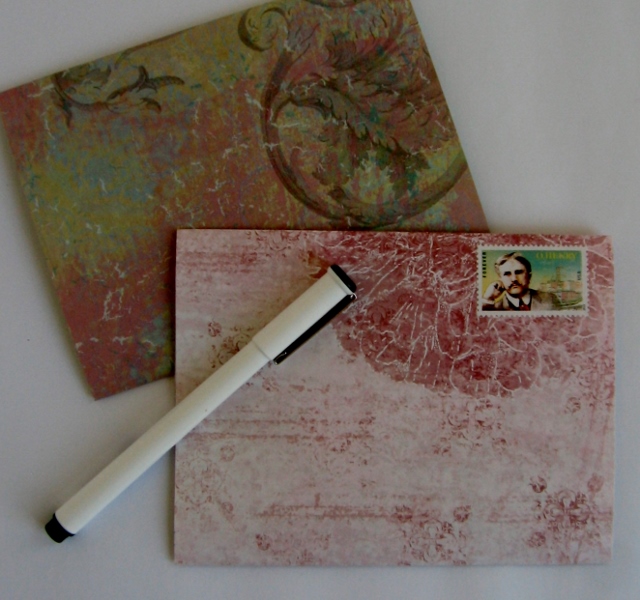 Just waiting for an address.
~~~~~~~~~~~~~
Sooo–if you haven't done it yet–now is the time to make a list
In another Just Pen, Paper & a Stamp post, I gave suggestions for people my readers might want to write. Here are some of the ideas I shared:
Think outside the box; perhaps these will spark some ideas for you.
–Senior citizens who are sitting alone looking out their windows
–Those who are grieving a loss
–Someone who has faithfully provided a service for you
–a waitress at your favorite restaurant
–the woman who never loses your clothes at the dry cleaners
–a teacher who made learning calculus fun
–a pastor or Sunday School teacher who impacted your life
–a neighbor who used to make chocolate chip cookies for you when you were a child
–an aunt who faithfully sent you a birthday card when you were little with a crisp dollar bill enclosed
–a librarian who knew you loved Harry Potter and had the latest edition waiting for you
–the hospice worker who was so kind to your mother during her last days
–a childhood friend you haven't had contact with since you watched The Brady Bunch together.
–someone who babysat you when you were young and didn't berate you for crying when your mother left
–your grandchildren who bless you every time you're with them
–your mail carrier who drops lovely letters in your mail box in rain, sleet, or gloom of night (OK, your bills too, but that's not the mail carrier's fault).
It's time now to choose a name from your list, use a pen on this stationery, and add a stamp.
Yay! for National Letter Writing Month.
~~~~~~~~~~~
And now …who wants to win a $50 Michaels gift card??!
To encourage you to join us for National Letter Writing Month, we will be giving one lucky Cha-Ching on a Shoestring reader a $50 Michaels gift card at the end of the month!
Entering to win is easy.  At the end of each Dollar Store Diva post this month (there will be many!), there will be one method of entry.  If you choose to complete that task, you will be entered!
At the end of the month, we'll randomly select one winner from the comments left on each of the posts.  So that means the more you get involved with National Letter Writing Month, the more chances you will have to win!
Here is today's task:
Start making a list of those you'd like to send a card to this month.
HINT: Want extra entries? Click here to check out all the other ways to enter the giveaway this month.
**Want to stay connected during the National Letter Writing Month Challenge? Be sure to sign up for FREE updates from my email newsletter or on Facebook.**
Disclaimer: Michaels provided the $50 gift card to give away.  But as always, the rest is all me!