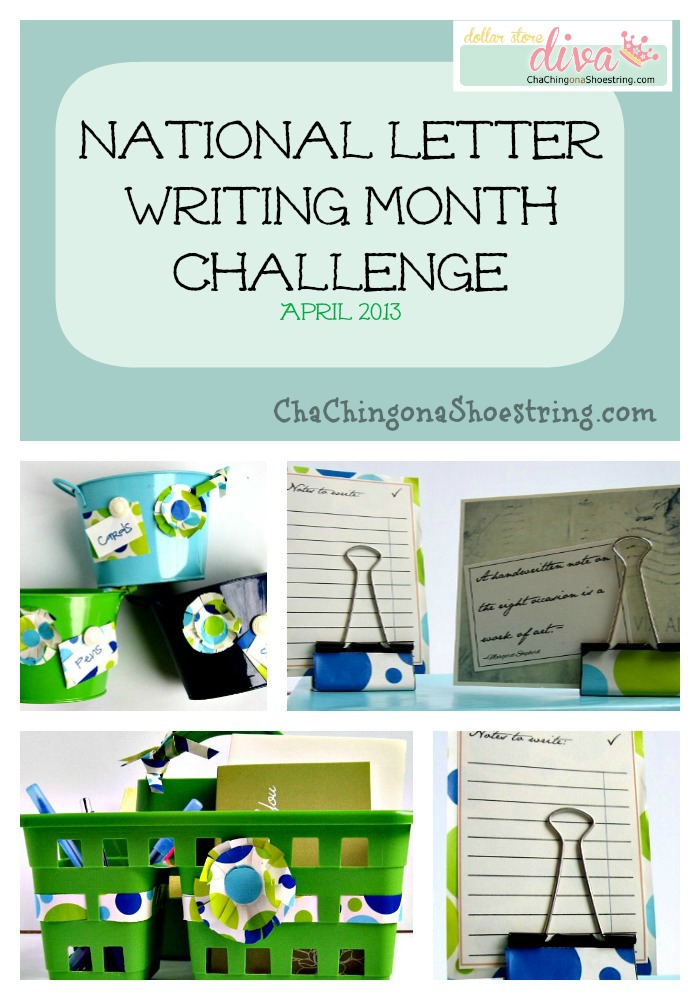 Another National Letter Writing Month Challenge from our one and only Dollar Store Diva.  Be sure to complete today's easy task at the bottom to enter to win a $50 Michaels gift card!

***
Hey! How's it going with your letter-writing April? It's hard to believe that the end of the month is only a few days away. I have been checking some names off my list, but I still have several friends and family members I hope to write before the calendar turns to May.
To help me, I created postcards for sending some love in the mail.
The beauty of postcards is that you can write a quick, warm note; but, in addition, the picture on the front can add an extra level of greeting.
For example: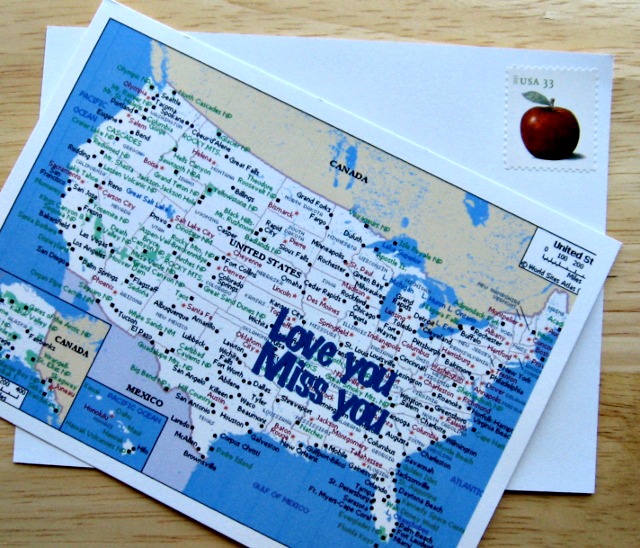 Source
I LOVE this Map Postcard I created for my family. I live in New York, but I have children, grandchildren, and sisters in Pennsylvania, Texas, Kansas, and Virginia. For me, the front of this card says so much. Obviously  I wrote more words on the back, but the map and text express the message of my heart
And then there's this one: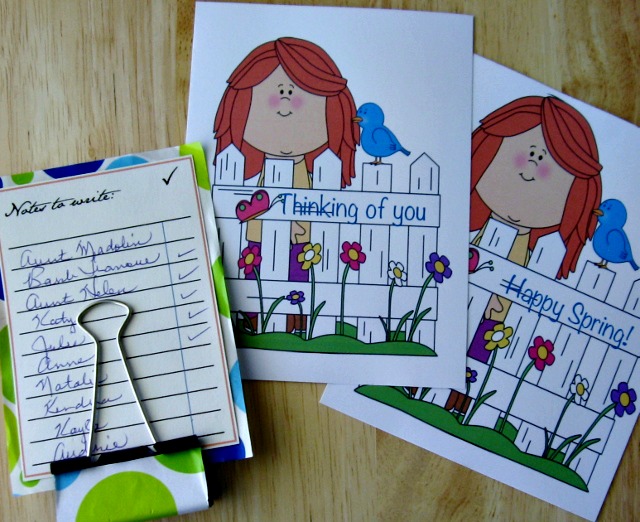 Source
There were people that I just wanted to send a smile to. As I wrote these Thinking of You cards, it was fun to visualize them opening their mailbox.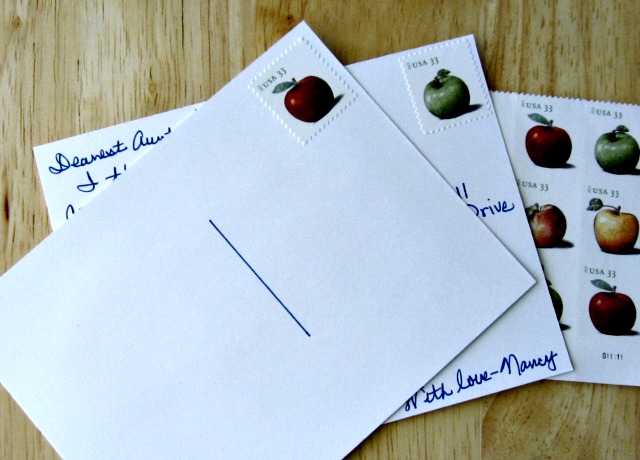 It's easy to turn the printables into postcards.
1) Print the pdf file onto cardstock or heavy paper. 2) Trim the individual cards 3) Turn each card over  4) Draw an off-center line on the back.
The message will be written on the left side, and the stamp and address will be on the right side.
And don't you think those little apple postcard stamps are as cute as anything?!
By the way – don't have colored ink?  You could check with your local library to see how much they charge for colored copies.  Or print them in black and white – your recipient won't mind!
*****
Okay one more thing – I have a confession to make: I don't know what I'm doing.
Honest.
Check out this picture:

Just look at those hands. The first time those hands touched a keyboard it was a black manual typewriter, and my fingers got all inky each time I had to change the ribbon.
Here comes the part where I explain why I don't know what I'm doing. If you look carefully at the picture, you will notice that is a MacBook Pro. Yup, I am now the proud owner of a Mac!
I was warned that there would be a learning curve.
A learning curve indeed.
So, after more hours than I want anyone to know, I finally created the postcard printables I have included in this post . The thing is–so sorry–I couldn't get them to center properly.  So, I hope that you won't think dark thoughts about me when you have to trim the postcards a bit, will you?
****
And now …who wants to win a $50 Michaels gift card??!
To encourage you to join us for National Letter Writing Month, we will be giving one lucky Cha-Ching on a Shoestring reader a $50 Michaels gift card at the end of the month!
Entering to win is easy.  At the end of each Dollar Store Diva post this month (there will be many!), there will be one method of entry.  If you choose to complete that task, you will be entered!
At the end of the month, we'll randomly select one winner from the comments left on each of the posts.  So that means the more you get involved with National Letter Writing Month, the more chances you will have to win!
Here is today's task:
Write someone a post card – using one of these printables or whatever your heart desires!
Then leave a comment below (click here if you're reading this in an email) letting us know that you did.  (That's it!)
HINT: Want extra entries? Click here to check out all the other ways to enter the giveaway this month.
**Want to stay connected during the National Letter Writing Month Challenge? Be sure to sign up for FREE updates from my email newsletter or on Facebook.**
Disclaimer: Michaels provided the $50 gift card to give away.  But as always, the rest is all me!