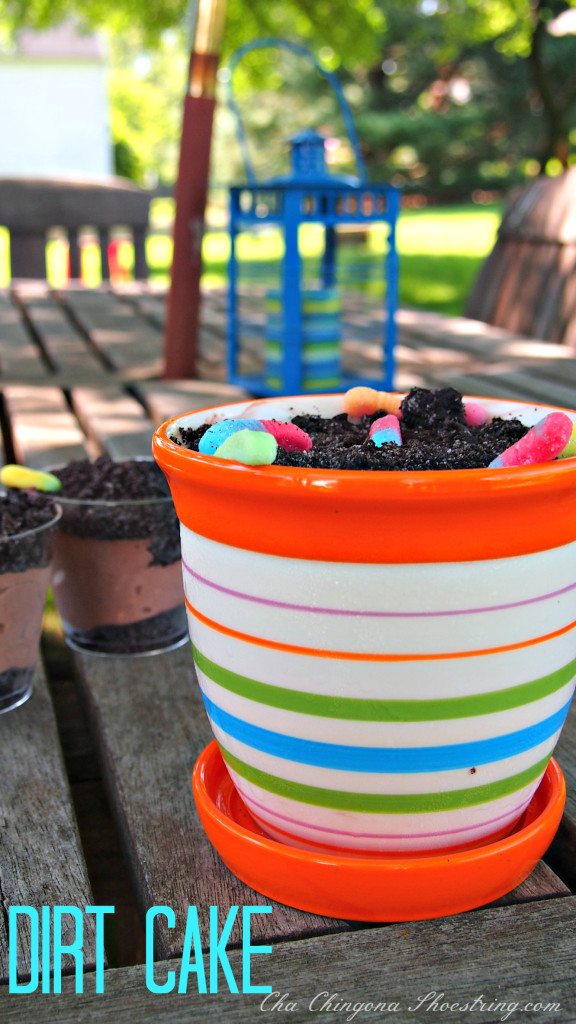 What's more fun than Dirt Cake?  So when the awesome folks at ALDI sent me a recipe to try, I jumped on it, of course.
Besides – it never hurts to collect a few extra Cool Mom Points, right?
I found this adorable ceramic planter at ALDI  on Special Buy and I think it makes a fantastic finishing touch.   My four year old not only loved helping me create our masterpiece, but he took great delight in telling his older brother that "We are going to have DIRT for dessert!"
I had a few clear plastic cups from the dollar store that I used for the extra dirt.  I'm sure they won't stay full for long though – this stuff is YUMMY.
Here's the recipe in case you need a few cool points too – ENJOY! 🙂
Shopping List:
1 packages Benton's Chocolate Sandwich Cookies
2 packages Baker's Corner Instant Chocolate Pudding
1 package Crazy Candy Co. Sour Neon Worms
Gardenline 5″ Ceramic Planter (only $2.29)
1 package Happy Farms Cream Cheese, softened
1/2 cup Countryside Creamery Unsalted Butter
1 cup Baker's Corner Powdered Sugar
1 tsp. Stonemill Essentials Pure Vanilla Extract
3 cups Friendly Farms Milk (1%, 2%, or Skim)
1 carton Friendly Farms Whipped Dairy Topping, thawed
Boulder Aluminum Foil (optional)
Recipe:
Step 1: Wash the planter with dish soap and let dry.  Optional: Line the planter with Aluminum Foil.
Step 2: Crush Benton's Chocolate Sandwich Cookies until they resemble potting soil.  Place half of the crumbs in the planter and set remaining crumbs aside.
Step 3: In a large bowl, beat the cream cheese, butter, powdered sugar and vanilla extract until light and fluffy.  In another bowl, whisk milk and chocolate pudding mix for 2 minutes. Fold in Whipped Dairy Topping.  Gently fold in cream cheese mixture until blended.
Step 4: Add filling to the planter and top with remaining crumbs.  Cover and refrigerate until chilled.
Step 5: Decorate with Crazy Candy Co. Sour Neon Worms.
Disclosure: ALDI provided me with a $10 Gift Certificate to purchase the ingredients for this recipe.