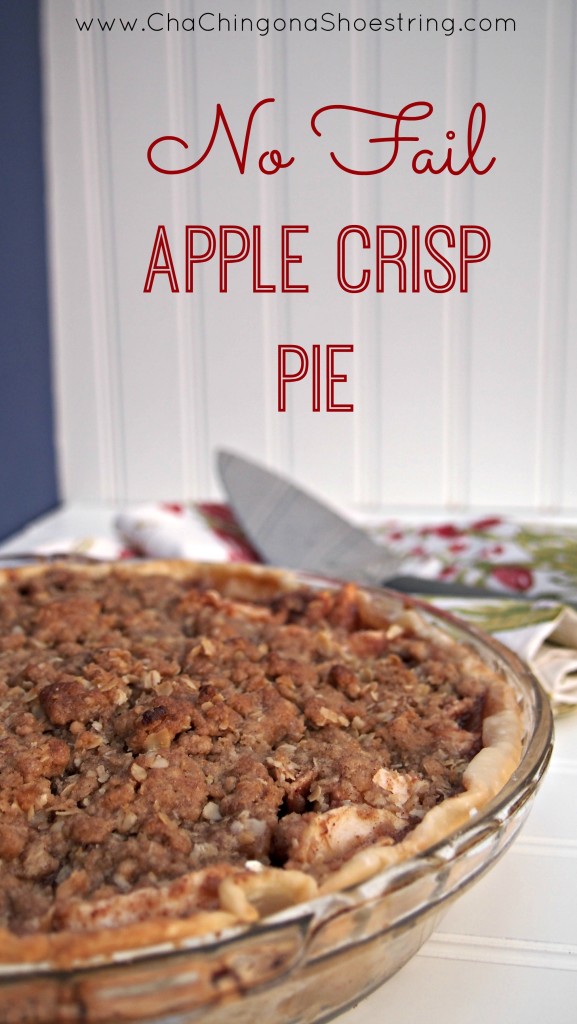 Apple Crisp Pie Recipe
When I was first married, I had a big pile of cookbooks without a whole lot of knowledge of how to use them.
So when a friend gave me another cookbook, I thought I would just add it to the stack.
But this friend loved to cook.  She would invite us to dinner and lay out a gourmet meal for us.  Did I mention she had five small children?  Including triplets?
When I opened that cookbook, I noticed that she had taken  a pencil and thoughtfully circled all of her favorite recipes.  Not only that, but on each of her favorite recipes, she had scratched off and added ingredients to show me how she would make the recipe even better.
This cookbook became my Go-To Resource for recipes to impress. 
So when the folks at ALDI asked if I would share how ALDI helps me celebrate the fall season, I knew that I needed to share my No Fail Apple Crisp Pie recipe from my friend's cookbook.
I have made this pie for every Thanksgiving as far back as I can remember – and I can't remember a single time that it has failed me.   It provides the perfect blend of flaky goodness and a crumbly sweetness.
I also LOVE that I can mix together the filling (minus the apples) and the topping ahead of time and simply throw it together on Thanksgiving morning – no stress involved!  (But the smell of apple pies baking are a must on Thanksgiving morning!)
And, of course, ALDI makes this pie a perfect fit for the budget as well with their awesome deals on baking products.
No Fail Apple Crisp Pie
Ingredients: 
One pkg Bake House Creations Pie Crust (This was my contribution to the recipe – I love keeping things simple.)
Filling: 
4 Granny Smith Apples, peeled, cored and sliced (I like a fat pie, so I used 6 – 8.)
3/4 c. Baker's Corner Granulated Sugar
2 tsp. Stonemill Essentials Ground Cinnamon
1/4 c. Baker's Corner All Purpose Flour
Topping: 
3/4 c. Baker's Corner Brown Sugar
3/4 c. Baker's Corner All Purpose Flour
1 tsp. Stonemill Essentials Ground Cinnamon
1/2 c. Millville Rolled Oats
1/2 c. butter, chilled
Directions: 
Fit pastry into a 9-inch pie plate.  Place Apple Slices in a bowl and toss with the flour, cinnamon, and sugar.  Fill pastry shell with apples, rounding up in center.
Combine remaining dry ingredients.  Cut butter into small pieces, and add to dry ingredients.  Mix with fingers, forming a ball.  Pinch off small pieces of topping and drop onto top of filling, covering all of the apples.
Bake for 15 minutes in a 425 degree oven.  Reduce heat to 350 degrees and bake another 25 – 30 minutes or until top is golden brown and apples are cooked.  I always like to cover my pastry around rim with aluminum foil to keep it from browning too fast.
Serve warm with whipped cream.
Enjoy!