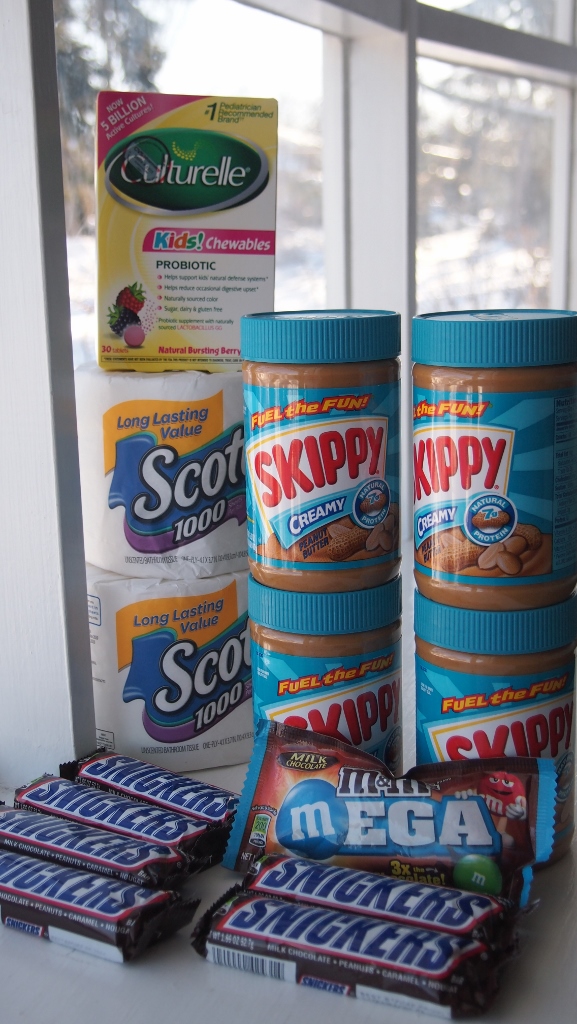 In the world of couponing, some weeks are a win and other weeks are a fail.   I'd say this week was a win!  I bought everything pictured above for a total of $3.99 OOP!
(Psst…don't know what OOP means?  Be sure to watch my silly Coupon Lingo Video that I shared earlier this morning.  Actually, be sure to watch it even if you do know what OOP means. ;))
I also learned my lesson and headed to CVS on Sunday, so they still had the items in stock unlike last week.
Here's how I worked this deal:
Buy (4) Skippy Peanut Butter @ $2.50 ea.
Buy (2) Scott Bath Tissue Rolls @ $1 ea.
Buy Culturelle Kids Probiotic for $10
Buy (6) Snickers Bars @ $1 ea. (Buy 2 Get 1 FREE)
Buy (1) M&M's single serve @ $0.75
Use $5 off $25 coupon that arrived by email
Use $1/2 Scott CVS coupon from the coupon machine
Use $5 Culturelle coupon (no longer available)
Use $2 Vitamin purchase CVS coupon (no longer available)
Use (4) Free Snickers coupons (available through 2/28)
Use $5 in ECB's from last week
Get $3 ECB's from Skippy
Get $10 ECB's from Culturelle
Get $0.75 ECB's from M&M's
$3.99 OOP after coupons!
Plus I received $13.75 in ECB's to use on my next trip.  Woo hoo!
Have you gotten any great deals this week?  I want to hear all about it.  Leave a comment and share!
Click here to check out the rest of the CVS deals this week.
Coupons go fast.  Be sure to sign up for my email newsletter so you don't miss another deal!