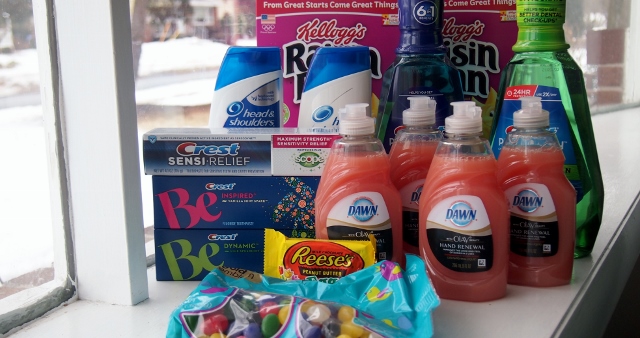 Have I mentioned how much I love CVS?
Some days I consider writing poetry to it, I love it so much.
Everything pictured above cost me a total of $3.34 out of pocket.  If my math is correct, the receipts tell me that originally, these items would have cost me $64.55 – in fact one of my receipts told me I saved 99%!  Not a bad day's work. 🙂
Now, I will say that this trip took me more than 20 minutes to plan.  I had to print from more than one computer and track down a couple of coupons and frankly, I broke my top 3-5 deals rule because there were just too many deal to choose from this week!
But even if it took me an hour, my savings of $61.21 is not a bad hourly wage, am I right? Albeit a little inflated..but even half that amount is nice! 🙂
So here's how my deal scenarios worked:
Transaction #1:
Buy (1) Reese's Egg, $0.87 – Get $0.87 in ECB's
(4) Dawn Hand Renewal Dish Detergent, $0.99
(1) Crest Be Toothpaste, $4.99 – Get $3.25 in ECB's
(2) Crest Pro Health Rinse, $4.99 – Get $6.50 in ECB's
(1) Gold Emblem Jelly Beans, $0.99 – Get $0.99 in ECB's
Use (4) $0.50/1 Dawn Hand Renewal, Power Clean, or Oxi Coupon
Use (1) $1/1 Crest Be Toothpaste printable
Use (2) $1/1 Crest Rinse printables
Use $2/2 Head & Shoulders coupon from PG 3/2*
Use $13.75 in ECB's from last trip
$0.04 after coupons and ECB's!
Note: The Reese's Egg ECB deal did not work for me.  I pointed it out and she was able to manually print my ECB's (which rounded up to $1!).
*This was a mistake – this coupon was intended for my second transaction.  Somehow it went through anyway and since I bought the Head & Shoulders, she just left it that way.
Transaction #2:
Buy (2) Kellogg's Raisin Bran, $1.99
(1) Crest Be Toothpaste, $4.99 – Get $3.25 in ECB's
(1) Crest Sensi Relief Toothpaste, $4.99 – Get $3 in ECB's
(2) Head & Shoulders Shampoo, $5.99, Buy 1 Get 1 50% off
Use $1/1 Crest Be Toothpaste printable
Use $1/1 Crest toothpaste printable
Use $1/2 Kellogg's Raisin Bran Cereals coupon from Kellogg's Family Rewards
Use $10.74 in ECB's from previous transaction
Use $5 in ECB's from CVS Advisor Panel Survey
Pay $4.30
Submit for $1 Checkout 51 Deposit for Raisin Bran (Before Wed!)
$3.30 after  coupons and ECB's and Checkout 51 deposit!
Plus I have $7.25 in ECB's for my next trip!
Click here to check out the rest of the CVS deals this week.
How about you?  Did you score any awesome deals this week?